Thursday, June 28, 2007
Ulaanbaatar, Mongolia
Dear Family and Friends,
If someone were to ask me, what is the greatest need in Mongolia at this time? What is the most beneficial thing that missionaries can be involved in? I would say that the greatest need right now is the discipleship and strengthening of Mongolian believers.
When I was younger, I often thought of missionaries as being the ones that would go out and preach the Gospel and see many people come to Christ. Returning missionaries would often visit churches to share about the experiences they had while proclaiming the good news of Salvation through Jesus Christ, and everyone would get excited about the number of people that had made decisions for Christ.
Evangelism is certainly an essential part of overseas missions, but we were not called only to go out and make converts, but rather to make disciples. Converts may be won in an hour, but making disciples is a much slower and deeper process. Trusting Christ for Salvation is wonderful, but it is just the first step towards experiencing the abundant life that God offers to His children. Sadly, few Christians seem to move much further beyond that first step.
Let me hasten to say that the "abundant life" that Jesus promised (see John 10:10) does not necessarily mean a life of health, wealth, and prosperity. In fact, it usually doesn't. But it does mean that God has given us "exceeding great and precious promises, that by these, we might be partakers of the divine nature" (see 2 Peter 1:4), in essence, that we would have the opportunity to live life the way God designed us to live. To have life flowing through the inner man, with a love, joy peace, and all the fruits of the Spirit, not from our outward circumstances, but from God's Spirit within us.
So many people are confused about what the Christian life is really about. Several weeks ago, a seasoned missionary related the following account with me. A Mongolian Christian man in the countryside was walking down a dusty road, when an unsaved friend rode up to him on a horse. Looking down at the friend standing on the road, he said, "Look, now I have a motorcycle, lots of sheep and cattle, and I am riding a horse. You're still walking. What good has your Christianity done you?"
This unsaved man, like so many others, had the idea that "religion" is something you add to your life simply for the benefit that it will bring you in the here and now. That's why we have many people in Ulaanbaatar that came to a Christian church for a little while, and drifted away a few months later. They simply didn't find what they were looking for.
In reality, they really didn't know what they were looking for. They thought it would be found in money, possessions, or some other thing, but when going to church didn't improve their circumstances, they walked away. What is it that they needed? More evangelism? Salvation? Yes. But I believe they also need to see some living examples of individuals and families, going through the same difficult outward circumstances, but with a joy, a peace, and a light that can only come from the Lord.
This is where discipleship comes in. Not just trying to improve our outward appearance and putting on some type of false front, but learning to yield every area of our life to the Lord, so that He can do the transformation from the inside out. Not just pasting on a smile in the midst of difficult circumstances, but seeing real reasons to rejoice as we see God's hand working through them, and learning new depths to the love of God and the unfailing promises of His Word. (Romans 5:3-5, Ephesians 3:16-20)
These are the Christians that through the everyday hardships and trials of life, God demonstrates to the world that true life is not found in money, possessions and the things of this world. True life is found in the daily reality of our relationship with God. Just as through Christ we experienced salvation from sin, through Christ we can experience abundant life as we walk in fellowship with Him.
One tool that God has greatly used in my life in the area of discipleship is the Basic Seminar. This 32-hour seminar outlines seven basic principles of life that allow us to grow in our relationship with the Lord and resolve root problems in our lives. It was a special delight for us to host this seminar for about a hundred attendees in the month of April.
Assisting during the seminar week was a group of Korean pastors and leaders that came to visit the work in Mongolia to see how they can implement a similar ministry in South Korea. Further developments in Korea have continued to expand rapidly, with Tim and Angie spending more and more time with related communications, and flying to Korea shortly after the seminar week.
Visiting the city of Shanghai in China for a Character Family Seminar a year ago, my family and I had the opportunity to visit an International Church in that city. We had to show our passports to enter, (only foreign passport holders are allowed to attend) and found a long row where we could sit as a family. When the time came to introduce the visitors, there were many smiles as our family all stood. Nine children is an unusually large family in America, but in China where the "normal" family includes one child, we are quite unique.  🙂
Unknown to us at the time, there was another family at church that day, who seeing my family determined to meet us. That evening at a restaurant where our family had been invited for dinner, a stranger suddenly approached David. "Are you David Waller? Can I have your cell phone number?" Knowing that we needed to be a bit more careful in China, David asked some questions to clarify this unusual request.
Following this rather interesting first meeting, we learned more about their family. Of French origin, they had traveled abroad in a number of countries, and were currently working in Shanghai. They had come to the Lord only two years previously, and their lives had undergone significant changes and were wanting to grow in the Lord.
In the course of some e-mail correspondence some time later, my Dad encouraged them to attend a Basic Seminar, if they ever had the opportunity. There were seminars in Taiwan or Hong Kong, or if they really wanted to, they could come to the April seminar in Ulaanbaatar. To our surprise, they booked flights for their whole family of five to come to Mongolia!
Although school schedules did not allow them to attend the April seminar, they were able to come a couple weeks later, and we hosted a special seminar just for their family. They were greatly blessed by the seminar, but perhaps even equally encouraged to spend time with our family! It was really special to see pictures and hear testimonies of how the Lord has worked in their lives.
In May, Erin was delighted to have her mother and twin sister Emily make a visit to Mongolia, just in time for Erin and Emily's birthday. It was a special time for the Randalls, finally getting to see in real life the work and ministry that Erin has been involved in over the last two years. As the visit drew to a close, the Lord blessed us with a special surprise.
For the past month and a half, our translator Puje's cousin Zola has been helping us with various projects, volunteering her time so that she could practice English. A diligent worker, Zola spent a lot of time working with Melody, a young lady from Minnesota that joined our staff for three months. Zola was not a Christian, but very friendly and participated in our morning Bible study and noon prayer times.
One day, while Zola was preparing her application for an opportunity to study in the States (a rare opportunity for Mongolians) she realized that she could not find her High School Certificate. After thoroughly searching her home, she came to the disappointing conclusion that it must have been left in Malaysia while on a trip there a few months previously.
After hearing Zola's predicament, Melody shared a story from her own life of how she had lost some money, and after praying about the situation, the Lord had allowed her to find it again. "Would you like me to pray for you to find the certificate?" Melody asked. "Yes, of course!" came the reply. They bowed their heads and prayed, and the next morning Zola bounced into the office, all smiles, to announce the news that she had found the missing certificate!
Even more than just finding a lost certificate, Zola had witnessed proof of a living God that hears and answers prayer! A few days later, and actually on the very afternoon that Mrs. Randall and Emily were leaving, Mrs. Randall had the opportunity to share the Gospel message with Zola, and we all rejoiced in the news that she had put her faith in Jesus Christ. How special that the Lord would give us such a joyful conclusion to the Randall's visit!
The approaching warmer days of summer also brought the inevitable reality that our season of ministry together as a family in Mongolia was rapidly drawing to a close. When my Dad called the travel agent to start looking at options for our return date in late summer or fall, we were rather surprised at the news. The travel agent explained that something had happened with the one-year open-ended round-trip tickets that we had purchased last year.
Finding it more economical to book our tickets from the Mongolian airline, we had done so, but now learned that the agreement between MIAT (the Mongolian airline) and United Airlines had terminated at the end of the year, and our return tickets were no longer any good! After more calls and discussion with the travel agent, the airlines decided to honor the tickets that we had paid for, but we would need to rebook the tickets.
Furthermore, we learned that the one year was from the date of issue, not the day we flew. That meant that we would have to fly before September 21. After many family discussions on the subject, we decided to aim for August 20, which would give a little more family time before the younger ones started their schoolwork, and my Dad started his engineering work.
Needless to say, our return to the States would have a great impact on the present work in Mongolia, so we all continued to pray for the Lord's clear direction in the timing of our return. Little did we anticipate how clear that direction would be! Returning to the airline agent to book tickets for August 20, my parents learned that all of the flights had been booked in August and September! With the approaching summer tourist season, the latest available seats were on July 11!
Proceeding to book the tickets on July 11, more complications came up, and over the next several days it seemed like we may not even be able to fly on that date. Six seats were reserved on the direct flight to Chicago, but we could not get the other four, unless that group took a different route through Washington D.C. on the same day. Preferring to stay together as a family, we took the risk and canceled the six reservations, and tried to get all ten of us on the route through D.C. to Chicago.
Thankfully this time the reservation was successful, and all ten tickets are currently booked for July 11, flying from Ulaanbaatar to Beijing, to Dulles, and on to Chicago. This puts us in about six hours later than the direct flight to Chicago, but it will be good to be together as a family. These unexpected changes left us with just three weeks to wrap things up in Mongolia before we head back to the States.
In many ways it is hard to leave. It is exciting to see things grow and expand, but sometimes the Lord also takes us through seasons where we see things slow down. With Tim and Angie currently in Korea, our family's departure means that things in Mongolia will likely slow down to a very minimal operation in the coming months. Ideas, hopes and plans that we had will need to be laid down as we trust in the Lord's bigger plan through all of this.
These events have personally challenged me to realize that this whole work and ministry is in the Lord's hands. He is the Lord of the Harvest. He can bring the rain, and He can bring the drought. John 15 compares the Christian to the branches of a grape vine. While we often think of the pain associated with pruning, but our loving Father knows when this pruning will bring greater fruit.
We are not sure exactly what lies ahead for the Mongolia ministry or for our family in the months to come, but we KNOW that the Lord is faithful! God will sometimes call us to leave one place of ministry so that He can use us in another area. Our responsibility is to simply trust Him with all our heart, and acknowledge Him in all our ways as He directs our path.
Many might be wondering what our plans are after we return to the States. We do have some tentative plans and ideas, including my Dad possibly working for an engineering firm in Chicago, but things should be more clear in the weeks and months to come. I will try to keep you posted as we move into this next season in our lives. Thank you for your continued prayers for us!
---
Praise Points:
We praise the Lord for the many people that came to the Basic Seminar in April. This was the largest seminar held in Mongolia to date, but more important than numbers are the specific and individual lives that the Lord impacted through the truth of His Word. One older missionary shared,

"I have been a Christian for years and have never heard these principles explained in such a helpful way. Is there a Basic Seminar in England? I am going there soon and would like others to hear these wonderful insights from God's Word."

The Salvation of Zola, Puje's cousin was a special answer to prayer, and a real encouragement to all of us. Pray that she will continue to grow strong in her faith.

I am grateful for the progress we have made in the last few months to revise our teaching notes, completing the first series of nine character qualities. These teaching notes are one of our primary tools that we use in teaching principles of character to various groups in Mongolia.
Prayer Requests:
Please join us as we pray to the Lord of the Harvest, that He would send forth His laborers into the harvest fields of Mongolia. The harvest is plentiful, but the laborers are few.

Pray for the Lord to continue to give clear direction to my parents and our family as we return to the States. Pray that the details would come together for my Dad's employment as we work to replenish funds during our time at home.
---
Pictures: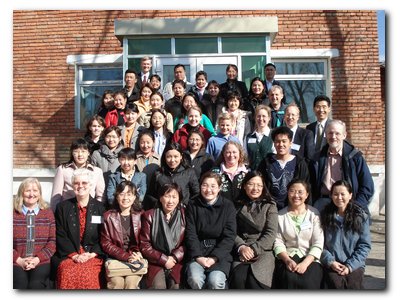 Some of the attendees from the English Basic Seminar. We also hosted
the Basic Seminar in Russian, Chinese and German. The Mongolian
translation is still under development.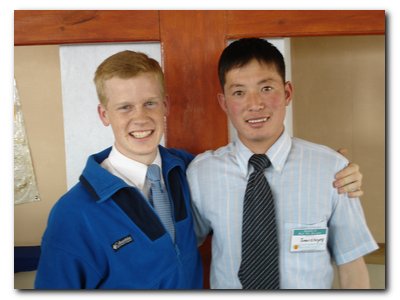 Tumerhoig, pictured with David, came in from the countryside to help
with the Children's Seminar. A radiant young man, Tumorhoig works
with the Warners, a missionary family in the countryside. As the only
known Christian in the town where he lives, Tumorhoig faces much
ridicule for embracing this so-called "foreign religion."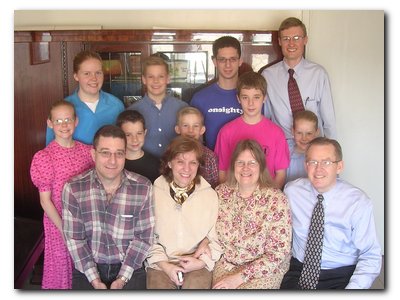 The Champanhet family, (pictured with several of the Wallers) made
the trip to Ulaanbaatar to see the Basic Seminar. It was an
encouraging visit for both families.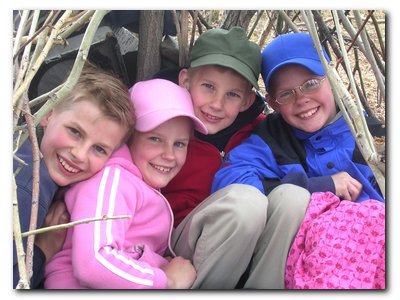 Four smaller Wallers squeeze inside a little shelter they built with
sticks while on a family outing just outside the city.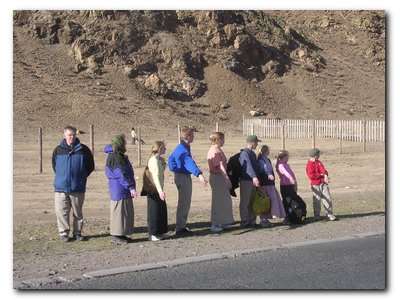 Flagging down a taxi in Mongolia. Some of the bus drivers know our
family, and enjoy seeing this large family of foreigners.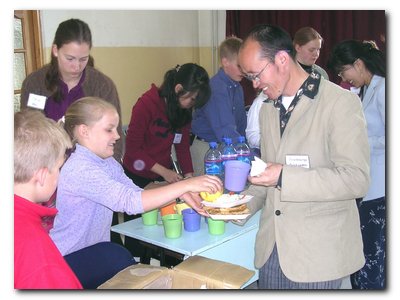 It has been special to be here as a family. It is hard to leave, but we
are grateful for the time that we could be here in Mongolia.
Click here to see many more new pictures that I could not include in this e-mail.
---
Interesting Fact:
Learning the names of people is a foundational skill for building relationships, but living in Mongolia this takes a rather interesting twist, at least to my Western thinking. In the States, all the names are pretty standard. First, middle and last. In Mongolia, people just go by their first name, or in official cases, they will use their father's initial before their name. So, my name would just be Adam, or B. Adam. (Since Brian is my father's name.) Adam is not a common name here, but if it was, most people would probably also give me some type of clarifying nickname. -likely "Tall Adam"  🙂
Most Mongolian names are actually made up of two words put together. Ulaanbaatar comes from ulaan (red) and baatar (hero), hence, "red hero". You might have guess that this came from the Communist era. Many names are so common that If you learn the meanings of about a dozen or two names, you have a pretty good chance at knowing the meaning of someone's name. I remember at a printing company once whispering to Chingis, "Let's ask if we can talk to the graphic designer who's name means "silver pillar."
Although most people can write their name in English letters, the spelling typically follows the Mongolian grammar rules, so it would sound different if you pronounced it phonetically. In Mongolian, each letter basically only makes one sound, so a double vowel is just longer of the same sound. "Ideree" would sound like "Eedray" and "Bolormaa" would be "Bolorma". In my updates I sometimes change the spelling of the Mongolian names to be a little more phonetic for our English readers.  🙂
---
Thank you for your prayers as we try to wrap things up here in the next couple weeks. There is much to do, and many people to see before we leave, so pray that the Lord will give us wisdom in how we invest our time in these remaining days.
In Christ,
– Adam

Adam Waller ~ MyAllForChrist@CadLinx.com
Family Website ~ http://visionserve.org/wallerfamily
"And let us not be weary in well doing: for in due season we shall reap, if we faint not." – Galatians 6:9
If for any reason you would prefer not to receive these e-mails, just reply with "unsubscribe" in the subject line. If this e-mail is being forwarded to you, just let me know and I can put you on the regular list.  – Adam