Thursday, July 20, 2006
Grantsburg, Wisconsin
Dear Family and Friends,

Several weeks ago found our white van and camper traveling the highways again, this time up to the little town of Twin Valley in northern Minnesota where my Dad had grown up. His school was having a ten-year all-school reunion, and Dad felt that it would be a good opportunity for us to go there as a family.
There was quite a turnout at the reunion, with several hundred traveling in from all over the country. Dad introduced us to a number of his classmates and teachers, several of whom were Christians and excited about what our family has been doing in Mongolia.
On Sunday morning my Dad prayed that we might find a good church that we could attend. Not finding much in the area, we joined most of the guests for the community church gathering in the high school gym. That afternoon we did a little more driving, stopping at a small arena where some rodeo type competition was taking place.
You would have smiled if you could have seen us standing there by the fence in our Sunday dress shirts and ties, and the ladies in nice dresses, watching the cowboys galloping after the calves. Another spectator came over and asked if we had just come from church.
Encouraged to find some like-minded Christians, she talked with my parents for some time, then cordially invited us to come to her house for some lemonade and cookies. After a snack she took us out to her barn where we had an opportunity to ride a couple of her horses. This was a real treat, especially for the younger ones.
She also invited us to the evening service of a small Independent Baptist church that she attends. Thinking of our conservative choices in music, my Dad inquired about the music that they had at her church. "Oh no," she told us. "If we ever got drums, our pastor would probably leave."
What a blessing the Lord had in store for us there! It was one of those churches where our family made up about a fourth of the congregation, but the people were very warm and friendly. We didn't know a single person there, and their curiosity about our family grew as they learned that we had been doing mission work in Mongolia.
It was such a treat to be in a church that loves the hymns! We all joined enthusiastically in the singing, the older ones singing some parts. At the close of the singing time the pastor looked over at our family and said, "Well, I don't know much about your family, but I can see that you love hymns. Do you sing as a family?" Seeing our smiles and my Dad's nod, he went on, "I don't usually do this, but would you all like to sing something for us at the end of the service? You can pick one from the hymn book… or if you can't decide… there is always number 202."  🙂
At the close of the service we brought our hymnals to the front and sang hymn number 202. This song, like many, has taken on special meaning to us after Isaac's Homegoing. Most of you know the words, but here is the third verse:
Help me then in every tribulation so to trust Thy promises, O Lord,
That I lose not faith's sweet consolation offered me within Thy holy Word.
Help me, Lord, when toil and trouble meeting, E'er to take, as from a father's hand,
One by one, the days, the moments fleeting, Till I reach the promised land.
Only later did we learn the significance of hymn 202, "Day by Day". It was one that his three daughters used to sing when they were young, and at a time when his wife was going through some serious medical challenges. His only regret is that he never recorded it.
The Lord is so gracious to have given us this sweet fellowship on Sunday evening, and all so unexpectedly, after the days of seeing around us so much emptiness without Christ. How could we have ever found this little tiny church in the country, surrounded for miles around with farms and fields, had it not been for that kind lady who was "not forgetful to entertain strangers."
Back at the farm, another lesson the Lord continues to teach me is in taking time with my younger brothers and sisters. Working at my desk upstairs one day, I heard little footsteps come in the room and Matthew said "Adam, come and see what we found." After looking at the baby mouse they had found, we were walking through the shed together, looking at some of the potential projects around us.
Having some idea of the direction that Mom and Dad were wanting for our creative projects, I tried to steer away from the go-cart idea, and the hovercraft idea didn't really seem too practical. Suddenly struck with an idea, I asked, "Don't we have an old bike frame laying around somewhere?"
A half hour later, Samuel and I were working to take the rusty chain off an old bike frame, and I went over more of the idea with them. "Do you remember seeing those two-wheeled carriages that horses pull? Like the one the Zacharias' have?" Yes, they remembered that one. "Well, I thought we might be able to make something like that that we could pull behind a bicycle."
The wheels were turning as we exchanged ideas, but it took a couple more hours working on the bearings before the literal bicycle wheels were turning smoothly and ready for a frame. After seeing the 12-foot model airplane, a friend once told us "If you had a welder, you guys would be seriously dangerous!" Well, I don't know that we ever got to the "seriously dangerous" stage, but having a welder has given us a few more options on our projects and repairs around the farm.
Using a bike frame and some metal pipe, we were able to construct the basic frame, and Samuel helped build the wood platform for the seat. The conduit poles that I had originally planned turned out to be a bit more flimsy than I had realized. I wasn't sure that I really wanted to buy the more expensive galvanized water pipe, so I was encouraged to look around in our old barn.
I was delighted to find a length of some old disconnected water piping of just the right size! This turned out to be exactly what we needed, and just before dinner the next day I had completed making the hitch from an old v-belt, and we were ready for a test ride. The carriage performed well, and everyone enjoyed the ride up and down the lane before we came in for dinner.
At the dinner table Sarah commented that she had never seen me so dirty before, (since I am usually working on the computer) but I wasn't the only one working hard that day. Moving forward with one of his objectives for the summer at the farm, Dad had been working in the garage for several days, sorting through boxes and getting rid of things that we don't need.
Almost single-handedly, Dad worked to turn the cluttered garage into a more organized environment with a large open area in the center. I admire his diligence and initiative in taking on a project of that size, and bringing it through to completion. Our Ping-pong table now stands in the center as a tribute to this reclaimed ground.
Living in an older farmhouse also brings new learning experiences as we try to keep everything up and running. Going down to the cellar to re-light the water heater, I found traces of smoke and soot on the outside of the unit. Over the next few days I was able to unravel the mystery, and in the process I learned more about how these water heaters work.  🙂
Apparently the soot had slowly built up on the main burner, restricting the mixture of gas (LP) and air flowing through the burner. Since the gas was injected at a fixed rate, the air volume slowly went down, creating a smoky yellow flame on the burner, and accelerating the carbon buildup. This had finally plugged the exhaust vent at the top, causing the flame to spill out the side of the unit.
I was grateful that the Lord allowed me to remove two very difficult nuts, allowing us to clean the burner assembly and make the necessary repairs ourselves. Things are back up and running well now, and the water heater has a nice beautiful blue flame.  🙂
Well, with our hot water we have also be enjoying, (or enduring) some hot days (and nights). Those who have lived in the second story of an old farmhouse when the temperature soars above 95 can understand what it was like.  🙂  Window fans are a blessing, but I must confess that I was often thinking of what it must be like for some of the missionaries in very hot places in the world. -And many of them don't have fans.
Thankfully the weather has cooled down again, and we even got a little bit of desperately needed rain today. We are continuing to pray for rain for Derrick's crops. Some farmers in our area are already chopping up their corn fields into silage, realizing that they won't get a crop this year.
This week David, Rachelle, Sarah and Samuel are in the Minneapolis/St. Paul area where David is leading two weeks of Bible Clubs. He has been planning this for months, and it is exciting to begin seeing the fruit of his labors. I am especially excited for Sarah and Samuel to be a part of this opportunity, since they were not old enough to teach at the Bible Clubs in Oklahoma City several years ago.
David is working with Andrew Matthews, and a team of 19 young people, mostly from the Heritage Baptist Church in Blain, Minnesota. After two full days of training, they started the first set of Bible Clubs on Monday. I just talked with David last night, and he shared some exciting reports of what God is doing through this outreach. Two children had trusted Christ for Salvation that day, and at least two others were seriously considering this decision, and desiring further discussion with their leaders.
Next week I am planning to lead a week-long children's program held in conjunction with a Basic Seminar in Shorewood, Minnesota. I would appreciate your prayers as I tell the stories for the assemblies, and oversee the children's program. It is always a time of intense energy output, but it is exciting to see lives impacted as we make known to the generations to come the praises of the Lord, and His strength, and the wonderful works that He has done!
*** P.S. ***
If you replied to my last update, and you didn't hear back from me, I probably did not get your e-mail. We had some technical issues with our e-mail service provider that caused certain types of e-mails to be deleted. (Technically speaking, HTML e-mails with embedded pictures.) This issue has been resolved now, and we would love hearing from you!
---
Praise Points:
Praise the Lord for the salvation of Megan and Anne at the Backyard Bible Clubs yesterday! Pray that they would grow strong in their faith, and that others would also come to accept the free gift of Salvation through Jesus Christ.

I am grateful for the time that we have been able to spend together as a family at our farm. I am learning that "little" things like fixing a bicycle really mean a lot to a younger sibling.
Prayer Requests:
Please continue to pray for David, Rachelle, Sarah, Samuel and the team as they teach at Bible Clubs in Minneapolis, Minnesota this week and next week. Last night David told me that they feel a lot of spiritual opposition, but they also see some really neat things happening in the lives of the students and teachers.

I would appreciate your prayers for the Children's Program that I will be leading next week. My life has been greatly impacted through this type of ministry, and I am excited to see what the Lord will do through this seminar.

Derrick is one of many farmers in the area that would also appreciate prayer for rain.
---
Pictures: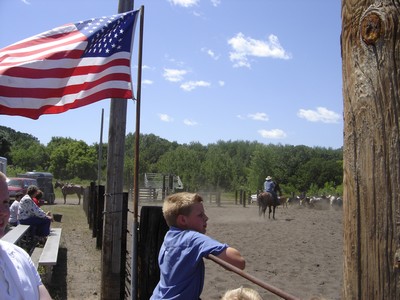 Samuel watches over the rail as the cowboys prepare for the next round
of competition.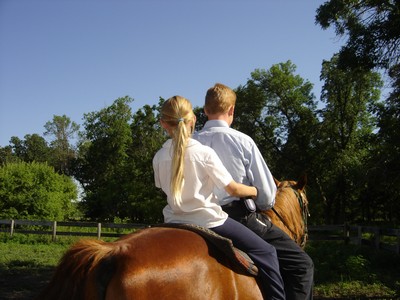 How little did we imagine that we would have the opportunity to ride a
horse ourselves just a couple hours later!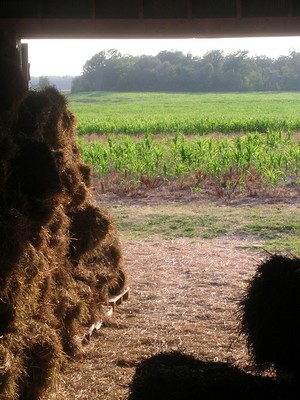 While the crops are not doing well with the lack of rain
this year, the dry weather is nice for baling hay. Derrick
has a growing stack of square bales (yes, they are actually
rectangles) in our steel shed.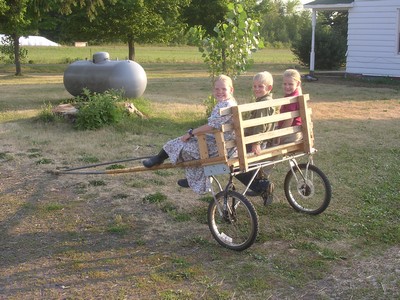 Lydia, Matthew and Rebecca pause for a picture before I took them on
a ride up and down our lane last evening.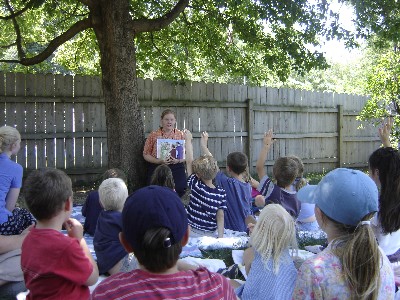 Here Sarah tells a story for one of the clubs. Please remember to pray for
the teams as they are sharing in Bible Clubs this week and next week.
You can see many more new pictures on the Prayer Update section our family website.
---
Smaller Waller Quote:
Yesterday at the dinner table we were discussing astronauts and space travel. As I attempted to describe a "space station," Rebecca got an inquisitive look as she tried to understand how a space shuttle would bring people to the space station. "Do they have garages up there?" she asked. "No, Becca," Matthew quickly replied. "-It never rains up there!"
---
Thank you so much for your continued prayers! These weeks of Bible Clubs and children's seminars have great potential for changing lives forever.
In Christ,
– Adam

Adam Waller ~ MyAllForChrist@CadLinx.com
Family Website ~ http://cadlinx.com/wallerfamily
"And let us not be weary in well doing: for in due season we shall reap, if we faint not." – Galatians 6:9
If for any reason you would prefer not to receive these e-mails, just reply with "unsubscribe" in the subject line. If this e-mail is being forwarded to you, just let me know and I can put you on the regular list.  – Adam
_uacct = "UA-2519367-1";
urchinTracker();