Monday, October 9, 2006
Grantsburg, Wisconsin
Dear Family and Friends,
On October 17th, just one week from tomorrow, our family is planning to drive to Chicago where we will begin our travel back to Ulaanbaatar, Mongolia. Although we are looking forward to our return to the work in Mongolia, it also brings a close to a wonderful summer together at the farm. The falling leaves and cooler weather give further reminders of changes to come.
Taking the opportunity to attend a father-son retreat, Dad, Derrick, David, Samuel, Matthew and I drove up to the northwoods of Michigan early in September. It has been many years since we last did something with just the guys, and we really enjoyed the time together. Strangely, the ladies seemed to enjoy the time back at home just as much… Although they said something about the food quantities being drastically different.
The main speakers at the conference, Bob and Joe Norvell presented messages on the theme of being more than conquerors through Christ. When we really begin to understand what Christ has done for us through His death on the cross, and our position with Him, we can be more than conquerors in the challenges that we face in our lives.
Joe shared some key messages on how we can experience the abundant life that Jesus promised to us. Not a life free from pressures and trials, but experiencing the power to rise above these challenges in the joy of a relationship with the Lord. It is not by struggling and striving, but by trusting in the Faithful One.
Between the sessions was time set aside for the fathers and sons to spend time together, and the Northwoods Conference Center provided a relaxing environment for some volleyball, kayaking, biking and other activities. Taking advantage of the warm weather, Derrick challenged David and I for a swim across the lake. I stopped at Duck Point after about an hour of swimming, while David and Derrick went on a bit further to reach the other side, well over a mile from our starting point.
I had never swam so far before, and it took me three tries to finally pull myself into the boat where Dad and Matthew were rowing beside us. Looking at my tired arms with admiration, 8-year old Matthew asked, "Do you feel stronger?" I smiled, as he went on, "Your arms look a little bigger now." I had to smile at his heart-felt efforts to encourage his shivering older brother.
Returning back to the farm, I began working in earnest to move forward on the programming project that I am doing for Character First! in Oklahoma City. The Lord seemed to bless these efforts, and I completed a beta (test) version of the program a couple weeks later. It looks like I may need to finish some parts of this project from Mongolia, but the technology of our day presents this as a very viable option.
One of the joys of the Christian life is seeing not only God's work in the big things, but also His hand in the little things. The Bible tells us that God knows the hairs on our head and every step we take. He created the universe, (just step outside at night and look up at the stars), but He sees the little sparrow fall from its nest. His thoughts towards us, the Bible says, are more than can be numbered!
Well, it wasn't a sparrow, but it was a little silver pendant on Rachelle's necklace that had fallen off somewhere, and we couldn't find it. Just the walk across the grass from our house to the van would entail a search of several hours, even if we knew for sure that it was there. After helping with some initial searches, we stopped and prayed that the One Who knows all things might allow us to find this missing item.
Rachelle thought that we should try driving to the town hall, a few miles away, where we had voted for an election a few days before. It might have fallen off in the parking lot when we got out of the car. We drove to the spot, and less than thirty seconds later, we were holding the pendant in our hands. It was just another testimony to a loving Father that knows our every care! Nothing is too small for Him.
Of several churches that the Lord has allowed us to share at in the past month, a special highlight was the Edinbrook Church in Minnesota. One lady from this church had attended the Christian Campers Club where our family had shared a few months ago, and made the arrangements for our family to share at a church function. The older folks were putting on a special back-to-school party for the youth group, and our friend wanted David to share a message with the young people.
This was David's first opportunity to share the story of Isaac in a public meeting, and the Lord's blessing was clearly upon it. A number of people were in tears, and I think all were touched with the message of living with a passion to serve God. The slideshow of pictures, the traditional dress, and special music made for a memorable evening.
Sitting at one of the tables for the meal, I shared with the couple next to me about the work we are doing with Character First!, and the work in Mongolia. They were very interested to hear about what was happening, and after a few minutes, the husband paused and asked, "Have you ever heard of 'Bill Gothard'?" "Yes!" I quickly replied with a big smile. They were thrilled to hear of the work in progress to translate the Basic Seminar into Mongolian, and shared how much they had been strengthened as new Christians by the Seminar many years ago.
Two weeks ago, the three oldest of us, (Adam Derrick and Rachelle) were somewhat unexpectedly blessed with the opportunity to go to the Northwoods Conference Center for the Eternal Impact Summit, an annual retreat for older ATI students. This year the theme was "Sheer Silence", hearing God's still small voice in the midst of a busy world.
I really appreciated the tone that was set when Woody announced that on the first night, there would be no volleyball in the gym, but we were encouraged to get to bed early so we could get up early for a time alone with the Lord the next day. These "sunrise encounters" as they were described in the schedule, would give us the opportunity to spend time in prayer and Bible reading in the stillness of the dawn.
Of course getting up early and going out in the woods does not merit you any special favor with God, but how many times do we miss God's voice because we are so busy going through our daily routine, with our mind already on the projects of the day? As with any true relationship, God is interested in our hearts. Do we have a heart like David in the Psalms; "O God, thou art my God; early will I seek thee: my soul thirsteth for thee, my flesh longeth for thee in a dray and thirsty land, where no water is;"? (Psalm 63:1)
The first morning was a little cool and a drizzling rain made me grateful for my coat and poncho, but through the next few days I did enjoy some very special times alone with the Lord.
The speakers for the conference were especially good, and Ken Pierpont gave some really outstanding messages on what it means to have a daily relationship with the Lord. Sunday morning's session was like the frosting on the cake as three pastors shared from their lives a message entitled "The Sacred Rhythm of the Mountaintop & Marketplace."
Based on the pattern we see in the life of Jesus, the title describes how Jesus would have times of intense ministry to multitudes with His disciples, and then how He would withdraw for solitude fellowship with His Father in prayer. We need both of these things. We need seasons of ministry and giving out, but we also need times of being alone with the Lord, and hearing His still small voice in our hearts.
Receiving a call from some dear friends last week, our family was a bit surprised at the request. On behalf of a Christian ministry in the area, they wanted to take our family to the Cities, all expenses paid, to purchase clothing for our family as we prepare to go back to Mongolia! They knew of a good resale shop where we could stop first, and then go on to other stores to get any items that we couldn't find.
You should have seen our family going through the store, piles of shirts, pants, coats, sweaters, skirts, dresses, etc. piling up on the carts. Can you imagine going through a store, just thinking, "what do I need for this next year…" and putting everything you need into the cart? They told us not to look at the price, but I was amazed to find shirts and pants for a few dollars, and in far better shape than my worn out ones at home!
Several hours later, the shopping was winding down, and the row of carts at the front of the store began to grow as the various Wallers brought their things to the front. An older lady walked into the store, and a look of amazement came across her face as she looked across the eleven carts lined up behind the register. "What's going on here today? Are they giving stuff away for free? Wal-Mart's not going to be happy about this!"
It was like Christmas, we said later, as we gathered in the living room that evening to go through our bags of clothing. The Lord had most unexpectedly blessed us in a very practical way as we prepare to go back to Mongolia. Trying out some of the clothing, I told my sister, "I have never had a pair of pants fit so well, right off the shelf!"
Lest you think that life must always be wonderful for the Wallers, let me also say that these days have not been without challenges. I believe that when God opens a door for ministry, there is also adversity and resistance. The Adversary of our souls would like nothing better than to quench the light that God wants us to shine. We don't fear Satan, but we are not ignorant of his devices. We are told, "Be sober, be vigilant…"
The other day I was sitting at the dinner table where my brother was explaining the details of a software purchase that had turned out to be a scam. Another brother had still not seen any trace of a trailer and load of hay that he was supposed to be paid for a week ago. I had gotten a package that day in the mail, but discovered that the shipper had made a mistake and we got the wrong package. -And the countdown of days marches on.
I trust that the Lord is going to work out all these things, and we are already seeing this, but it is a daily challenge to just trust the Lord, and let Him work out the details as we stay in His will. I had to laugh as we were talking with a local pastor who had invited our family to his home for dinner. He said that he prays for us every day, sometimes several times a day, -which we deeply appreciate. He then told us that he prays we will have adventures! Well, God is certainly answering his prayer! -But I appreciate the heart behind it.
This pastor wisely understands that when the unexpected happens, we often see the hand of God. How could God work out difficult situations in our lives if we never have difficult situations? How can God show the exceeding greatness of His love and power unless we really need it? I love the verses in Romans five: "And not only so, but we glory in tribulations also: knowing that tribulation worketh patience; and patience experience; and experience, hope: And hope maketh not ashamed; because the love of God is shed abroad in our hearts by the Holy Ghost which is given unto us." Romans 5:3-5
One of the projects that I have wanted to work on this summer was to organize a list of people who don't have access to e-mail, but would like to receive these Prayer Updates by mail. I am very excited to see this finally coming together. Using the NetPost service on USPS.gov, it looks like I can upload and send out printed copies of my update (even from Mongolia) to a list of postal addresses with minimal time and effort on the part of our friends in the States.
My goal is to expand the reach of these updates to some of our friends that don't have access to e-mail. If you or someone you know would like to be on this list, (or the e-mail list) please let me know, and I can add their name and address. We know that God is also doing special things through many other families and ministries, but If these updates would be an encouragement to you, we would love to send them.
---
Praise Points:
I am so grateful for the refreshing summer at our farm in Wisconsin. It was so nice to spend time with the family, catch up on some projects, and just to take time for those quiet walks in the woods.

Praise the Lord for His special provision for our clothing needs! This will be a real blessing as we travel on to Mongolia next week.

Thank you for praying for our airline ticket situation. We now have the tickets in hand, and ready for our trip.
Prayer Requests:
Pray for the details that have yet to be worked out for our return to Mongolia. We have a number of different packages on the way, and need wisdom as we finish up the packing this weekend. We are limited to 50lbs for the large ship-

throughs

, but with two ship-

throughs

, one carry-on and one personal item per person, we come out with forty pieces of luggage to carefully tag, weigh and organize for the trip.

In the midst of our preparations for the trip to Mongolia, David is also helping coordinate for a trip to the Philippines three weeks after we arrive in Mongolia. David, Rachelle, and Derrick will join a team of several others from the States for three intense weeks of ministry in the Philippines. Tickets and key decisions need to be finalized this week, so we appreciate your prayers for wisdom and discernment.

With all the projects to finish, people to see, and things to pack, pray that the Lord will continue to give us good rest and health as we prepare for the trip. The journey to Mongolia is about 32 hours, end to end, so being rested and healthy before the trip is important.
---
Pictures: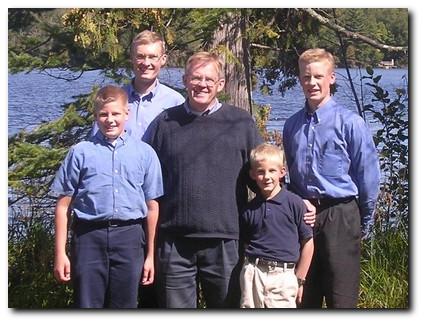 The Waller guys. Matthew was quite excited to be able to go on the
father-son retreat, and fit right in with the group, even though he was
one of the youngest ones in attendance.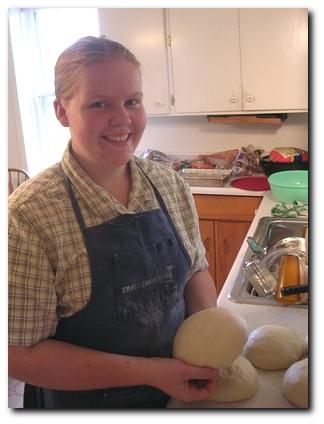 Sarah's cooking skills continue to be a great blessing
to our family.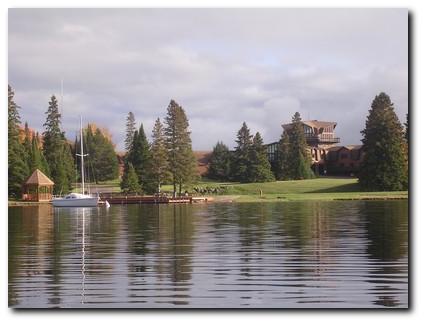 Back at the Northwoods Conference Center for the Eternal Impact
Summit, Derrick, Rachelle and I enjoyed some quiet hours.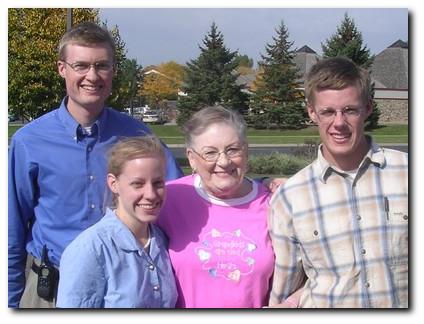 Several of us joined Grandma for lunch after a dentist appointment.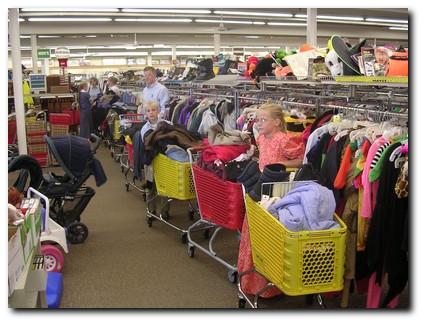 The Waller carts made quite an impressive lineup as we got ready for
checkout with our clothes for Mongolia.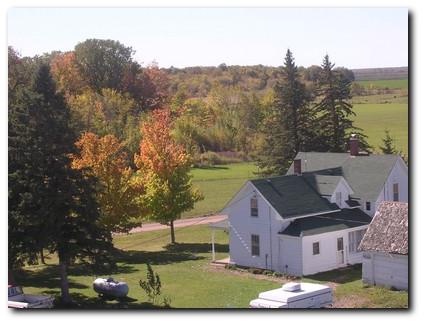 It has been a full and rich summer at the farm, and in some ways it is
hard to leave, but we also look forward with eager anticipation to the
opportunities ahead of us in Mongolia.
You can see many more new pictures on the Prayer Update section our family website
---
Taller Waller Quote:
Sitting around our kitchen table after a meal one day, I took the opportunity to join in on the conversation about some of our animal projects. Although most of my days are spent working at the computer, I do try to keep at least vaguely aware of the animals we have out by the barn.
Recalling a pretty yellow colored cow I had seen in the pasture the other day, I thought I would make an attempt at intelligent conversation with the farmers of the family. "So, Derrick," I asked, "what breed of cow is the charolais colored one?" (I thought it was pretty good that I had remembered the technical name of the color.) After the laughter had subsided, I discovered that I must have been the only one that didn't know that Charolais WAS the breed! Oh, well, I will try harder next time.  🙂
---
Thank you, dear family and friends, for your prayers and interest in our family! In just a few days we are scheduled to fly to Mongolia so my next update may well be from the other side of the world. May God bless each of you today!
In Christ,
– Adam

Adam Waller ~ MyAllForChrist@CadLinx.com
Family Website ~ http://cadlinx.com/wallerfamily
"And let us not be weary in well doing: for in due season we shall reap, if we faint not." – Galatians 6:9
If for any reason you would prefer not to receive these e-mails, just reply with "unsubscribe" in the subject line. If this e-mail is being forwarded to you, just let me know and I can put you on the regular list.  – Adam