Wednesday, January 10, 2007
Ulaanbaatar, Mongolia
Dear Family and Friends,
In my last update I mentioned that Derrick would be joining David and Rachelle for a three week ministry trip to the Philippines in November of 2006. I want to express a special thank you to those who were praying for my siblings and the rest of the team! We have heard many testimonies of lives that were touched through this outreach. You can read first-hand reports and see pictures of their work at http://cadlinx.com /philippines
Our interest and prayers for the team suddenly took a new turn as we received word that David had gotten sick with an amoeba (a parasite sometimes found in tap water). He had a fever that climbed dangerously high, but with the help of some missionaries he was able to get to a hospital for the necessary treatments. He was weak and dehydrated for several days, but gradually recovered. Four others on the team were later diagnosed with amoeba, but recovered more quickly with prompt medical treatment.
Derrick was taken to the hospital a few days later with symptoms that looked like Dengue fever (a potentially dangerous mosquito borne illness), but it turned out to be a severe sinus infection with some other complications. The Guills, a missionary family that assisted in hosting the team, were of invaluable assistance in medical decisions and keeping our families informed.
Separated by thousands of miles, there was little that we could do, but pray to the One that holds our times in His hands. It was a joy to hear how God answered those prayers, and not only brought a full recovery to each one, but used the times of sickness to draw the team together into even more effective ministry.
Returning to the family in Mongolia on December 10, David and Rachelle were excited to share many encouraging reports from their time in the Philippines. Although the schools and universities are starting to become permeated with humanistic philosophy, they are still very open to Biblical truth. In most cases the team had the freedom to share about character right from the Bible, and to clearly present the Gospel message.
Purchasing his tickets several weeks after the others on the Philippines team, Derrick decided to take the more economical and scenic route back to Mongolia. Flying from the Philippines to Hong Kong, he took the train to Beijing and on to Ulaanbaatar. His arrival brought the whole Waller family together again for the first time in two months.
Among the supplies he had brought from the States, Derrick had included several packages of delicious Wisconsin cheese, from the Burnett Dairy Co-op, a few miles from our farm in Wisconsin. Burnett Diary won a world championship award for their string cheese, and we all enjoyed the special treat.
Leaving for America the next week, Tim and Angie Levendusky and Erin Randall bid Mongolia goodbye after nearly a year of service together. The Waller family would remain in Mongolia as the only foreign staff at CTI until Tim and Angie's scheduled return at the end of February. Many things are opening up in Korea right now, and Tim and Angie are planning to take the month of February there after spending the holidays with family and friends in the States.
Celebrating Christmas overseas for the first time, our family enjoyed a mixture of family traditions and new adventures. With the relatively few numbers of Christians, Christmas is not very widely celebrated in Mongolia, but the ever increasing Western influence brings with it a confusing mixture of festive materialism.
Taking hold of a timely opportunity, a missionary friend of ours arranged for our family to give a presentation at the American Information Center. Every Friday they have a speaker give a one-hour presentation about the life and culture of Americans, and our family would get to share about how Americans celebrate Christmas.
Although we needed to be a little sensitive in our presentation because of the Information Center's association with the American Embassy, we felt that it would be a neat opportunity to share some of our family traditions, and some of the history of Christ's birth in Bethlehem. Esther Entner and my Mother worked to prepare ideas for a little skit that we could do of the Christmas story, and printed a number of well-known Christmas carols to give to the attendees.
The forty or so Mongolians that came loved seeing my younger brothers and sisters sing Christmas carols, and enjoyed watching us act out Mary and Joseph and the account of Jesus' birth from the book of Luke. When we opened it up for questions at the end, it was really neat to see the questions that were raised. One lady said, "I often see a star, like the one on the Christmas tree. What is the significance of this, or what does it mean?" -I think she might have been a Christian, and saw an opportunity to let us share more of the reason why the history of Christmas is so special.
Talking with some of the people afterwards, I looked over and saw David with a half dozen or so young people around him, asking more questions. They started with a few general ones, and then went on, "Who is Jesus? I read some things in my history book, but I never heard about this!" "This is the first time that we have heard what Christmas is really about."

I was greatly encouraged by the response to the presentation, especially considering the little time that we could afford for preparation. Many of the speakers at the Information Center are professionals with far greater credentials, but somehow God seemed to use our family to touch the hearts of the people. One man told us, "I have attended ten of these weekly meetings, and this is the best one yet!" Many thanked us and told us how interesting it was for them to hear the real story behind Christmas.
Christmas shopping, as you can well imagine, is quite a bit different in Mongolia. Wal-Mart does not exist, and the best shopping is at the Narantulzak, a large open market. It is a little like going to a ten-acre open-air garage sale in below zero weather. About ninety percent of what you find there rode the train from China, so there is quite a variety in quality and price, but mostly on the lower end.
A few strings of Christmas lights in the windows added a festive air to our apartment, and the cardboard fireplace and mantle that Samuel had created for our Christmas skit gave the living room a homier atmosphere. Piles of small gifts wrapped in homemade wrapping paper were spread across the floor, but the air was filled with joy and laughter as smaller Wallers unwrapped strangely shaped boxes designed to mystify even the most astute speculations.
Although we tried to cut back on our regular trainings, the month of December seemed to fly past with other projects that came up. I spent several weeks working on a Mongolian brochure for the Basic Seminar coming up next April. After overseeing the translation, and finishing the design and layout, I brought it to the printer, only to discover that they couldn't print the type of PDF that I had created. Such is life in Mongolia.  🙂
I spent the next three days recreating the brochure in another program (InDesign), and finding alternative ways to produce the document. I went back to the printer with Plan A, B, C, and D. Thankfully, one of the formats worked for them, and they sent the job on to the printers. It was a blessing and relief to see the job come back in reasonable quality. -It was perhaps just as big of a relief to them, remembering some quality issues we had encountered on the last job.
In serving overseas, it is a great benefit to know and be ready to learn a wide variety of skills. Whether you are showing an electrician how to splice wires together for an electrical repair, explaining computer log files to your Internet service provider to troubleshoot a problem, or helping your printer work with different file formats, there are constant opportunities to learn more about what you are doing.
In the midst of the joys and challenges of daily work and life in Mongolia, we have also seen some reminders of the things that really matter in life. One morning we looked out our window and saw clouds of smoke billowing from behind some buildings a few blocks from our apartment. A little later we heard the siren as a fire truck approached. Fighting fires in freezing weather is difficult, but even more so in Mongolia where the water has to be carried by truck, usually some distance from the fire.
The newspaper headlines the next day read, "Swiss Aid Worker Dies in Fire". Isabelle Sieber, a 31-year-old missionary died in that fire. Much of the Children's Home that she worked at was destroyed in the fire, but the children had been rescued by another worker. I don't think I have ever met Isabelle, but it still brought sadness to loose a fellow missionary.
I attended the funeral with Tim and Angie a few days later. Held in the same church where Isaac's funeral had been held just a year before, the service was conducted in Mongolian and German. I couldn't understand much of what was said, but Isabelle's testimony of love for six years of service in Mongolia had clearly made a powerful impact in the lives of the children and others that she had worked with.
After the service, a lady came up to me and asked, "Are you Adam?" "Yes," I replied, surprised that she would know my name. "I was here a year ago for your brother's service. We have your picture on our refrigerator, and we have been praying for you a lot. How is your family doing?" I praise God for the ones that have stood with us in prayer! It is God's grace, through your prayers, that has carried our family!
Sometimes it is through the trials and difficulties that God's love and grace are most clearly seen. David was recently talking with a man that works at UBTC, the Bible school facility where we are holding biweekly trainings on the Commands of Christ. That very day, there had been a fire at the Bible School, and the damage was significant. Instead of being disillusioned by the fire, the man was sharing with David some neat things that he felt God was doing through this unexpected trial.
Standing outside on the icy pavement by the front gate to greet our attendees, I remember watching the workers wire together pieces of the metal fence that had been broken apart to let the fire truck into the courtyard. Why does God allow these things to happen? Is it not so that His light and love can more clearly shine through us? If you have a prosperous life, the world may envy your possessions, but when you can see and experience God's love through suffering, they see the power of His grace.
We continue to see opportunities unfolding all around us. Several requests have come in from World Vision leaders and other groups requesting character trainings, but we are trying to hold off on as many as we can to give us time to catch up on other more pressing issues. David is revising some of our teaching notes on the character quality of Virtue, but soon we will start into teaching the second series of nine character qualities at the Vitsamo juice company and the Batbaigal bakery.
Pray that the Lord will multiply the fruit of our labors in the next few weeks as we try to move forward on a number of projects. I am working to finish a programming job for the Character First! headquarters, and Rachelle is helping coordinate an effort to let people know about the upcoming Basic Seminar in April. Unexpected complications and the unpredictability of our schedule can make it difficult to move forward on these projects, but it is encouraging to see things progressing little by little.
---
Praise Points:
Thank you so much for your prayers for Derrick, Rachelle and David as they served with the team in the Philippines! We rejoice in the safety that God gave the team, and for the returned health of each one. You can read about the trip and see more pictures at: http://cadlinx.com /philippines

Moving Family Night to a nearby Bible School facility has allowed the class to grow larger than the twenty-five we are allowed to have in our apartment classroom. The first two meetings at UBTC have gone very well, and the one scheduled for this Friday may be the largest one yet.

Tim and Angie had very good meetings in Korea, and plans are underway to assist in the coordination of a Korean translation of the Basic Seminar. Tim and Angie plan to spend several weeks in February working with the Korean families, and we look forward to the unfolding opportunities for the people of Korea. (Just as a point of interest, about half of the Christian churches in Mongolia were started by Korean missionaries.)
Prayer Requests:
My parents were able to arrange a three-week visit to Thailand, leaving on January 22. They are looking forward to visiting and seeing the work of two missionary families that have been close friends to our family. Pray that the Lord will give extra grace and wisdom to the Waller children as we carry on operations here, including several larger trainings.

The senior pastor of the Holy Way church that we attend in Mongolia is in the final stages of cancer. Pray that God will pour out his grace to Pastor Enkhee and his wife Sodnom as they go through this difficult time. Pastor Enkhee has been a powerful witness for the Lord through this trial, and although his body is growing weaker, his spirit is strong and rejoicing in the Lord.

Pray that the Lord will give wisdom in handling the many requests for training that we are receiving. It is hard to turn people away, but we desire the Lord's wisdom as we make decisions on how to invest our time and energy with our limited staff.
---
Pictures: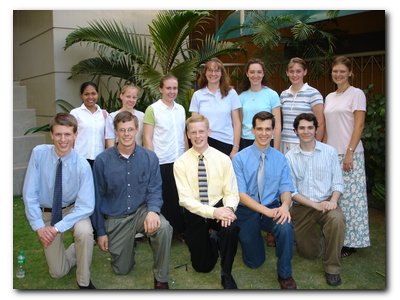 The 2006 Philippines Ministry Team. Anticipating the tropical heat,
David and Rachelle left their winter coats in Mongolia.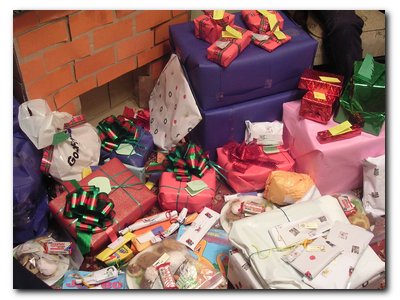 Keeping with the traditional $2 limit, our family all bought Christmas
presents for each other. With a family of our size, this makes quite
an assortment.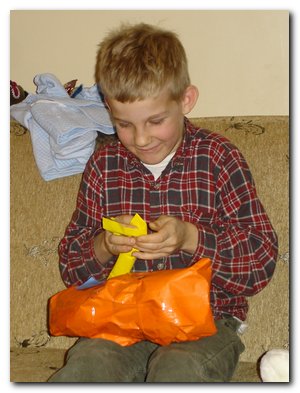 Matthew was a good guesser, but there were a few
that he didn't figure out.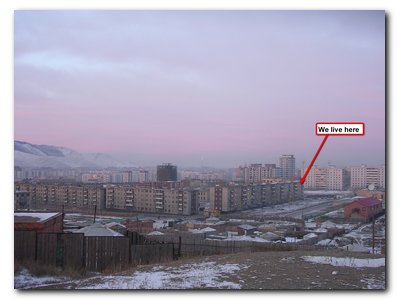 Looking west from a nearby hilltop, you can see the building where
my family and I live. Throughout the city there are many blocks of
old Russian-built apartment buildings like ours.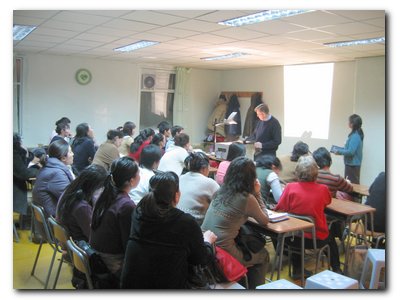 With Nara translating, Dad shares on Christ's command to "Let your
light so shine." We heard some very encouraging testimonies at the
conclusion of the class.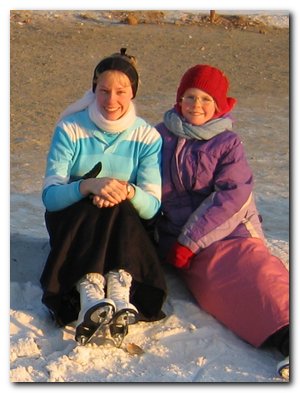 Warm greetings from Ulaanbaatar, the coldest
capital of the world! Actually, we have had a very
mild winter so far, with temperatures only dropping
to the teens below zero. (Fahrenheit)
You can see many more new pictures on the Prayer Updates section of our family website.
---
Interesting Fact:
Sometimes we hear the question, "What is the food like in Mongolia?" Traditionally, the Mongolians eat a lot of meat, especially the families out in the countryside. The food is very simple, usually prepared from flour, water and meat without much seasoning. Fruits and vegetables are more readily available in the city, although most of it comes on the train from China.
Our family does our own cooking, so our meals are a little more of an American style. Spaghetti seems to take the vote as the favorite meal, but we also enjoy some of the Mongolian dishes such as tsuaven, a little like beef stew mixed with a huge pile of noodles. Of the things that we can't get in Mongolia, one that I sometimes miss is fresh milk. We can buy little boxes of processed milk, but it just isn't quite the same.  🙂
On the other hand, there are some tasty fruits that come up on the train from China. Sometimes they freeze on the way up, but we enjoy apples, oranges, bananas, and sometimes even pineapples or kiwi fruit. Right now the mandarin oranges are in season, and very delicious!
---
Thank you so much for your part in this work! May the Lord bless each one of you with His love and grace today!
In Christ,
– Adam

Adam Waller ~ MyAllForChrist@CadLinx.com
Family Website ~ http://cadlinx.com/wallerfamily
"And let us not be weary in well doing: for in due season we shall reap, if we faint not." – Galatians 6:9
If for any reason you would prefer not to receive these e-mails, just reply with "unsubscribe" in the subject line. If this e-mail is being forwarded to you, just let me know and I can put you on the regular list.  – Adam