Isaac
While we deeply miss our dear brother Isaac, and the example that he lived before us on this earth, we look forward to seeing him again one day in heaven.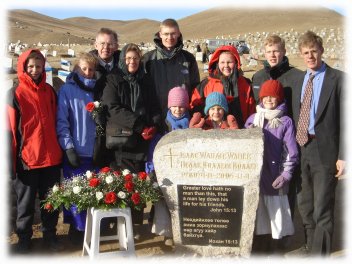 Isaac Wallace Waller, born April 11th, 1980, went to his eternal reward on November 4th, 2005, while involved in volunteer service to the people of Mongolia.
For our family, this was not the end, but the beginning of a new chapter in our lives. It is through experiences like this that God allows us to grow deeper in our message.
I would also like to share a special word of thanks to those who have been praying for our family during this time.
In the section below, we have included links to various articles that may be of interest.
Related Links
Eternal Investment
Three months after Isaac's death, Adam describes the impact of his brother's testimony and the challenge to invest in eternal things.
A Tribute from a Twin
Written by Adam, this tribute was printed on the funeral and memorial service programs.
Newspaper Article
Also written by Adam, this article was prepared for our local newspaper.
Dugermaa's Poem
Mongolian Pastor Dugermaa actually wrote this poem during Isaac's funeral service.
Good Enough?
Isaac was a great brother, but he wasn't perfect enough to get to heaven on his own. Click this link see why.
You can find additional articles about Isaac in the Isaac Waller category.