Tuesday, November 21, 2006
Ulaanbaatar, Mongolia
Dear Family and Friends,
October 19th brought the close to a wonderful summer together at the farm, our final weeks being filled with wrapping up many details for our trip, last visits with family and friends, and assembling the needed supplies for our family to spend a year in Mongolia. As I mentioned in my last update, the Lord has greatly blessed us with provision of clothing and other needs through many gracious friends. Even dentist and eye doctor visits were obtained at significant discounts.
Packing all of our things into our van and camper, we drove to the IBLP headquarters in Chicago for a couple days of preparation and repacking as we weighed our bags for the flight. The international baggage limits have been reduced from 70lbs to 50lbs since last year, so we worked together to get all the ship-through bags topped off at precisely 49-50 pounds.
Boarding the plane in Chicago, we waited a half hour or so while the mechanics checked some things on the aircraft. Finally we heard the captain's announcement that we were ready to go as soon as someone could push us out from the gate. About ten minutes later, we were still waiting when the captain made another announcement that they had just discovered something leaking from the number one engine. -Maybe that is why we couldn't find anyone to push out from the gate… This fuel leak, as they later determined, was caused by a broken hydraulic part. Thankfully the mechanics were able to find the needed part and get it replaced while we waited on the plane.
This unforeseen delay in Chicago actually turned out to be a great blessing for our family. In traveling to Mongolia, probably the most trying part of the journey for the younger ones is the seven hour layover in Beijing. Because of the delays in Chicago, we finally reached our departure gate in the Beijing airport just 15 minutes before the boarding announcement for our flight to Mongolia!
Landing at midnight in Ulaanbaatar, we were greeted by Tim and Angie and a handful of others to welcome us back and help with our baggage. A thousand pounds of checked baggage, plus all of our carry-on items made for a tight but happy ride back through the familiar streets of Ulaanbaatar. Returning to our former apartments, we found them thoughtfully prepared by a staff only too glad to have us back.
My first few days were spent getting our Internet connection back up and running, and taking care of a computer virus that had infected a couple of our computers. Last year we were able to set up a wireless Internet connection for our office, but a new building just erected next to us came between us and the base station, reducing the signal strength to almost nothing.
Since much of our correspondence with the States is done electronically, this left us puzzling about what to do. Dial-up was possible, but slower and more expensive, our old Russian phone lines are not high enough quality to carry a DSL connection, and other alternatives were far more costly.
Testing our wireless receiver in various locations in our apartments, I made a surprising discovery. From one of the fifth floor windows, if I held the receiver at a precise diagonal angle and tipped down, I could pick up a fairly strong signal. Putting together a cardboard shelf to hold the unit at the correct angle, I waited a day to see if the signal would stay strong. Satisfied with the result, I drilled a couple holes and ran cabling to integrate this back into our computer network.
Seeing the Lord's blessing in these daily projects and challenges is a real encouragement to us. Another time some loose wiring in the electrical riser caused the power in our main staff apartment to flicker and sometimes go out. One day the wires just burned through and the power went out completely. The maintenance workers for the building are usually very busy and it is sometimes difficult to arrange for repairs on short notice.
My Dad went down to talk with the building manager, who said that she would try to have the electrician come tomorrow to unlock the panel and fix the problem. As my Dad turned to leave, who, of all people, would just "happen" to walk in just then? It was the electrician, and he was quite amenable to the request and helped us get the power restored to our apartment.
Returning to the Holy Way Church on Sunday morning, we were warmly welcomed back by many friends. The church continues to grow, and although the services are entirely in Mongolian, they usually have someone translate for their foreign friends. It is so encouraging to see a strong Christian church, entirely led by Mongolian believers.
Pastor Enkhee is in the final stages of liver cancer, so his son Ideree and others are carrying the primary responsibility for the leadership and preaching. Although thin and often in pain, Enkhee continues to be a strong witness for the Lord, exhorting the people to follow the Lord.
In addition to the ongoing trainings and activities that we are involved in, we continue to receive requests for character trainings from schools, churches and other groups. One that we recently took on was the Aero Mongolia company, the second largest airline in Mongolia. They have four jets and service many domestic routes as well as four International destinations.
As far as we know, they only have two Christians in the entire company, and one, the company secretary, initiated the arrangements for us to be able to come and give weekly character trainings for about 75 workers. The first day we came we were given airport security passes to go out to the training building near the runway.
Looking back, I see the Lord's hand in this too. None of us knew that a few weeks later some political uprisings and instability would lead to rumors of people possibly banding together and attempting to shut down the airport. Needless to say, airport security is pretty high right now, and they are not issuing any more new airport security passes.
Our first training was an interesting experience. When we arrived we found that the workers were already there and had been waiting for us for some time. (This is not usually a good way to start a training.  🙂  To make matters worse, they had some video playing on the screen that I didn't even want to look at. Now how do you follow that with a character lesson?
The Lord gave a lot of grace, and the people were at least mildly interested. We had hoped that our fictitious skit of "A day in the life of CTI" would give them a picture of what an office can be like without character, but the people still didn't seem as open as I was hoping, and at the end someone asked how many weeks this training was going to continue.
The next week we really focused on praying for this group. We can give a "good" character presentation, but only God can open hearts to receive the message. When we went back, I was amazed at the difference! The people were focused and attentive for the entire training. Chingis (one of our staff) led the discussion time at the end, and they even shared some illustrations of how they have seen the importance of attentiveness in their company. By the end of the training there was a definite excitement in the air. When I asked if they enjoyed the training, they broke out in spontaneous applause.
Later, David told me about his talk with one of the flight attendants before the training. He asked where she had learned her English, and discovered that she had been taught by Mormon English teachers for all four years of university. She seemed relieved when David clarified that we are not Mormons, but are here teaching character. This seemed to bring down a barrier, and she was the one that volunteered to share at the end of the discussion time.
This past month marked the one-year anniversary of Isaac's sudden illness and unexpected death while serving here with us in Mongolia. We had some special times as a family reflecting on memories from last year, and on passages from Scripture that have become especially meaningful to us over the past year. We miss him as a brother, but we rejoice in the things that we see the Lord doing through the testimony of his life.
It is really exciting to see the opportunities that are open before us. In addition to the character trainings, we have also had the opportunity to work with a number of Christian groups where we have the freedom to teach right from the Bible. On two Fridays each month we host "Family Night" at our apartments. Erin leads a program for the children while Tim teaches on the Commands of Christ. Our classroom is technically limited to 25 students, but our last Family Night had about forty people in the main session and another sixteen in the children's program. We are currently investigating options for a larger facility.
Rachelle and David just left yesterday (November 20th) for a trip to the Philippines where they will join a handful of other young people from the States. For three weeks David will lead the team of eleven as they teach in a number of schools and universities, doing character trainings, and training teachers how to implement character education in their schools.
Just to give you an idea of the schedule, they will be teaching in about 20 different schools, leading training seminars for five groups of teachers (one of the larger groups is estimated at over 200 teachers) as well as sharing at several churches. At many of these schools the team has been given freedom to openly share from the Bible, giving real opportunity to share the message of Salvation and the power that God gives us to develop in character.
My brother Derrick is wrapping up some final projects at the farm before leaving to join David and Rachelle for the trip to the Philippines. Returning after the Philippines trip to join the rest of the family in Mongolia in mid-December, we will again have the entire Waller family together for our first Christmas in Mongolia. Tim, Angie and Erin are schedule to return to the States for the holidays, so our family will maintain operations until Tim and Angie return early next year.
We are so grateful for this season of serving together as a family in Mongolia. It is often stretching as we adjust to the challenges of living in a different culture, but the adventure is all the more rewarding when we see people's lives being changed. I wish you could have seen the joy on people's faces at church on Sunday as we looked at a few of the "great and precious promises" that God has given to His children! (2 Peter 1:3-4)
Please continue to pray for us! There are so many unexpected things that come up, and we need the Lord's wisdom in daily decisions as we respond to the opportunities before us.
---
Praise Points:
We praise the Lord for His work in our family, and the many doors of opportunity that have opened up in this past year after Isaac's Homegoing last November.

After many hours of logistical planning and preparation, this is the first of my Prayer Updates to have a printed copy mailed to those who do not have access to e-mail, or who prefer a printed copy. (Let me know if you are aware of others who would like to be on this list.)

I am grateful for the work we see the Lord doing through the Aero Mongolia trainings. We are already beginning to develop friendships with the staff there, and I am encouraged to see the continued interest in character training.

Thank you for praying for health for our trip. A week after arriving in Mongolia we had a cold/flu bug go through the family, but we were so glad it was not in the midst of our airline flights to Mongolia!
Prayer Requests:
We would be grateful for your prayers for Derrick, Rachelle, David and the eight others that are teaching in the Philippines for the next three weeks. For those that would like further details and updates, you can take a look at their team website at: http://cadlinx.com/ philippines (remove space before "philippines" when typing the link into your browser.)

We would also appreciate prayer for a number of health needs around us. Our dear Pastor Enkhee may go to his eternal reward in the next few weeks, so please keep his wife Sodnom and their family in prayer. They have been very supportive of our ministry in Mongolia, and Sodnom and their son Ideree work with us part time.

Our Commands of Christ discipleship training classes, and Christian Character Training classes have both exceeded our classroom limitations, so pray that the Lord would give wisdom and direction in finding a larger location to meet. Most schools and public buildings are not allowed to have Christian Trainings, so finding a practical solution is not a simple task. 

-UPDATE:  Just today we received word that UBTC, a local Bible school is allowing us to rent space in their facility! Praise the Lord!
---
Pictures:
We enjoyed a very special time of fellowship with our extended family
at my uncle's home just before flying to Mongolia. It would be over
a month before the eleven Wallers would be all together again.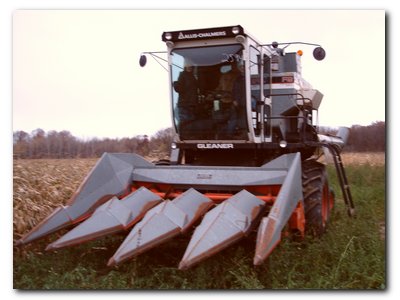 Derrick was able to do some of his own combining at our farm this
fall. He stayed back for a few weeks to finish up some farming
projects before flying to the Philippines to join Rachelle and David.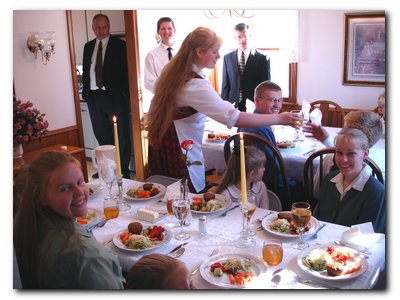 A couple days before our flight, we were treated to a fine dinner by
the Mullen family. We are so grateful for the families and friends that
stand behind us in prayer while we are overseas.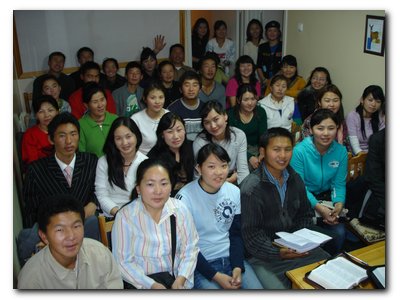 Our classroom, packed with people wanting to hear about character
with a Biblical background. (Note the open Bibles.) In our private
trainings we have full freedom to share right from the Bible. (Which
is really where the principles of character find their foundation.)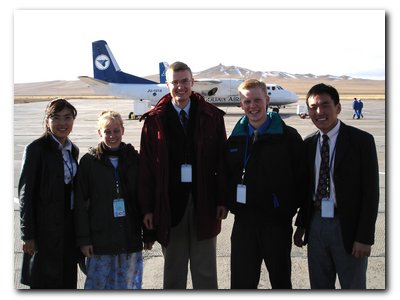 I am excited about what we see happening at the new Aero Mongolia
character trainings. It is an opportunity to build relationships in a
company with perhaps only two known Christians.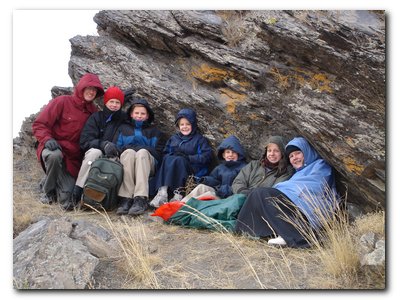 Another mountaintop experience. I think it was the coldest picnic
lunch we have ever had, but everyone was in good spirits, and enjoyed it.
You can see many more new pictures on the Prayer Updates section of our family website.
---
Interesting Fact:
Electrical power in Mongolia is served at 240 volts, twice the voltage used in the United States. Some of the electronic equipment we bring from the States (sewing machines, battery chargers, and some computer equipment) is not equipped to run on this voltage, and requires step-down transformers to work.
Somewhat similar to our farmhouse in the States, there are few power receptacles in the apartments, (most rooms only have one or two single outlets) so we usually use power strips to plug things in. The wiring is often mortared into the concrete wall, and the receptacles are pressure fit, and often come out of the wall. If you trip a circuit breaker, you have to wait for the building maintenance worker to unlock the panel to reset it.
Most American electric stoves use more power than the wiring here can support, so learning to use the Russian electric stoves/ovens can be quite a learning curve. Even at full power, most of the ovens have trouble reaching 350F, so baking can take a lot of trial and error. This week should be exciting as our staff prepares Thanksgiving dinner for over sixty guests!
---
Thank you so much for praying with us! God is clearly doing a work here, and although we don't always see the bigger picture, it is a joy to see little glimpses of lives that are being changed for eternity!
In Christ,
– Adam

Adam Waller ~ MyAllForChrist@CadLinx.com
Family Website ~ http://cadlinx.com/wallerfamily
"And let us not be weary in well doing: for in due season we shall reap, if we faint not." – Galatians 6:9
If for any reason you would prefer not to receive these e-mails, just reply with "unsubscribe" in the subject line. If this e-mail is being forwarded to you, just let me know and I can put you on the regular list.  – Adam