Saturday, January 14th, 2006
Grantsburg, Wisconsin
Dear Family and Friends,
You know you are a missionary when you hear comments like "When we get back to Mongolia things should be more normal again." This was spoken by my Dad a few days ago at the dinner table. These weeks at home have been a busy but fruitful time.
One thing that continues to amaze me is how God gives special wisdom to our authorities as they are faced with decisions that affect those under them. In December, my parents were discussing the idea of making a trip to Maryland to see a number of close friends that we had gotten to know during the couple years we lived in the area.
Although this sounded like a wonderful opportunity, to be perfectly honest, I wasn't sure if it might be too much for our schedule to do another cross-country trip just after Christmas before heading back to Mongolia on January 19th. Since both Mom and Dad felt that it would be good to make the trip, I decided to just wait and see what the Lord might do through it.
A further confirmation came on Christmas Day as we learned that Nell Pryde, a 90-year-old dear friend of ours had taken a bad fall and was in the hospital with serious head injuries. This is one of the friends that we had wanted to visit out east, and we all prayed that the Lord would give us the opportunity to see her again.
Who but the Lord could have foreseen how badly Nell needed that visit. After surviving the brain surgery to the surprise of the doctors, she still knew our family and remembered our names. She is a strong Christian and ready to meet her Savior, but as she told us, God must still have some work for her to do.
It was a joy to meet with many friends and families, most of whom we had not seen since we moved to Wisconsin four years ago. One of the highlights for me was to see the Wold family. We had known them in Maryland, and some unexpected events in their lives left an impression that I never forgot.
While September of 2001 marks for many a major event in history, the lives of the Wold family were forever changed the year before. Our family was planning to get together with them on September 8th, but plans changed and we had to postpone the dinner. Then, that very evening as Mr. Wold was jogging near their home, a car came around a curve and struck Mr. Wold. Airlifted to the hospital, he passed away in surgery a few hours later, leaving a family of nine children and one on the way.
My family joined hundreds of others at the funeral a few days later to witness a powerful testimony of a family that had taken hold of God's grace through this seeming tragedy. I still clearly remember seeing their family sitting in the front row of the church, with a confidence and joy that shone through the tears. Testimonies by Mrs. Wold and their oldest son Daniel proclaimed God's faithfulness through this unexpected loss.
How little did I realize that just five years later, it would be my family sitting on the front row of a large church in Ulaanbaatar, Mongolia, and I would have a similar opportunity to boldly testify of God's grace. Memories of the Wold family often came to mind as we walked through this experience as a family, and like the Wolds, we were surrounded by God's grace and the love and prayers of others.
Our visit to the east coast was marked by many special visits and opportunities to share of God's faithfulness. Looking back, I am so glad that we went. It was a lot of miles to travel, but the rich fellowship with friends left us with special memories as we returned to the farm for the final packing and preparations for our return to Mongolia.
The Lord continues to give us opportunities to share with others of the grace that God has given us through this time. Last Sunday we were invited to share at a small church in the area. Our family shared some special music, and I was given the opportunity to preach the message.
Perhaps what made this opportunity especially significant is that one of the families that attends this church lost a five-year-old daughter in a farming accident last Spring. The Quimby family was a real testimony to the community as they shared the confidence they had that their daughter was with Jesus. (See: http://www.burnettcountysentinel.com/main.asp?FromHome=1&TypeID=1&ArticleID=8766&SectionID=1&SubSectionID=20)
Going through an experience like Isaac's death gives a new depth in relating with others. I never realized before how many people have gone through difficult losses in their lives. I believe that this is a part of the fruit that God brings through these challenges. "Blessed be God, even the Father of our Lord Jesus Christ, the Father of mercies, and the God of all comfort; Who comforteth us in all our tribulation, that we may be able to comfort them which are in any trouble, by the comfort wherewith we ourselves are comforted of God." – 2 Corinthians 1:3-4
This is one thing that I am looking forward to in going back to Mongolia. God has given us a door of opportunity, and now God has given us a deeper message to share. As Mom was sharing with me while traveling home in the van last night, this is our message. We are not wonderful or special people. We have had many failures and many mistakes as we try to walk in His grace, but God in His great love and mercy has chosen to shine through our weakness to show His power.
Missionaries are not some special type of people that have achieved a measure of status that sets them apart. We still go through very real challenges and struggles, just like any other family. That is why we so appreciate your prayers for us. We have been strong through this time because God's grace has carried us. The Eternal God is our refuge, and underneath are the everlasting arms.
With our sights turning to Mongolia, we look forward with eager anticipation to the work that God has before us. Our Mongolian staff tell us that calls continue to come in from different groups asking for character training. A few days ago a well known company asked if we could do training for their staff. Another meeting brought the proposal to get materials for the next nine character qualities translated and printed as soon as possible.
In February we are scheduled to travel to two cities in China, teaching Character Family Seminars to the students and families of some International schools. David has been preparing the curriculum for the Children's Seminar, and I am planning to do the training for the teenagers while Mr. Fahrenbruck leads the sessions for the parents.
Many things are just waiting for our return to Mongolia, so I have a feeling that we will "hit the ground running", so to speak, when we land in Ulaanbaatar next week. Please continue to pray for us as we work out the final arrangements for packing and travel.
---
Praise Points:
We are grateful for how the Lord continues to provide for our family, often in interesting ways. A good friend asked if we needed any firewood, and brought three cords of dried sawmill slabs. Another friend from church said, "yes, but you need some chunk wood too." He arrived a few days later and unloaded a semi load of hardwood logs onto our woodpile!

Some of our relatives thought it would be prudent for me to have some blood tests done here in the States before going back to Mongolia, so I paid a visit to the doctor last week. I know that my times are in the Lord's hand, but it was nice to see that everything came back as normal.

Praise the Lord for a good visit to Maryland, and the safe travel along the way.
Prayer Requests:
Pray for our family as we do the final packing and preparations for our return to Mongolia. We are planning to drive down to the Chicago area on Tuesday, and fly to Mongolia on Thursday, the 19th of January.

Please pray that we would have good health for the trip, and a good adjustment to Mongolia. Sarah is recovering from strep throat, and

the is

some illness going around our area.

Pray for the team in Mongolia as they work to finish some remodeling projects in the main apartments. We appreciate the hard work of our Mongolian staff as they replace the aging wallpaper and paint the floors in the midst of all the other projects.
---
Pictures: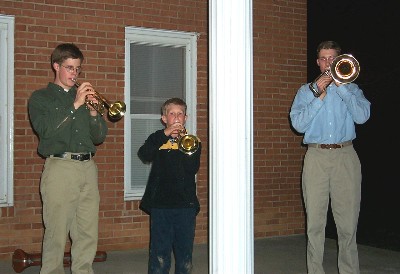 Taken while our family still lived in Maryland, this picture shows
one of the Wold boys playing trumpet between Derrick and Isaac.
You can read more about their story on their son Daniel's website.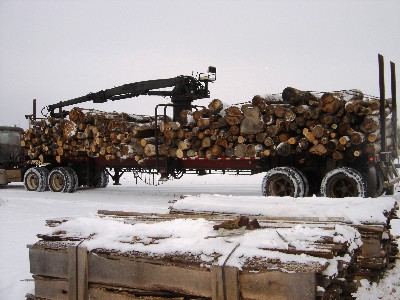 "Well, you need some chunk wood too.", a dear friend from
church told us, arriving a few days later with "some chunk wood."
(A semi load of hardwood logs.)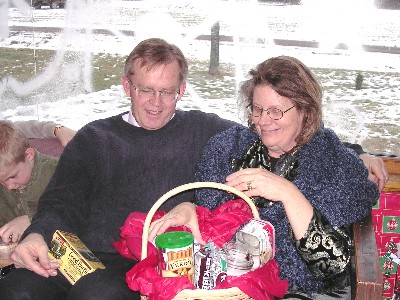 Although we miss Isaac, it was great to be together as a
family for Christmas.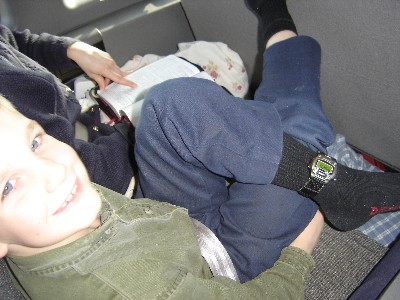 "Been traveling long?"… Matthew was finding creative ways
to enjoy the trip out to the east coast.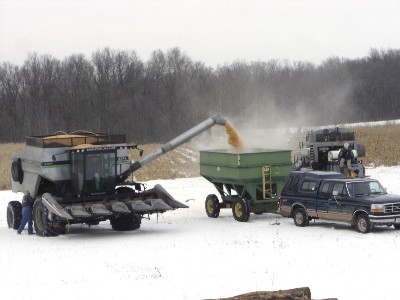 Out in the field, Derrick was excited to see the corn harvest
coming in from our fields.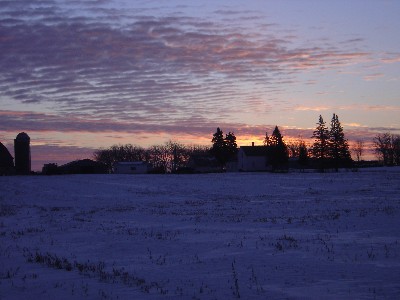 Sunrise over our home a few days ago. We enter this new
season in our family with a deeper confidence in the
all-sufficient grace of our loving Savior.
---
In most of my updates, I have struggled with the decision of how many pictures to put in my update. I usually select several, but have to narrow it down to just a few to keep the e-mail size small enough for our friends with dial-up connections. Now, with our family website, I have posted some additional pictures for those that are interested.
You can visit http://www.cadlinx.com/wallerfamily/index_files/Pictures/06-01-14.htm to see the other 32 pictures.
---
Thank you for your prayers for our family as we head back to Mongolia. It was such a joy to see so many that have been praying for us over these past months.
In Christ,
– Adam

Adam Waller ~ MyAllForChrist@CadLinx.com
Family Website ~ http://cadlinx.com/wallerfamily
"And let us not be weary in well doing: for in due season we shall reap, if we faint not." – Galatians 6:9
If for any reason you would prefer not to receive these e-mails, just reply with "unsubscribe" in the subject line. If this e-mail is being forwarded to you, just let me know and I can put you on the regular list.  – Adam
_uacct = "UA-2519367-1";
urchinTracker();