Monday, November 7th, 2005
Ulaanbaatar, Mongolia
Dear Family and Friends,
Our days have simply been filled from morning till night with so many details. While we are at times physically and emotionally exhausted, God is giving us great strength and peace through this time. So many friends have gathered around us to help in any way that they can.
We have received e-mails from friends all over the world, many whom we have never met, that are praying for us, and this continues to bring us great encouragement. We know that God has a very special purpose for Isaac's life and for our family in this time.
Today we drove out to the airport to welcome my parents back from Korea. It was a tearful reunion, but we have such a joy and hope in the midst of this loss. We will greatly miss my twin brother Isaac, but we are already seeing God do some very special things in our lives, and in the lives of those around us.
Jesus said that all men would know we are His disciples by the love that we have for one another (John 13:35), and I am seeing this lived out in a reality that I have never before experienced. The kindness of Christian friends in Korea has brought such encouragement to my parents.
The doctor that helped receive Isaac from the plane was with my parents in the hospital until five the next morning. Every day he was with them and helped them make international calls from his cell phone. Other friends provided meals and spent time encouraging and praying with my parents through these hours.
Even through all these unexpected events, we see an even greater love, the great wisdom and loving care that God has shown to our family through this time. The fact that we were able to be serving together as a family for the last few months of Isaac's life is something we will never regret. There are many other special things that we are now seeing, and I look forward to sharing them in greater detail over the days and weeks to come.
There are many arrangements and details yet to be worked out for the viewing tomorrow evening, and the funeral on Wednesday. Pray that the Lord will give us great wisdom in making so many important decisions. Our desire is that God would be glorified, and that our family would be a testimony of His grace and power in the midst of suffering.
We will miss Isaac very much, and continue to shed many tears, but we have a joy and a confidence that we will see him again! God has chosen in His perfect timing to take Isaac home, and already we have seen a number of people that have come to Christ through his testimony.
Today we were given permission by the Mongolian Government to purchase a burial site in a private cemetery. Isaac will be buried next to the grave of a leading pastor in Ulaanbaatar that went to be with the Lord a few weeks ago. His widow was greatly honored to hear that Isaac would be buried by her husband.
May God bless each of you, and continue to pray for our family in this important time. Below I have pasted the text from the funeral invitation that we have begun giving out.
---
Mr. and Mrs. Brian Waller and family would
like to invite you to attend the funeral for:

Isaac Wallace Waller
1980 – 2005
who died on November 4th, at age 25
in volunteer service to the country of Mongolia
with the Character Training Institute of Mongolia.

The viewing and funeral will be held at
First Church, [Light of Love Christian Cultural
Center] located opposite the Ulaanbaatar
University, behind the Naran Tuulzakh.

The viewing will take place from 5:00 PM to
8:00 PM on Tuesday evening, November 8th.

The funeral and services will begin at
First Church at 10:00 AM on Wednesday
morning, November 9th.
---
Pictures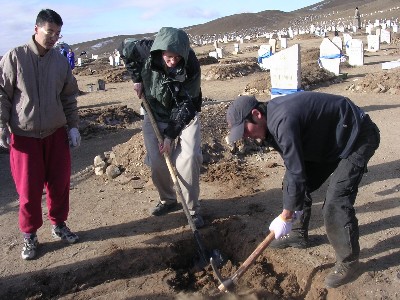 A number of young men from the church came to help us dig Isaac's grave. It took over 8 hours to dig by hand through the rocky ground.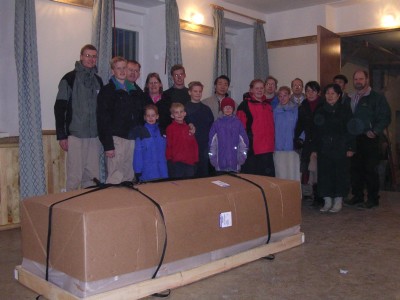 After bringing Isaac's embalmed body from the airport, we had a special time of prayer and singing before leaving the casket at a private facility for the evening.
---
Please continue to pray for us in these days, and especially for the funeral services on Wednesday.
In Christ,
– Adam

Adam Waller ~ MyAllForChrist@CadLinx.com
"And let us not be weary in well doing: for in due season we shall reap, if we faint not." – Galatians 6:9
_uacct = "UA-2519367-1";
urchinTracker();