Thursday, November 3rd, 2005
Ulaanbaatar, Mongolia
Dear Family and Friends,
A few hours ago Isaac, Mom and Dad left on Korean Airlines for an emergency medical evacuation to Seoul, Korea. Isaac has been on bedrest for over a month, with what began as an infection in his foot. While this seems to be slowly improving, last night his condition became much worse, with intense pain in the kidneys, fever, headache and constant bleeding.
By 5:00 AM we were getting very concerned. Isaac's condition was getting worse. Dr. Choi, a most gracious Korean doctor friend awoke to our emergency call and arrived a few minutes later to evaluate Isaac's condition. As soon as we could, we took Isaac in to have some blood tests done.
In the early afternoon we received a call from Dr. Choi who was evaluating Isaac's results as they were verified. The news was very serious. A white blood cell count for a healthy person is normally 5,000 – 10,000. Isaac's came back with a count of 375,000. Additionally, his platelet count had dropped from 453 to 100.
Dr. Choi advised us to get a flight as soon as possible for Isaac to go to a better hospital in Korea or Beijing for a bone marrow biopsy and further testing. After consulting with three other American doctors, we began looking for the next possible flight that we could send Isaac on.
Learning at about 4:10 PM that there was a Korean Air flight leaving at 5:20 PM, we worked to make these arrangements as fast as possible. I quickly packed a bag, and Derrick and I carried Isaac down to a waiting taxi. After a brief but tearful goodbye, they took off to reach the airport before the plane left.
In another taxi, Tim and a couple others were at the Korean Air office, buying the tickets, and racing off to meet Isaac at the airport a few minutes before the plane was scheduled to take off. The Lord most graciously allowed all the details to come together, and the airline held the plane for a few minutes longer so Isaac, Mom and Dad could be rushed on board.
Things were happening so fast that it was hard to know what was going on. Eventually all the details filtered down to know that Isaac, Mom and Dad were on their way to Korea, and potentially on to Minneapolis MN. Isaac was in very good spirits as he left, and we are rejoicing in the many details that God worked out for him to make the flight.
The nine of us children met in the living room together to spend some time in prayer. There were many tears, and many unknowns, but we are confident that God is working through this time. We know that our Loving Heavenly Father only gives good gifts to His children. God is working all things together for good.
At another family meeting together this evening, we are beginning to see God's hand so clearly in this most unexpected series of events. Already the airport security, taxi drivers and others have commented on the love that they have seen.
We feel in ourselves such a peace and calm in the midst of the storm. It is the miracle of God's grace. God is giving us strength and grace for today, and I know that He will give grace for the tomorrows. Just this morning I read the verse in Psalm 112 that says "Unto the upright, there ariseth light in the darkness…" We have such a blessed hope and confidence! May God use us to brightly shine His light during this time.
Please continue to pray for us in these days. I will work to keep you informed daily as we hear updates on Isaac. You can reach us by e-mail at this address. I don't know that I will be able to respond immediately, but know that we really appreciate your prayers and I will pass on your encouragement to the family here.
God bless you, and I will work to write again soon!
---
Praise Points:
– The incredible timing in the flight arrangements for Isaac. The three of them were able to fly to Seoul last moment (literally) for $1200, instead of tens of thousands for a life-flight.
– The great peace and calm that we each feel. We really feel God's grace in answer to your prayers!
Prayer Requests:
– That God would be glorified through this opportunity to show forth the power of His grace to all those that we contact in the days to come.
– That Isaac would be preserved to reach the hospital and that God would give the doctors great wisdom as they seek to help him in this time.
– Strength and wisdom for Mom and Dad as they spend these next hours and days with Isaac. Pray for wisdom in the timing of a flight to Minnesota, and for abundant grace in this time of need.
– For the nine Waller children that remain in Mongolia. Again, God has so uniquely prepared us for this time, but we need God's grace for the days ahead.
---
Pictures: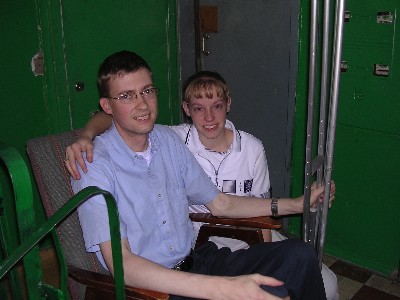 A picture of Isaac just before we carried him down to the taxi.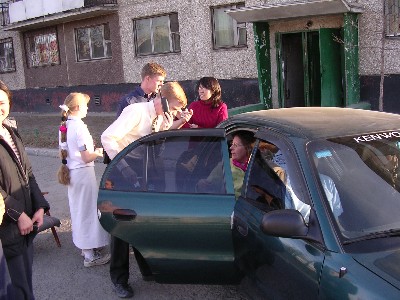 A flurry of last minute details, phone calls and tearful goodbyes as Isaac and my parents leave for the airport.
---
Thank you so much for your prayers for Isaac and my family in this time! We really appreciate each one of you!
In Christ,
– Adam

Adam Waller ~ MyAllForChrist@CadLinx.com
"And let us not be weary in well doing: for in due season we shall reap, if we faint not." – Galatians 6:9
_uacct = "UA-2519367-1";
urchinTracker();