Friday, April 1st, 2005
Grantsburg, Wisconsin
Dear Family and Friends,
For many years my parents have had the vision of serving as a family in some type of mission work. As a newly married couple, they began making plans to serve in Liberia, Africa, but God changed their direction to that of raising a Godly generation.
Over the past 25 years they have labored diligently to train us in the ways of the Lord. Making the decision to homeschool when Isaac and I were six years old was possibly a bigger step than it would be today. As pioneers in the homeschool movement they faced a great deal of misunderstanding from family and friends.
When I tell some people about my parent's decision to homeschool us, and they learn that there are 10 children in our family, they often say "Your Mother must be an incredible woman!" Well, I would have to say that she is, but it is through God's incredible grace and faithfulness! God is the one that gives us the motivation and power to continue on, and to go back and make things right when we fail.
We are still very much a work in progress. God is continuing to teach us new lessons in faith and trusting Him. Although we often fail, God has never failed to honor the promises of His Word. We have seen times of great provision and steady work, and we have also seen a few years ago when no steady work for nine months caused our finances to dwindle to almost nothing, -then God showed His power in providing my Dad with a very good job that has supported us since.
As the children have been growing older, (Isaac and I are nearly 25, and our youngest, Matthew, turned 7 yesterday) we are seeing the fulfillment of Psalm 127:3-5 "Lo, children are a heritage of the Lord: and the fruit of the womb is his reward. As arrows are in the hand of a mighty man; so are children of the youth. Happy is the man that hath his quiver full of them: they shall not be ashamed, but they shall speak with the enemies in the gate."
Like arrows launching out, the older ones have begun reaching out in various ministry opportunities in the past several years. I have had the opportunity to work in Oklahoma City, Australia and Mongolia, serving in a variety of capacities, but primarily in computer work and character education.
Reaching new levels of maturity, the younger ones have been taking on more responsibilities at the farm and various short-term ministry opportunities, giving us more mobility as a family, and allowing us to reach out with increasing effectiveness.
In this new season for our family, God has been working over the past several months in opening the way for us to serve together in Mongolia. In the past few weeks God has provided for us to be able to purchase 10 airline tickets, leaving on June 23rd for Mongolia.
Right now, the plan is that I would return to Mongolia on April 28th, and the rest of the family would come on June 23rd, with Derrick following a couple months later after wrapping up some farming projects. We are planning to spend six to nine months serving with the Character Training Institute, the same organization that I served with for most of last year.
We are all tremendously excited about this opportunity, and encouraged to see the Lord's provision and confirmation along the way. I have been teaching the family a few Mongolian words, and we have had many discussions about what things are like in Mongolia.
We know that we have a lot to learn, but we look forward to seeing how the Lord uses this time in our family as we reach out to the "uttermost parts of the earth."
As you can probably well imagine, great opportunities for doing much good often come with great opposition from the enemy. I received some very unexpected news this morning from our Mongolia team.
Stopping by the Mongolia Labor Department office, Jedidiah and Dumaa wanted to confirm that I just needed to pick up a Blue Card (work permit) when I arrive in late April. Much to their surprise, they were told that a new law had been put in place regarding foreign workers.
In the past we have been able to operate as an official NGO, (Non-Government Organization) which only required us to have something like 40% of our staff be Mongolian nationals. A new law states that NGOs must now have 95% Mongolian staff. This would mean 20 Mongolian employees for every American staff person!
We had heard some rumors from other organizations about this new law coming, but this was the first time that we had actually confirmed it. Since we only have five Mongolian employees right now, we were told that the Labor Department would not give us any more Blue Card work permits.
Appealing on the basis that my family had already purchased tickets, Dumaa asked if we might still be allowed to come. Holding very strictly to the guidelines, they told us, "No, you will just have to cancel the reservations."
This reminds me a little of an incident that took place last December when Derrick, Rachelle and David were going with a team to the Philippines for a three-week missions trip. A few days before they were scheduled to leave, they discovered that the broker had not purchased the airline tickets, could not account for over $15,000 that had been given to him for this purpose.
With such an impossible looking situation, God worked incredibly in answer to prayer, and the travel agent was able to find tickets for everyone on the team. They left a few days later with a fresh example of God's power, and went on to have an unforgettable three weeks of ministry in Cebu. You can see some pictures at: http://www.etcp.org/wkteam/index.html and http://www.bollingerproductions.com/
I believe that God sometimes brings us to impossible looking situations so that He can demonstrate His power to the world. "For the eyes of the Lord run to and fro throughout the whole earth to show himself strong in the behalf of them whose heart is perfect toward him." – 2 Chronicles 16:9a.
Proverbs 21:1 says: "The king's heart is in the hand of the Lord, as the rivers of water: He turneth it whithersoever he will." Please join us in prayer that God would move in the hearts of the government officials as we appeal to obtain work permits to continue the work in Mongolia.
---
Praise Points:
– My 18-year-old brother David was able to spend a few weeks with us at the farm over Spring Break. I am grateful for his energy-giving spirit, and wholehearted investment in our family before heading back to his work at the Character Training Institute in Oklahoma City.
– Praise the Lord for providing the resources for our family to purchase tickets for the trip to Mongolia. The excitement and anticipation continues to build as we see God opening up the way.

Prayer Requests:
– Please pray for the work permit situation in Mongolia. This not only affects CTI-Mongolia, but a large number of other Christian ministries in Mongolia. Our director Tim is planning to discuss this with several government leaders that we are currently working with. Pray that we would have continued favor in the eyes of our authorities, and that God's direction would be made clear.
– Pray that the Lord would give wisdom in how I use these next few weeks. The uncertainty with the Mongolia Work permit situation could possibly delay my return to Mongolia at the end of April. I know that God will work out the timing of my return if His will is for my family and I to serve in this field.
"Oh how great is thy goodness, which thou hast laid up for them that fear thee; which thou hast wrought for them that trust in thee before the sons of men!" – Psalm 31:19
---
Pictures: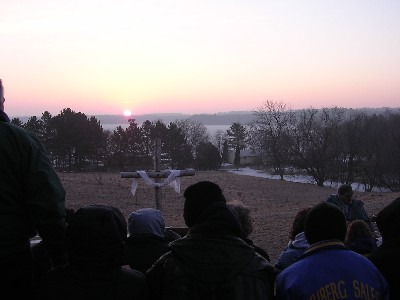 This year we had the opportunity to attend an Easter sunrise service near our home. Over 50 people came for the outdoor service at 6 AM.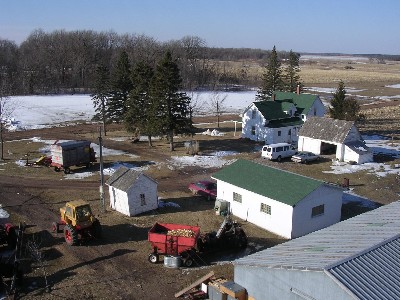 This is a view of our farm from the silo.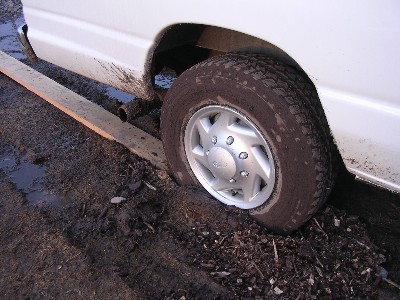 Spring is here! – And so is the mud. Derrick's tractor ended up working much better than the board for returning the van to the driveway.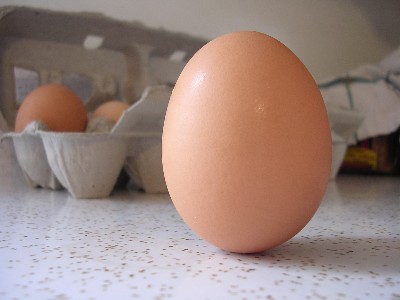 Have you ever balanced an egg? Near the spring equinox, a steady hand can accomplish this interesting feat.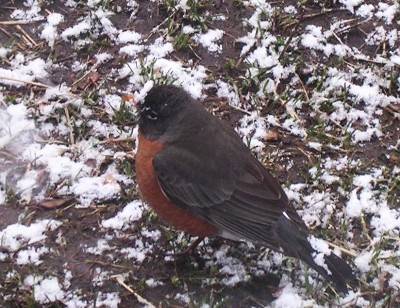 This poor robin got caught in an unexpected snow this morning.
---
Thank you for standing with us in prayer! I am looking forward to seeing what the Lord does in these next few weeks!
In Christ,
– Adam

Adam Waller ~ MyAllForChrist@CadLinx.com
"And let us not be weary in well doing: for in due season we shall reap, if we faint not." – Galatians 6:9
---
P.S.
Some of you might be interested in receiving updates on the work going on in Mongolia. Carissa Gay sends out a weekly e-mail with two praises and two prayer requests outlining specific ways to pray for the ministry there. If you are interested in receiving these, please send Carissa an e-mail at cgay@ctimongolia.com, and she would be happy to add you to the list.
I don't always have the time to touch on all the issues in my updates, so you might find these additional e-mails helpful in praying more specifically for the work. Thanks again for your Interest in Mongolia!
_uacct = "UA-2519367-1";
urchinTracker();