Monday, April 11th, 2005
Grantsburg, Wisconsin
Dear Family and Friends,
In my last update I mentioned a prayer request in regard to my return to Mongolia. A new law was passed on January 12th, clarifying the requirements for importing foreign labor. Now, instead of the 70% foreign, 30% Mongolian, almost every organization is required to have a 95% Mongolian worker ratio. (Like most businesses in Mongolia.)
This gave rise to some serious concern among many non-profit type organizations, including CTI-Mongolia and other Christian ministries in the country. We were told that the government officials were holding strictly to these terms, and would not allow any new visas or work permits to be granted until this requirement was met.
I was greatly encouraged to hear from several of you that have been praying for this situation. I know that some that have brought this prayer request to their churches and prayer groups, asking the One who holds the heart of the king in His hand, that He would grant us favor in the eyes of the authorities in Mongolia.
When further appeals to our local labor department officials were denied, our director Tim set up an appointment to meet with the Minister Labor for the nation of Mongolia.
On Friday afternoon, Tim and several of our staff met with the Minister of Labor. Discovering that she spoke English, Tim was able to speak directly with her about our situation. The Lord truly prepared the way. Not only was she familiar with English teachers, but she has actually started her own college with foreign teachers.
Understanding our situation, she agreed that it would be impossible to have a 95% Mongolian staff ratio for this type of educational/service-oriented organization. She told us that CTI-Mongolia should be considered an educational organization, falling under the 70% foreigner / 30% Mongolian staff category.
Not stopping there, she went on to call our local Labor Department office, and actually ended up speaking with the very official that had been giving us so much difficulty! Clarifying that CTI-Mongolia is not required to hire additional Mongolian staff, the Minister of Labor arranged for a meeting on Monday to discuss these issues with all the Labor Department staff.
We are so grateful for the way that the Lord has again demonstrated His power in this situation! I have not heard any further reports from the Monday meeting, but it looks like the Lord has cleared the way for my family and I to obtain work permits for our time in Mongolia.
Please do continue to be in prayer as the remaining details are worked out on the work permit issue. While we are grateful that CTI-Mongolia will not be hindered by the new law, a number of mission organizations and Christian ministries still face difficulties in obtaining new staff. It seems that the primary issue is that there is no specific provision for service-oriented organizations.
You may also remember the prayer request for wisdom as I work to obtain some computers and software for Mongolia. Last Wednesday I was checking prices on used computer systems, and came across some interesting listings on eBay.
Apparently deciding to upgrade a large number of computers, the Minnesota Public Library was selling a number of their older desktop computers. When it looked like they would go for a surprisingly low price, I put in a bid, and got a computer (PIII 800mhz,128m Ram, Win2K Pro, Office 2K) for $46!
The seller only accepted local pickup for shipping, so this factor seems to have limited the bidding on these computer systems. – Much to my advantage, since we could pick them up at a library branch an hour away.
Another group of 10 computers is scheduled to finish their auction on Wednesday, so Lord willing, I hope to purchase several of these for my family to bring to Mongolia in June. I am just amazed at how the Lord seems to have worked this out!
I just "happened" to come across these computers the day the auction ended, they just "happened" to be in our local area, they just "happened" to be exactly the kind we need in Mongolia, they just "happen" to have licenses for the software we need, I just "happen" to have gotten one to inspect before I leave for Oklahoma in a few days, there just "happens" to be another batch for auction the next week, my family just "happens" to be able to take them to Mongolia when they come in June.
No, I don't think it just "happened." I think that God may be orchestrating something here, something I could never have done on my own! In situations like this, I am reminded that God's blessing is the most important asset I can have.
The Lord continues to bless these remaining days at home. Just today I was able to confirm plans to travel to Oklahoma City to spend a couple weeks at the Character Training Institute headquarters before heading back to Mongolia on April 28th.
Yesterday we were invited by friends in Minnesota to visit their church and share a little about our plans for Mongolia. I know that their church has been praying for my family and I, and especially the work permit situation last week. It was a great joy to be able to share the fresh report of God's answer to our prayers.
It was a special joy and encouragement for me to talk with several young men that are growing up with a heart for ministry and a desire to whole-heartedly serve the Lord.
That evening we visited another small church in Minnesota. My family has visited there a few times in the past, and they recently invited me to come and share about the work in Mongolia. God again poured out a blessing on the service as I showed slides and described the work.
These next few days will likely entail much packing and preparation as I leave our farm on Wednesday evening. This time at home with the family has been a special one with many rich memories not soon to be forgotten.
---
Praise Points:
– Praise the Lord for the answers to prayer in relation to the work permits! The way that God has opened the door brings further encouragement as we take this next step of faith for our family.
– I am grateful for the Lord's hand of guidance in finding a source to potentially purchase some computers for CTI-Mongolia at a low cost.

Prayer Requests:
– Pray that God will give wisdom in how I spend my time in the next two days. Much packing and completing of projects needs to be balanced with spending time with the family.
– Also pray for safety as I drive to Oklahoma City. I have never made the 14-hour drive alone before, but I trust that God's grace will be with me. – A tailwind would save on fuel costs too…  🙂
– Pray that the Lord would prepare the way and allow me to be a blessing and encouragement to the team in Oklahoma City as I spend a couple weeks there.
---
Pictures: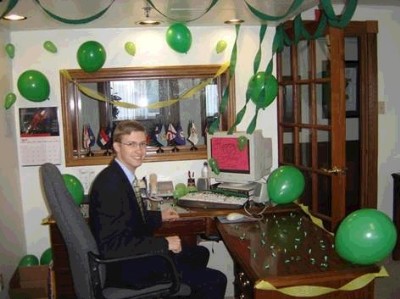 My sister Rachelle surprised Isaac this morning by decorating his office in Oklahoma City for his birthday. – Did I mention that his favorite color is green?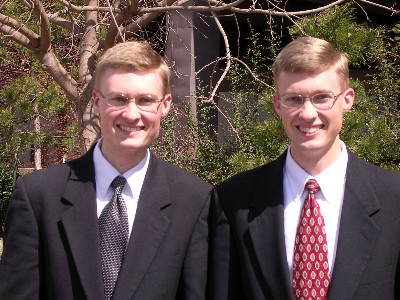 Isaac and I just before I left for Mongolia a year ago. Today is Isaac's birthday, and I told him that it was quite something to realize that I had a younger brother who was 25 years old. He replied that he thought it was interesting to be 25, and yet not be the oldest child in the family!  🙂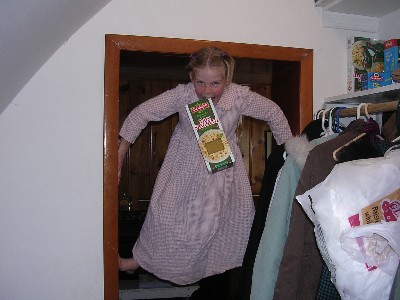 Who says you need a ladder to reach the spaghetti noodles? Lydia demonstrates her doorframe technique.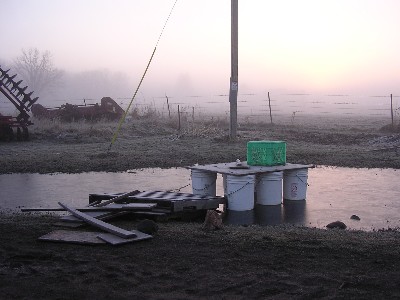 One of the recent projects of the younger Wallers was to design a boat to take advantage of some standing water in our yard.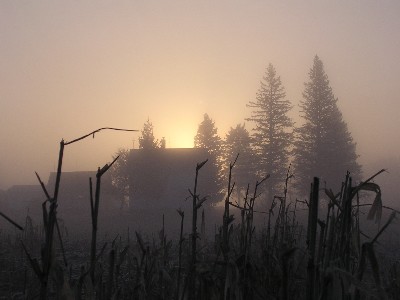 The farmhouse at sunrise last week.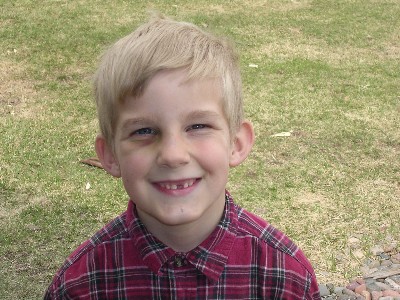 "I'd like to see what the other guy looked like!", These and many other unsolicited comments were patiently endured by Matthew after he accidentally bumped his eye on Samuel's knee.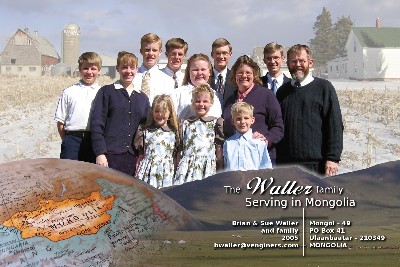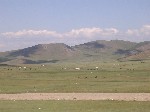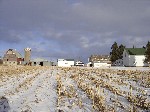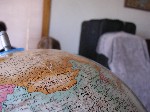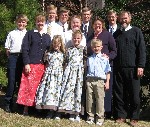 For those of you who might be interested, I created our family prayer card from the four pictures above, using some free software called "The GIMP". I was quite impressed with the program! You can find it at http://gimp-win.sourceforge.net/stable.html
---
Thank you so much for your prayers!
In Christ,
– Adam

Adam Waller ~ MyAllForChrist@CadLinx.com
"And let us not be weary in well doing: for in due season we shall reap, if we faint not." – Galatians 6:9
_uacct = "UA-2519367-1";
urchinTracker();