Tuesday, February 1st, 2005
Oklahoma City, Oklahoma
Dear Family and Friends,
I had intended to send one more update just before leaving Mongolia, but an unexpected computer issue kept me quite occupied right up until the time that I left. Maybe I can start with a brief summary of my last week in Mongolia.
On Wednesday evening, Tim and Angie went out to the airport to welcome George Mattix on his very first visit to Mongolia. As the director of the IBLP International Department, Mr. Mattix was on his way back from Hong Kong and the Philippines, bringing exciting reports about what God is doing in these branches of the ministry.
The next morning I started the Teacher Training Course in our classroom while Mr. Mattix, Tim, and Angie went to the government office for meeting with Naran, one of the city leaders that is over all the social work in Ulaanbaatar.
Hearing reports of what is happening with the orphan ministry in the Philippines, the meeting continued for most of the day as Naran drove Mr. Mattix, Tim, and Angie to two different orphanages in Ulaanbaatar, giving them a personal tour of each.
They arrived back at the apartment just in time for the Thursday evening Character-English classes. The next morning started off with the Teacher Training Course again in the morning, and that evening we had a dinner with our pastors and several other Mongolian coworkers and friends, concluding with a hymn sing.
Saturday morning Character-English classes began the weekend, and in the afternoon we visited the Mongolian ger where Dumaa, Sahiaa, and their family live, and then we toured the New Tribes Mission headquarters building.
It was quite fascinating to see how they heated the 10,000 sqr. foot building. They have a special furnace that burns used oil from the old locomotive trains. A very inexpensive alternative to coal, they are able to heat the entire facility for about $1,000 a year! A sudden power outage there in the basement made me again grateful for my key chain flashlight as we found our way out of the darkness into the light.
Mr. Mattix taught a Sunday school lesson, then preached for the main service at Holy Way on Sunday. Puja did a great job translating, although we had to smile sometimes as we realized our new awareness of how much we as Americans tend to use idioms in our speech.  🙂
All in all, I think that Mr. Mattix was able to get a very good taste of the work here in Mongolia, and will be able to report back to IBLP headquarters with better information for ideas and decisions. In a final meeting before he left, he told us "I had no idea of the scope of the work that you all are doing out here."
The next few days went by very quickly as I tried to wrap up some final things before my departure on the 26th. Among these projects, I thought it might be nice to add some more memory to one of our main computers. This is typically just a five minute job of turning the computer off, plugging in the memory, then starting back up.
Well, shall we say that this time it was not a five minute job. 🙂  I tried plugging in the memory but the main computer did not like it. (I had purchased 133mhz speed memory instead of the 100mhz type.) I thought it might work in one of the other computers instead, so I tried it in one of the workstations. Instead of beeping with a message about the wrong type of memory, this computer stopped responding completely.
In the hours that followed, it became clear that the main circuit board in this other computer had taken a fatal memory lapse, so to speak. I got to make one more trip to the computer store for a new main board, and the evening before I left the Lord allowed me to finish getting that computer up and running again. The failed hard drive in Tim's laptop made it all the more important to have the five other computers in running order when I left.
Even with the busy schedule and projects to finish, the Lord still allowed for some good opportunities to spend time with people before I left. That Sunday afternoon, a young man from our church invited the three of us young men to come over to his apartment and join him for lunch. Having spent several weeks working with a Christian ministry here in Mongolia, Andre' was headed back to his home in New Zealand in a few weeks.
Sharing some simple sandwiches, we had a most profitable discussion on spiritual things. How do we study the Bible? How does a person find God's direction in life? It was neat to be able to share from our lives some of the things that God has been teaching us over the past several years.
On the mission field it is often easy to forget that the missionaries themselves are sometimes are just as much in need of encouragement and good Christian fellowship as the nationals. Rather than jealous competition with one another, there is a great blessing in working together as a unified body.
Of my flights back to Oklahoma City, probably the most notable event took place in the Chicago airport. Arriving at 4:30 in the afternoon, I had a few hours layover before my flight to Oklahoma City at 7:50 PM. I spent some time walking around, bought a couple hamburgers for supper, then settled down in a quiet spot to catch up on some journaling.
As I was sitting there in a quiet terminal, I noticed a couple young men across from me, talking on the phone. They looked clean cut and well dressed, and then I noticed their little name badges. We had seen some Mormons in Ulaanbaatar, and my heart went out to these two young men. They were probably close to my age, a little younger perhaps, and likely going out for their two years of service.
Looking at my watch, I prayed that the Lord might work out an opportunity to talk with them, and possibly be able to share some truth from the Word of God. About 45 minutes later, my flight was scheduled to start boarding, and the guys were still talking on the phone. I decided that the Lord must have had another plan for them, and gathered my bags, I started walking to the gate.
Arriving at the gate, I discovered that the plane still had not come in yet, and the flight was delayed an hour or so. That is interesting, I thought, and walked back to where the Mormon guys were still talking on the phone. A little later one of them finished, so I went over and introduced myself. He was on his way to Moscow, I learned, for his two years of service.
I asked him a little about his family, and told him what I had been doing in Mongolia. He seemed quite open to talking, and responded to a warm, friendly attitude of genuine interest and concern. I told him that I was a Christian, and began sharing a little about my faith.
The Lord really seemed to guide the conversation as I shared about Christ being the full atonement for our sin. All the religions of the world are based on man trying to be good enough to have a relationship with God, while Christianity reveals a God who so loved the world that He gave His Son to reconcile us to Himself.
As well as they could, the two Mormon guys tried to explain how we need to prove our faith by our good works, and try to earn back a fellowship with God. It was a little more difficult for them as I continued gently probing them to show me from the Scriptures where we need to do something to earn our salvation.
Again, there was such a neat spirit about the whole conversation. There was no arguing or defending opinions, no taking up offenses, just a genuine interest in revealing the truth. "Where are you basing your faith?" I asked again, "Is it in what some man said, or is it in the timeless and changeless perfect Word of God?"
More than just feeling or impression, I want my faith to be based upon the Word of God alone. All around us we see groups that have added or taken away from the Word of God, and have been led astray by the enemy. "My greatest desire for you," I shared with them, "is that your faith would rest not in the wisdom of men, but in the eternal power of God's Word."
Their flight was about to begin boarding, so we shared a few more final thoughts before they had to go. It was so neat to see how the Lord brought Scriptures to mind that revealed the deception in what they believed. Isn't that why we are exhorted to study to show ourselves approved unto God, workmen that need not to be ashamed, rightly dividing the Word of Truth?
I trust that God will use this conversation, and while I may never know the outcome, I don't believe that our talk will be quickly forgotten. They allowed me to pray for them at the end of our talk, and I continue to pray that God will open their eyes to the truth of His Word.
There will always be people who can win a debate, or defend an opinion, but it is not so easy to silence a conscience that bears witness to the truths of God's Word.
---
Praise Points:
– I am grateful for how the Lord allowed me to wrap up some complicated computer issues before I left Mongolia. These would have been much harder to deal with if they would have happened a few days or weeks later.
– I praise the Lord for a very fruitful and special time in Mongolia over the past ten months. Many memories and joys, many lessons and challenges, yet a personal testimony of God's grace to help in time of need.

Prayer Requests:
– On Monday evening, February 7th, I have the opportunity to share a report of my time in Mongolia to the staff here. Pray that the Lord will allow the details to come together for this, and that it would be an encouragement for the ones that "stayed by the stuff" to make this work possible.
– Here in Oklahoma City, I am spending a couple weeks working at the Character Training Institute, (Character First! Headquarters). Pray that the Lord would give me wisdom in making the best investment of my time between family, staff, Mongolia, and work projects.
---
Pictures: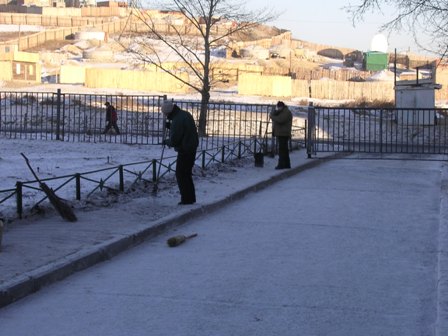 Snow removal is a little different in Mongolia. Here you see some workmen chipping up ice, then sweeping it away with straw brooms. One asked me what was wrong that I wanted to take a picture.  🙂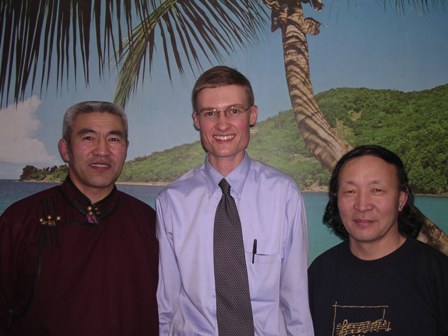 On the shores of Mongolia. Well, not quite. 🙂 Our dining room mural made a nice background for a last picture with pastors Enkhee and Dugermaa.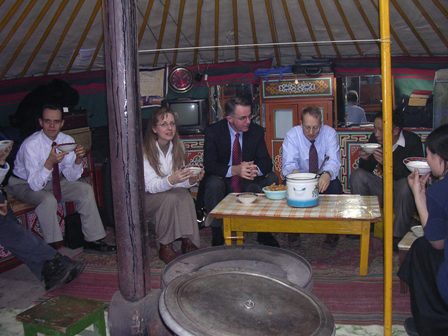 Mr. Mattix had his first opportunity to visit a ger on his four-day visit. Dumaa and Sahiaa's mother made some fried bread and a hot yogurt type drink for us.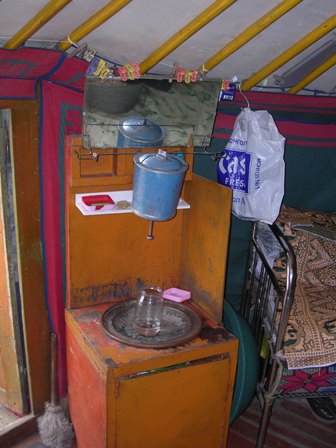 This is how running water works in most gers. Conservation and recycling are learned by those that frequently carry water.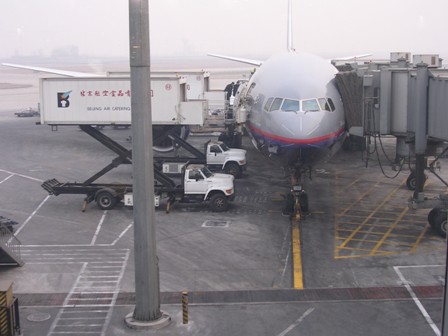 A Chinese catering company loads the meals onto a jet for an International flight.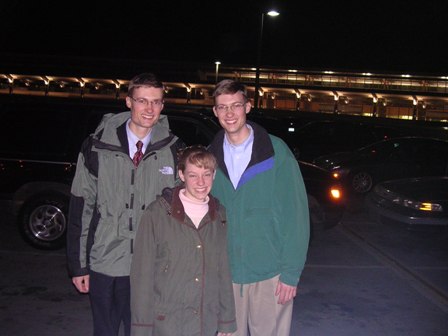 A happy reunion in Oklahoma City. Isaac and Rachelle drove out to pick me up after my delayed flight got in at about 1 AM.
---
Thank you so much for praying for me over these months!
In Christ,
– Adam

Adam Waller ~ MyAllForChrist@CadLinx.com
"And let us not be weary in well doing: for in due season we shall reap, if
we faint not." – Galatians 6:9
_uacct = "UA-2519367-1";
urchinTracker();