Thursday, February 24th, 2005
Grantsburg, Wisconsin
Dear Family and Friends,
It is really hard to believe that almost an entire month has gone by since my return to the States on January 26th. The days have been fruitful and full of opportunities to reach out to others. It is amazing how spending some time in ministry overseas changes your perspective. I do pray that the Lord will allow me to keep a ministry focus in my "Jerusalem and Judea", not only in the "uttermost parts of the earth."
As I was preparing for my return to the States, I had arranged to spend a couple weeks at the Character Training Institute in Oklahoma City. I figured that the extra time there might allow me to spend some time with Isaac, Rachelle and David, since I would not see them much at the farm.
I also wanted to take the opportunity to give back a little to the ministry that the Lord has used so much in my life over the past several years. I had the opportunity to work with Jonathan in the computer department all the time that I could over the two weeks that I spent in Oklahoma City.
God's amazing timing was again seen in an unexpected message from Mongolia. A few days after I arrived in Oklahoma City, Jedidiah from the Mongolia team let me know about some warning signs that the hard drive on our main computer there was probably failing.
We worked together for the next several hours to get the data transferred to another computer and backed up in case something catastrophic happened to the ailing computer. This proved very timely as the hard drive failed completely on the following day!
It was so neat to see the timing in all of this! Because of the early warning signs we were able to get things moved and transferred with zero data loss! That is an unusual blessing with a hard drive failure.  🙂  My recent experiences with the hard drive on Tim's laptop also prepared me to more efficiently assist Jedidiah in handling the situation.
While in Oklahoma City I was also able to replace the hard drive from Tim's laptop and get the software installed and set up again before sending it off to Rebekah Myrick who was heading over to Mongolia a week later. We could hardly have planned it better to have the laptop repaired and hand-carried back to Tim.
Spending some time catching up with a number of people in Oklahoma City was an added blessing to my time there. Even Timothy Crawford that had helped us at MIU in Mongolia earlier last year stopped by to hear what was happening in Mongolia.
I had the opportunity to share a report on what the Lord has been doing over in Mongolia, and on Monday evening about 70 people gathered to see over 200 pictures as I tried to briefly describe the work and opportunities before us.
Flying back from a training conference in Indianapolis, the arrival of my younger brother David brought the entire family back together for the first time since March of last year. We traveled a few hours south to Broken Bow, Oklahoma to spend a week together at a beautiful cabin that some friends most graciously allowed us to use.
We enjoyed beautiful weather as we spent time together hiking through the woods, fishing in the stream, jumping across rocks, and roasting marshmallows over a campfire. A park area in town was the perfect setting for those long-anticipated family volleyball and soccer games, and the small lake gave the younger ones a chance to actually catch some fish.
Lydia was following our instructions to carefully watch her bobber floating in the lake, and finally she told me, "Adam, can you watch my bobber for a few seconds? My eyes are getting blurry!" "Okay, Thanks! They are better now." Sometimes they take our advice a little too seriously…  🙂
Homemade tacos accented by a few bites of fresh bluegill was a treat for everyone, but it was just nice to be together. The last couple miles of our hike, and finishing the dishes in the kitchen afforded some great opportunities to talk with each other.
Returning to Oklahoma City, we left Isaac, Rachelle and David to continue their work there while the rest of us departed at 4:00 AM on the 19th for the drive back to Wisconsin where I was scheduled to preach at our church the next morning.
The Lord again gave grace as I finished my outline on Sunday morning and preached on the love of God that always gives what is best for His children.  That afternoon I shared a Mongolia presentation with several families from the church. We didn't have a projector, but Dad's laptop screen was large enough for most everyone to see pretty well.
It has been really special to see how my younger siblings are growing and maturing. Even Samuel was showing a new sensitivity as he tried to get my bed ready for me and turned off the light so it wouldn't shine in my eyes as we got ready for the evening.
All of my younger siblings have been really excited to have me home, much more than I had anticipated. They have been asking about building a snow fort, and Lydia wants to show me the barn and the animals.
This morning as I was finishing some Bible reading, several of the younger ones came in to my room to talk with me. "Adam," Matthew spoke up, (he will be turning 7 next month) "where do you think is the best place to be?" "Well,…" I said, and gave a subconscious answer as I read through the next few verses. "Do you want to know where I think is the best place to be?" he continued, "In Heaven." "But it would be good to go to Mongolia, because then they can go to heaven too."
On Tuesday I shared another presentation with several families from the area. God really answered prayer and made that the best one so far. Even the projector failing half-way through gave a good chance for an intermission. I had some very good discussions with different ones on how teaching character lays the foundation for sharing the gospel.
Coming up to me afterwards, one little boy said "I know a verse that sounds like what you said in your prayer." He went on to quote John 3:16. I had to smile as thanked him for sharing that. It wasn't very many years ago that I was the 8 year old boy, talking with the visiting missionary.
Getting things organized here at the farm, catching up with family and friends, helping out with projects on the farm, building snow forts and playing cars with younger siblings and working on several computer projects for Australia and Mongolia looks like it will make this a very full couple months at home.
I am so excited to see the divine appointments, opportunities to share with others, and so many things that God is opening up here! I know that this is exactly where the Lord has me right now, and it is exciting to see His blessing in answer to the prayers of His people.
Also, I should mention that right now the tentative plan is that I will spend a couple months at the farm with the family, then head back to Mongolia in mid to late April.
---
Praise Points:
– Praise the Lord for the very productive and fruitful time in Oklahoma City, and the memorable week together as a family.
– I am grateful for the continuing opportunities to invest in the lives of those around me. It is really exciting to see what God is doing here in Wisconsin through my family and others over the past year.
Prayer Requests:
– Pray that the Lord would continue to give me His wisdom as I seek to maintain balance in investing my time and energies between the family, farm projects, personal projects, and continued work for the ministry abroad.
– Our family is traveling to Indianapolis this weekend to attend the wedding of a friend. Pray that the Lord would use us to be a blessing and encouragement to those around us.
– Next week I am planning to do some research and look at purchasing a number of hardware and software items for the CTI-Mongolia office. Pray that the Lord would give wisdom in making the best use of our resources as we prepare for the expanding needs in computer equipment.
---
Pictures: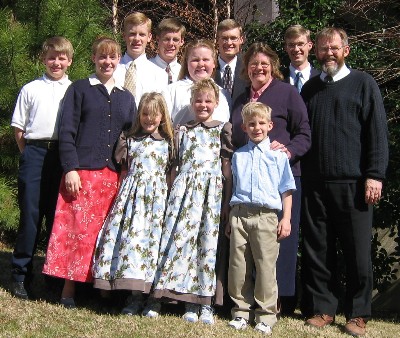 Together at last. The whole family posed outside the Oklahoma City Training Center for a family photo.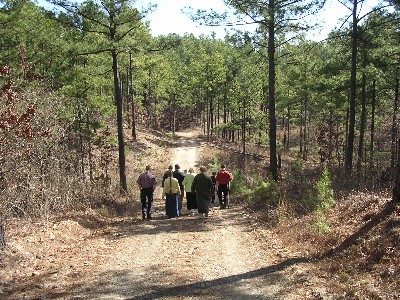 The cabin in southern Oklahoma provided a wonderful opportunity to spend time as a family, and the weather was beautiful. It was really hard to believe that we were doing this in February!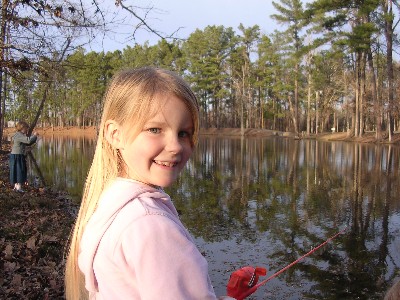 Isaac bought a fishing license and some bait so he could help the younger ones at the lake. They enjoyed catching about 10 small fish which Isaac carefully prepared for dinner that evening.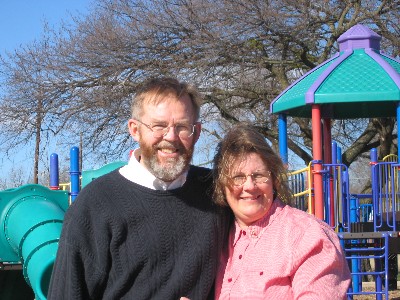 Instant Messaging and phone calls are great, but the real thing is even better.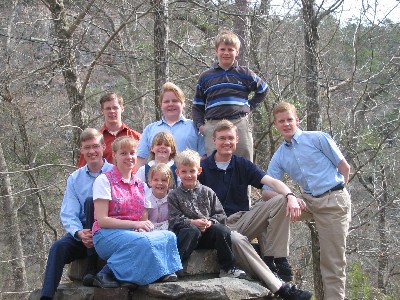 All the children pause for a picture before jumping across rocks up and down the creek.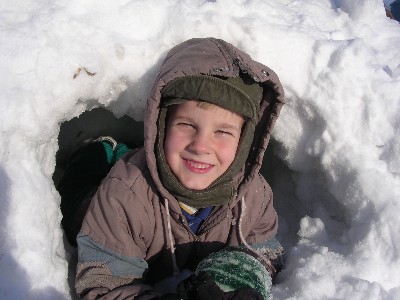 Building snow forts in the back yard with your younger siblings can be just as important of a ministry as mission work in Outer Mongolia.
---
Thank you for your continued prayers! Location changes, but opportunities for ministry and outreach are just as real.
In Christ,
– Adam
Adam Waller ~ MyAllForChrist@CadLinx.com
"And let us not be weary in well doing: for in due season we shall reap, if
we faint not." – Galatians 6:9
_uacct = "UA-2519367-1";
urchinTracker();