Saturday,January 8th, 2005
Ulaanbaatar, Mongolia
Dear Family and Friends,
As we came to the close of 2004, our team had the opportunity to do something that I have often wanted to do. Jesus said "Seek ye first the kingdom of God, and His righteousness, and all these things shall be added unto you." After much discussion and planning, Tim and I arranged for our staff to be able to take an entire week off from our normal work, and spend personal time in seeking the Lord as we move into this new year.
A collection of 23 video messages from our ATI Regional Training Conferences provided a scheduled focus for the week, while still allowing us to spend a good amount of time to "Come apart and rest a while." It was such a blessing to be able to set aside all the projects and appointments and be refreshed in body and spirit.
Of the messages we saw, I was particularly blessed by the theme of Kingdom Authority. When Jesus humbled Himself and became obedient unto death, even the death of a cross, God highly exalted Him, and has given Him a name that is above every other name of things in heaven and earth. (Phil. 2) As Christians we have been raised up to sit together in heavenly places in Christ Jesus. (Eph. 2:6)
In the Great Commission, Jesus said "All power is given unto me in heaven and in earth. Go ye therefore, and teach all nations…" When we operate under His authority, we carry His authority. This gives us great boldness in prayer, knowing that every evil principality and power is subject to the name of Jesus. We don't have to fear the attacks of the enemy, because we have the authority of Jesus Christ to resist the devil, and he will flee from us.
I was also tremendously encouraged by Dr. Karl Coke's messages on going out and "Taking the land." Using the nation of Israel and the conquest of Canaan as an example, he showed us how the word for inheritance means something a little different than our common English understanding. It means going in and taking the land, dispossessing the inhabitants. This has tremendous potential when you relate it to advancing the Kingdom of God.
We are not passively standing by and waiting for people to somehow come to Christ, but we are actively going out and teaching all nations. We were not raised in Christian homes and given such powerful truths from God's Word just so we could keep it all to ourselves as we live our isolated lives! No! We are going out and engaging the enemy in a battle, not against flesh and blood, but against principalities, against powers, against the rulers of the darkness of this world, against spiritual wickedness in high places.
In the past few weeks it is becoming more and more evident that God is doing something great in this nation of Mongolia! The Russian Basic Seminar where we faced such unexpected problems with our VCR equipment is beginning to bear some exciting fruit! The life-changing power of applying the principles of the Word of God is being demonstrated by a number of the attendees.
In the past few days I have been doing some errands with Ideree, one of our staff. As the pastor of a new church here in the city, Ideree had shared with me his vision to teach these Biblical principles to the people in his church. Taking some further time to study and review, Ideree prepared to share with his church last week for two hours on Sunday afternoon as the first of several weeks of teaching.
Weaving through the streets in a taxi together, Ideree told me that his people had responded enthusiastically to the clear Biblical teaching on God's purposes in how we were designed, and our need to accept and thank God for the unchangeables that He has given us. The two hours had turned into four hours, and the people are eagerly looking forward to hearing more next week.
One boy told Ideree that after the session he went home and destroyed all his computer games. -An area of particular struggle for him. Another had made a decision to get rid of wrong music. Another who was going to dye his hair realized his rejection of God's design, and turned away from this idea.
On Thursday, Sodnom, Ideree, and I had a meeting in my office, and Sodnom shared some of the things that the Lord has been doing in their family after the seminar. The three of us were nearly in tears as we saw the great way that God has been working in their lives. I cannot help but feel that God is going to greatly bless this commitment to follow His ways!
I talked with a young man at the main Holy Way church last Sunday, and asked if he knew about the seminar. "Yes," he told me, "The Basic Seminar is famous here." A group of people from the main church have asked if Ideree or Sodnom can share this material with them, similar to what Ideree was doing for his church.
Not only was the Basic Seminar a great blessing to the ones that attended, but I believe that it was a major forward advancement for the Kingdom of God here in Ulaanbaatar. In a few weeks we will be hosting a second seminar in English for additional pastors and church leaders here in the City. This second seminar I believe is another key part in bringing the truths of the Bible to strengthen believers in this nation.
The potential is so great! We have before us a nation that has just had the freedom to share the gospel for the past 15 years, and have only had the whole Bible for four years. Thousands of new Christians are in need of being discipled and trained in the ways of God. I know of no better tool than to bring the message of the Basic Seminar to the people of Mongolia.
In addition to the work of the Basic Seminar, we are also continuing to teach principles of character. This year we launched another phase of ministry with our Character-English classes. On Thursday evening we had a great start to our first class this year with about 15 people. One young lady talked to us afterwards and said she wants to know more about character and Christian things.
This morning we started the Saturday Character-English class, but soon became swamped with registrations. The coats piled up to four deep on our coat rack as about 40 people crowded into our classroom for the Saturday morning class. Again, we had many opportunities to talk with people, and one young lady is planning to go to church with us tomorrow.
Just yesterday we got an unexpected call from the WindFM Radio station. We work with Khishgee on a weekly basis, explaining some character materials for her radio program, but this time she wanted to know if she could come over and do an interview with us. I must say that it was only with a confidence that God will give us the grace to carry out the opportunities He calls us to do that I cheerfully accepted the offer and we scheduled for her to come at 2:00 that afternoon.
For nearly two hours, Cindy, Khishgee and I discussed character, how we learn character, and how it benefits our lives. The actual interview will probably be about 10 or 15 minutes, but the recording seemed to go very well. It was neat to again see the Lord's grace in action. I felt surprisingly calm and able to clearly share without feeling nervous.
Yesterday also marked a significant day with the Mongolian Bible Software project. The Lord allowed me to find the needed information to solve the main problem that we were facing, and yesterday morning I met with Ewen for a most encouraging meeting to discuss the project. His completed version of the text file, and my research on compiling it for the program have placed us very close to a first beta release of the software.
I am so excited to see how the Lord has been working in this all along. It is such a joy to be involved with the project, and yet I would not have had the time to do it on my own. Ewen's diligent work on heading up the project puts us in the realistic potential of having the beta version finished before I leave!
As I have alluded to a few times in this e-mail, I am planning to head back to the States to spend some time with my family. In two weeks it will be 10 months since I left Oklahoma City, and it will be special to see my family again. I plan to spend some time at home, potentially returning to Mongolia if the Lord continues to so direct.
May God richly bless you for your part in this great work! It is not that we are doing anything special, but that God so loved Mongolia that He has sent us forth as His laborers into these fields. It takes time to write updates, but I want you to be encouraged so that he that sows and he that reaps may rejoice together!
---
Praise Points:
– Praise the Lord for a wonderful week with the Lord as we moved into the new year. God's blessing on our work over the past days has richly rewarded our decision to seek first the Kingdom of God.
– I am so grateful for the grace that God continues to give each day! Leading the team with Tim and Angie away sometimes involves additional responsibilities and decisions, but the Lord's grace is always sufficient!
Prayer Requests:
– Pray that the Lord would give me wisdom in how I use my time in these last days before leaving Mongolia. Pray that I would have a sensitivity to the Holy Spirit and work on the priorities that would be most important in the big picture.
– I am still working out the arrangements for my return to the States. I just learned today that the plane to Beijing is full on the date that I was initially planning to leave, so pray that the Lord would direct in having me fly back at exactly the right time in His plan.
– One of the primary projects I am trying to finish is a Mongolian brochure for the Basic Seminar. We have a first draft, but are still working to find exactly the right way to express the words and ideas in the Mongolian language.
– Pray that the Lord would work out the final details for finishing the Bible Software project. I would really like to have it finished and give it to our translators before I leave.
– Tim and Angie are scheduled to return next Wednesday. Pray that the Lord would give them safe travel, and that they would have a smooth adjustment back into life with CTI-Mongolia.
---
Pictures: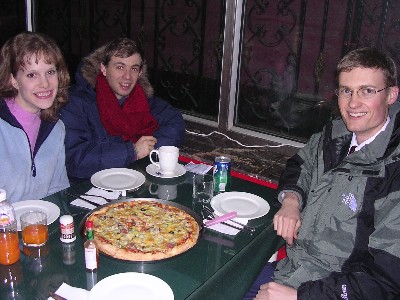 I don't know if I have ever had pizza before for Christmas dinner, but it sure made sense to all of us this year. On Christmas Eve we had a nice home cooked dinner with Gambaa and his family, so something a little easier but still special was in order for Christmas day.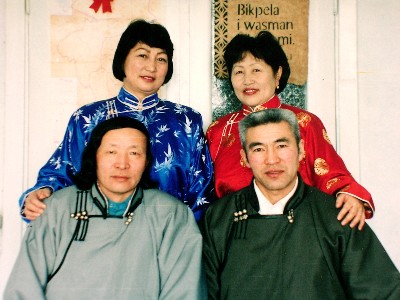 I thought you might enjoy seeing a picture of our pastors and their wives in traditional Mongolian dress. Enkhee is on the right with his wife Sodnom. Enkhee is the main pastor of the Holy Way church that we attend, and his wife Sodnom works as one of our translators. (She and Cindy have been heavily involved in the Basic Seminar workbook.)
On the left is Dugermaa and his wife Oyunaa. Serving as the assistant pastor at Holy Way, Dugermaa is also very gifted in music and poetry. He is currently involved in translating the book of Proverbs into Mongolian poetic form.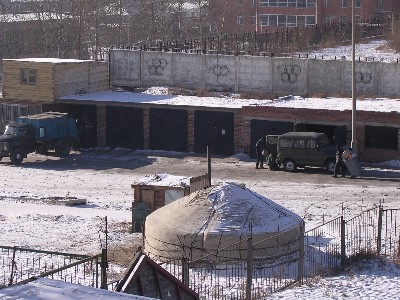 Traditional Mongolian gers can even be found in the City, like this one that I can see from my apartment window. Covered with layers of heavy felt, the ger is heated by a coal or wood fueled stove in the center.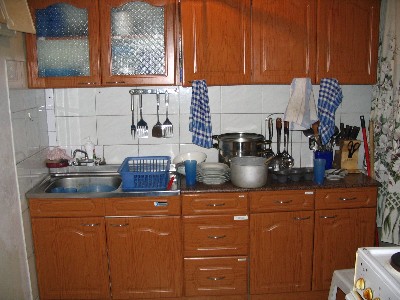 Although not very big, the kitchen in the main apartment has served us well. For big occasions like Thanksgiving, we set up some tables to add to the limited counter space.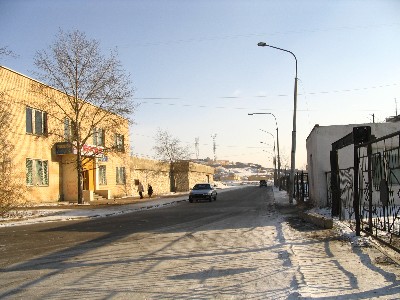 This is the street in front of our building. In the winter, the roads slowly build up a layer of dirty snow and ice. The snow seems to mainly come in very small layers, so what is not swept off with large brooms is packed onto the road surface by the passing vehicles.
---
Thank you so much for praying for us!
In Christ,
– Adam
Adam Waller ~ MyAllForChrist@CadLinx.com
"And let us not be weary in well doing: for in due season we shall reap, if
we faint not." – Galatians 6:9