Tuesday, February 7th, 2006
Ulaanbaatar, Mongolia
Dear Family and Friends,
I usually like to spend more time in writing my updates, (often four to six hours), but with our family leaving tomorrow to spend two weeks in China, this one might have to be finished a little quicker. (I will explain more about our China trip later in this e-mail.)
After finally finishing our packing the night before, our family left from Chicago on the 19th of January to return to Mongolia, the land we had left so unexpectedly two months prior. Our time in America was a very full two months, but a fruitful time as we shared with family and friends of the faithfulness of the Lord. His grace continues to carry our family through this time of adjustment to our family without Isaac.
We were all looking forward to our return to Mongolia, although we knew that we would experience more emotions as we returned to the place where we had last been with Isaac. Taking advantage of the number of people in our family that were traveling, we arranged to carry as many supplies and materials as we could fit in our bags, while still meeting the 50 pound weight limit.
Privileged to stay in the same home at IBLP Headquarters that our family had stayed at on our return from Mongolia, we enjoyed some final visits with friends and a short but good night's rest before heading to the airport early in the morning.
Even at the airport we saw the Lord's hand prospering our way as we began the 30 hour journey to Mongolia. You can imagine the wagon train as our family brought over 40 pieces of luggage through the glass doors into the Chicago airport. After watching us take several trips up to the counter with large bags, a kind man from the United check-in area helped move our baggage, and went on to arrange all of our tickets so we could sit together on the plane, and have our luggage checked all the way through to Mongolia.
As we prepared to board the aircraft, I thought back to another divine appointment that had taken place the day before. While our family was at Headquarters, I had the opportunity to spend a couple hours talking with Phil Garvin. With a heart to share Christ with those he meets in daily activities, Mr. Garvin is sharing the Gospel and leading people to the Lord almost every day.
When teaching others how to share their faith, one of his favorite questions in reference to evangelism is: "Do you feel that you are a seed sower?" "God doesn't call us to be seed sowers, He calls us to be fishermen. Fishermen go out expecting to catch fish." Together we prayed that the Lord might even give me the opportunity to share the good news of Jesus Christ with someone on the plane the next day.
Knowing that all of our seats were booked together, I had to smile as I saw God's divine hand at work. My seat was on the end by the window, and next to me was an empty chair. As the boarding continued, I was joined by a Chinese man about my age who seemed very friendly. As the flight got underway, our conversation deepened beyond basic introductions.
Six years ago, my friend had left China to take a job in America. Now with a wife and family back in the States, he was going back to China for the first time to spend the Chinese New Year with family and his mother who is dying of cancer.
Asking about his church background, I was surprised to learn that he had visited church a few times in America, and actually had a friend that took time for Bible Study and discussion together. Although he was a Buddhist by tradition with his family, he seemed open to the message of the Gospel. He listened as I shared of God's love in sending Jesus to be the substitute for the punishment we deserve for our sins.
As our conversation moved on to other topics, I began sharing with him about my twin brother Isaac. He laughed as I shared some of the interesting things we have done together as twins, and then listened as I shared about Isaac's service in Oklahoma City, and then with our family in Mongolia. His interest deepened as I shared about Isaac's unexpected illness, and the race for life in those final hours.
Deeply touched as I shared of Isaac's death, he reached across and took my hand. "I am so sorry!" With his own mother in the final stages of cancer, the reality of death could not have been far from his mind. He looked down again at the tract that I had given him as I shared the confidence that we have as Christians. We will see our brother again because he had taken the free gift of Salvation through Jesus Christ. "Yes, I will really think about it." He told me.
I was so encouraged to see how through the testimony of Isaac's life, he had gone from a polite understanding to a serious interest in the plan of Salvation. He asked if there were any Christian churches in Beijing that he could visit while he was there. Pray for my friend, that God would open his heart to believe on the Lord Jesus Christ, that he might receive the eternal gift of Salvation.
Arriving in Ulaanbaatar after over 30 hours of traveling, the weary travelers were encouraged to see a number of our staff and friends that came to welcome our midnight arrival and carry our baggage to the waiting vehicles. One bag was lost in transit to Beijing as the tag tore off in handling. This bag was located in Beijing and sent up on another flight a few days later.
In preparation for our return, our Mongolian staff had graciously worked to clean our apartments, and Dorjbat and his crew worked long hours to finish the remodeling work and move furniture back into the rooms. Only those who have lived in our CTI apartments can fully appreciate the transformation from mismatched wallpaper and years of coal smoke into nicely painted walls and trim.
Grateful for a few days rest before work started on Monday, our family began to make the adjustments back into our home in Mongolia. We were all pretty tired after the long flight, and had some simple meals of oatmeal and rice before we could get out to do our regular grocery shopping.
Tim, Angie and Erin returned a week later, bringing our team back up to full strength after several months apart. The opportunities before us are sometimes overwhelming, but the God that has given us a Great Commission has also promised us that His yoke is easy and His burden is light. The times that I get overwhelmed are the times that I try to carry the burden myself.
Almost every day we are getting requests for character trainings, and our schedule is rapidly filling up. Tim has given me responsibility for the character training side of our operations here, overseeing the translation work and scheduling character trainings. I nearly missed lunch the last couple days as I met with inquirers that wanted to schedule more trainings.
Like Moses as he took on the responsibilities of leading God's people, the Lord has given me grace to match the task before me. God never promised that it would be easy, but He did promise that we would always have the grace to do His will. I am so grateful for the joy and peace that this grace provides, and for the team that God has raised up to assist in the work.
Often working on my own, I have not had very much experience in delegating tasks to others, but these new responsibilities have given me a chance to grow in this area. It is so neat how the Lord often works through our authorities to allow us to grow in skills that we would not have thought of ourselves.  🙂 It has been a joy to work with David and Rachelle as they oversee the training and translation operations, respectively.
Moving on to our present life in Mongolia, I should mention that last week our family had the opportunity to participate in Sagansar, the biggest traditional holiday for the people of Mongolia. Probably something like our Christmas, it consists of several days of feasting, visiting relatives, and giving small gifts. Each Mongolian also turns one year older on Sagansar.
Although many families, and especially young Christians are faced with the pressure to drink and other unhealthy practices, our family and staff was blessed to receive invitations to some very gracious families. Responding kindly as we blundered through the traditional customs, our hosts took great delight in answering the phone and telling other friends that they had twelve Americans visiting their ger.  🙂
You will probably enjoy the pictures section of this update, where some digital photos will save a few thousand words in describing the food and traditional dress associated with this holiday. One tradition was to have some of the people take turns singing a song. Of course they all wanted to hear the Americans sing, so we sang a few songs together. David, Derrick and I were glad that we had brought our harmonicas and played a couple songs, much to the enjoyment of our host family.
Tomorrow afternoon our family is scheduled to fly to Beijing, China, then on to Shanghai where we will join with a team of others in China to conduct two Character Family Seminars. The Character First! training material is currently being used in several large companies in China, but this will be the first time to introduce a seminar to help families learn how they can focus on character as a family.
David has been coordinating most of the details for this trip, and will be leading the Children's program. I am scheduled to lead some sessions for the teen-agers, while Mr. Fahrenbruck from Oklahoma City will lead the adult sessions. The Shanghai seminar registration exceeded expectations and swelled to some 275 families, while the Beijing seminar remained significantly smaller.
Please pray for our family as we prepare for these seminars. We will have an all-day seminar in Shanghai on Saturday, and a second seminar the following week in Beijing. The China team has worked mostly with businesses, so this will be a neat opportunity for us to train their team on how to run a children's program and family seminar.
"Touch and Go", the title of this update, refers to the aviation maneuver of landing and airplane on a runway, then taking off again. It has reference to our brief few weeks in Ulaanbaatar before leaving for China, but pondering the words brings out a deeper meaning. In a sense, it represents the opportunities that we have in our lives, to take the brief opportunity to touch the life of another, before we move on to the next thing.
In reality, we can do a lot of "going", so to speak, but it has to be the Lord to "touch" the hearts and lives of people that we come in contact with. Please continue to pray with us that the Lord would use our often brief contacts with those around us to touch lives for eternity.
---
Praise Points:
We are so grateful for the diligence of our Mongolian staff as they ran the entire operation in our absence. In addition to the added responsibilities of remodeling several apartments, they handled requests for character trainings, the weekly call-in program with the radio station, and even did some character trainings on their own!

Praise the Lord for some very good call-in radio programs in the last couple weeks as Cindy and I discuss the character quality of sincerity on WindFM. In addition to callers by phone, people have begun sending questions by text messages for us to talk about. We have had some very good opportunities to discuss Biblical principles in dealing with relationships. (Although we don't mention God or the Bible.) I found it quite encouraging last week as a caller sent a text message in English with something like the following: "Thanks for the character program! I can really sense the Holy Spirit! God bless you!" (No, we didn't read that one on the air.)

Among the more interesting things in our baggage, Derrick successfully managed to bring an entire Western Roping Saddle for some missionary friends. Their dad was having trouble riding the small wooden Mongolian saddles at their orphanage project outside the city.
Prayer Requests:
The Lord has given me the opportunity write an article in honor of Isaac's life of service to the Lord. Planned for the website of our homeschooling organization, pray that the Lord will give wisdom in making the final edits and use this article to touch the lives of many others.

Pray for the Waller family and Erin Randall as we travel to China for the seminars. Pray that the Lord will give us a quick adjustment into a new culture, and that we would be an encouragement to the International student families that attend our seminars.

We are currently working to get our phone system into operation again. I carried a donated phone system to Mongolia to replace our smaller system that died just before the Basic Seminar last summer. Pray that the Lord would allow us to easily locate a used programmable phone that we can use to set up the system. (We understand that they are available, but have not been able to get one quite yet.)
---
Pictures: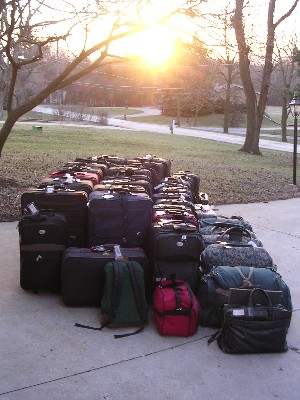 Sunrise on the 19th, the beginning of our journey back to Mongolia.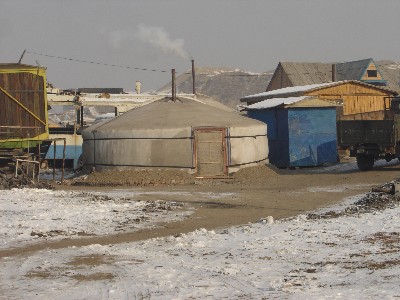 This round tent-like structure is called a ger. ("Gare") It is the traditional
Mongolian nomadic home, and still quite common, even in the city.
Nordema, a student for one of our character classes, invited our family to visit her ger.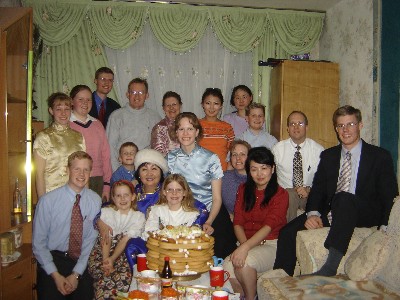 The round tower on the center of the table is built from bricks of fried bread.
It is stacked taller or shorter, depending on the age of the oldest member
of the family. On top are little sugar cubes, dried yoghurt and other little dainties.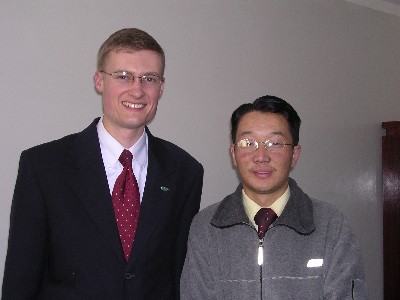 Altan-hoyig, a young man from our church has been working as a missionary
in the countryside for the past several months. He came to get some
materials and advice as he prepares to teach our character materials in
his countryside town, hundreds of miles from Ulaanbaatar.
You can see some more pictures on our family website.
---
Interesting Facts:
Have you ever wondered what the weather was like in Mongolia? Last week the weather of Ulaanbaatar was predicted to dip to -50 F, with a "realfeel" temperature of -100. While some areas probably did get that cold, the temperature outside our apartment only dropped to -31 or so. Thankfully the hot water heating system kept everyone warm through the cold snap.
---
Thank you for praying for our family as we serve overseas! I am so grateful that the Holy Spirit knows just how to encourage us at the right time through your prayers.
In Christ,
– Adam

Adam Waller ~ MyAllForChrist@CadLinx.com
Family Website ~ http://cadlinx.com/wallerfamily
"And let us not be weary in well doing: for in due season we shall reap, if we faint not." – Galatians 6:9
If for any reason you would prefer not to receive these e-mails, just reply with "unsubscribe" in the subject line. If this e-mail is being forwarded to you, just let me know and I can put you on the regular list.  – Adam
_uacct = "UA-2519367-1";
urchinTracker();