Saturday, May 28th, 2005
Ulaanbaatar, Mongolia
Dear Family and Friends,
Last week I was reading Psalm 23 again, and came to the familiar verse: "Thou preparest a table before me in the presence of mine enemies: thou anointest my head with oil; my cup runneth over." I saw something that I had never noticed before.
David wasn't saying "Lord, my cup is too small, look at all the water that is getting spilled!" "I just can't catch everything!" Instead, he was simply grateful that his cup was full and running over.
Here in Mongolia there are so many opportunities all around us. Requests for trainings come almost weekly, and we see so many potential things that we could do, if we had the time and staff. A large number of projects stand just waiting for us to get the chance to work on them.
Instead of feeling overwhelmed, if we look at these opportunities as blessings from the Lord, we can thank Him that "our cup is running over". We could be sitting here wondering what to do, but God has poured out such a rich array of projects that we need His wisdom in knowing what will be most important to work on.
Last fall Tim used the analogy that we feel like we are shoveling away at a huge sand pile of things to do, and every scoop brings a new wave of sand down the side of the pile. Recalling a recent incident with an actual sand pile near our apartment, Tim made an interesting comment a few days ago; "Children love sand piles."
I started thinking about this a little more. Why is it that a sand pile represents hours of joy to one person, and hours of toiling drudgery to someone else? The difference is in their perspective. The child sees the sand in front of him and makes good use of a small portion. The workman thinks only of how long it will take to move the entire pile.
Jesus reminds us in John 15, "Abide in me, and I in you. As the branch cannot bear fruit of itself, except it abide in the vine; no more can ye, except ye abide in me. I am the vine, ye are the branches: He that abideth in me, and I in him, the same bringeth forth much fruit: for without me ye can do nothing."
We don't have to take responsibility for "moving the whole pile." We just need to be faithful with the things that God has put before us to do. We don't have to move the pile for God, He wants us to rest in Him so that He can show His power in accomplishing His will through our lives.
Last Monday I saw a good example of this principle in action. Leo, a university student from MIU had scheduled to meet with me on Tuesday morning to see if I would be available to share some lectures on character with his class. Talking with me briefly on Sunday afternoon, Tim mentioned that some of the MIU students he saw at church were looking forward to my lecture on Monday.  🙂
Realizing that somehow there must have been a mistake in communication, we both felt that it would be good for me to go to MIU on Monday afternoon, just in case they were expecting me to speak. A very full schedule on Monday morning left virtually no time to prepare for the lecture.
I decided to share on the quality of sincerity, since that is what we had just taught in our character-English classes a few days before, and after a hasty lunch, I picked up my folder and headed out the door. Pausing to pray in the stairwell, I asked that the Lord would somehow allow me to share effectively with the MIU students. I recalled many times last year when the Lord showed His great faithfulness in equipping me to do what He brought before me.
Arriving at the school a few minutes later, I tried asking a few of the students where the "Management Research Team" was meeting. We tried calling a cell phone of one of the students, but the Lord had orchestrated that right at that point the girl that Tim had talked to on Sunday walked in and was able to bring me to the class.
As it turned out, Leo was very surprised, but delighted to see me! He introduced me to the class, and asked if I could share with the students. Looking around at the 20 or so students around the table, I took the pen knife out of my shirt pocket. (I had felt prompted to grab this as I was going out the door a few minutes earlier.) A pen cap was on the end, concealing the blade.
From all appearances it was just a pen, everyone agreed, until I revealed the small blade inside. "Sincerity", I began, "is being the same on the inside as we appear to be on the outside." For the next hour, the Lord enabled me to have a most focused and clear explanation of the first "I will" of sincerity. Personal illustrations came to mind as I shared freely on the importance of choosing our friends and how we spend our free time.
Why is it that some of my best messages are given after the least preparation? Maybe it is that the excellency of the power would be of God, and not of me. (See 2 Corinthians 4:7) God again was showing me that it was not my "skills" but His grace that enables me to do what He sets before me.
Not everything in the Christian life is "smooth sailing." CTI-Mongolia is no exception. One of our recent challenges has been with getting some paperwork processed for my family to be able to come to Mongolia. As an Non-Government Organization, we were renewing our three-year NGO certificate. Although we had submitted our paperwork over a month prior, our NGO application had still not been processed.
Causing cascading delays on other paperwork that we were trying to process, we were told that we could not apply for a work permit for my Dad until we had our NGO certificate back. A work permit was needed to begin applying for visas for my family, and the rapidly approaching arrival date of June 25th caused no little pressure for Tim and those involved.
It seems that some of the officials in the labor department were concerned about our organization and wanted to know why we keep trying to bring foreign staff to Mongolia. The fact that Tim had appealed to a higher authority several months ago about some other issues seemed to only further strain the relationship.
In America, we are more familiar with just filling out forms and having them accepted or rejected based on clearly defined criteria. Here, it seems that more responsibility is given to the authorities themselves, so this gives them the ability to assign more "homework" if they have concerns about what you are doing.
This also gives a real opportunity for the Lord to work in the heart of our authorities. "The king's heart is in the hand of the Lord, as the rivers of water: he turneth it whithersoever he will." – Proverbs 21:1. This was clearly seen last week as Jedidiah and Cindy appealed to the labor department officials.
After fervent prayer that the Lord would somehow grant us favor in their eyes, Jedidiah and Cindy set out to visit the labor department and ask if we could possibly process my Dad's work permit while the NGO certificate was being reviewed. Humanly speaking, there was very little hope that our letter from the NGO office, (explaining that we were still being reviewed) would have any effect on the situation. We could almost hear the words, "No. Come back when you have the actual NGO certificate in hand."
To our great surprise, the official was very friendly with us. He looked over our papers, and said that we could go ahead and submit them for the work permit! Instead of having to translate more letters or obtain further paperwork, the way was opened for us to move forward! Jedidiah and Cindy returned and we all praised the Lord for His working in this situation.
Meeting the next day with the Foreign Affairs Office, things again were able to move forward without further delays. This is a tremendous blessing, saving us the additional time involved, and the added expense of having to expedite things at the last minute. Please continue to pray that the Lord would allow the final details to come together in the next few days.
So many things are happening here! Just this morning I taught the Intermediate English class for our Character – English classes. One of my students looked at me and said, "Adam, are you a Christian?" "Yes, I am a Christian," I replied with a smile, noticing the little crosses in her earrings. "I am a Christian too." She said, practicing her English. "I believed in Jesus two years ago."
I could sense that some of the other students were a little uncomfortable, and one quietly said, "I believe in Buddha." "That is fine," I replied with a smile, "our classes are open to everyone." "We want anyone to be able to come." I went on to explain that we all need character, no matter what religion we are. (Although I personally believe that we cannot consistently live out good character apart from the power of the Holy Spirit. -See Romans 8:4)
It is exciting to see not only the opportunities that God brings, but also the wisdom He gives in responding to unexpected situations and questions in a gracious way. This, of course, is a big learning experience in itself, but I believe that God wants us to be able to respond graciously when others ask a reason of the hope that lies within us.
There is so much more that I could write about! The Attentiveness training in the Sangalkharkain district last Wednesday could fill an update by itself! But I must bring things to a close here. Thank you again for praying with us! God is truly doing a great work!
---
Praise Points:
– Praise the Lord for how He worked things out for my family's work permit and visas! It looks like we will have things finished in time for them to get their visas in the next few weeks before they come.
– Thank you for praying for the training in Sangalkharkain last Wednesday! We had a wonderful day teaching on the character quality of attentiveness, and even the seasoned Police officers were getting involved in the discussions and activities. Byato from World Vision translated for most of the day, and showed great enthusiasm and leadership with the group.
– The Intermediate English classes have been going very well. I have never taught English before, so this has been a new experience for me. The greatest need for the students is for conversation practice, so most of the class consists of encouraging and guiding them as they practice speaking. By speaking slowly in simple sentences, I am able to do most of the class without needing additional translation.
– Thank you for your prayers for the database project with Joshua Reimer! Tim allowed us to take several days to focus on this project, and the Lord allowed us to make some major progress. I hope to send Joshua the updated files next week.
Prayer Requests:
– Pray that the final details of Mongolian visas would come together for my family. It has been exciting to see how the Lord is working in this situation.
– I am expecting the software licenses to arrive sometime early next week, so pray for wisdom as I begin the process of upgrading our computers and setting up a server for our network here.
---
Pictures: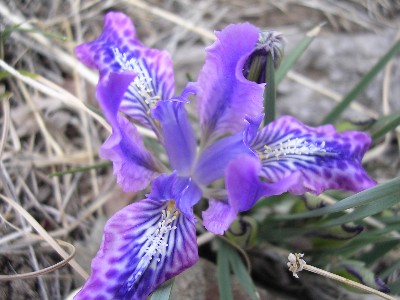 I found this beautiful flower growing on the side of a mountain that we climbed last Saturday. You can compare its size to the blades of grass around it.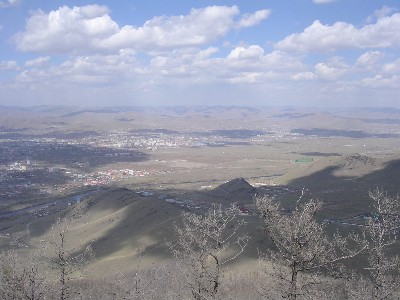 A view of the east side of Ulaanbaatar from a mountaintop. The small mountain near the center of the picture is where tourists usually get a view of the city.
Five of our staff and a Mongolian friend that joined us for the hike.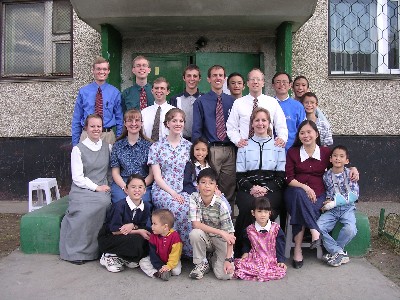 The CTI team last Saturday. Joshua and Kate returned to their home in Australia on Tuesday, and the Lim family returns to Singapore tomorrow afternoon, reducing the number of staff to 8.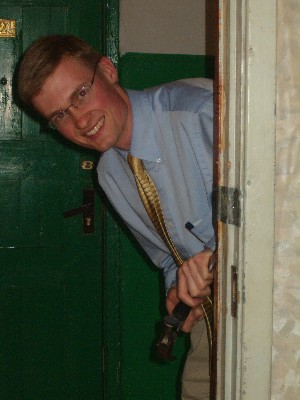 Evening work projects can take various forms, including repairing the latch for the door to our main apartment.
---
Thank you for your continued prayers!
In Christ,
– Adam

Adam Waller ~ MyAllForChrist@CadLinx.com
"And let us not be weary in well doing: for in due season we shall reap, if we faint not." – Galatians 6:9
_uacct = "UA-2519367-1";
urchinTracker();