Wednesday, May 18th, 2005
Ulaanbaatar, Mongolia
Dear Family and Friends,
Greetings from Mongolia! Looking out the window I can see the bright sunshine on the buildings and trees, with a slight haze obscuring the mountains beyond the city. The weather has been a little cool as the heat was turned off for the summer the week I arrived. We even got to see some light snow flurries a few days later.
Quite a lot of things have transpired since my last update, as I am sure you can well imagine. I will just try to share a few highlights from the past three weeks.
The Oklahoma City Training Center was hosting the Oak Brook College of Law graduation the week before I left, so I was glad to be able to help out with the added work load for evening chore time when the guys do the dishes and kitchen cleanup.
Also attending the OBCL graduation was Dr. Bill Gothard, and since no one was flying with him from headquarters, Mr. Jantz asked if I could assist him for the weekend. This was a very good experience for me, although humbling at times. (Like when I forgot to bring the two boxes of books on our visit to the Diamondback Correctional Facility.)
Looking back, I am so grateful for how the Lord loved me so much that he wanted to teach me a very important, although difficult lesson. Having the spiritual gift of serving, I really enjoy working to meet the needs of others. However, there is a subtle danger in seeking approval from those that I am serving, rather than from the Lord.
I can not think of a set of circumstances where the Lord could have more clearly showed me this difference, and while I greatly enjoyed this opportunity to serve Dr. Gothard, there were a couple situations where my inexperience allowed me to fall short of doing what was expected.
The Lord so gently reminded me that whether I am serving Dr. Gothard, or "the least of these," my focus needs to be on serving as unto the Lord. If I do my very best, the Lord knows my heart, and while I may not always meet every man's expectation, it is of the Lord that I receive the reward of my labor. Misunderstandings will happen with men, but God will never misunderstand our heart. (See Ephesians 6:5-8, and Colossians 3:22-24)
Visiting the Diamondback Correctional Facility was a most memorable experience! Driving over an hour West of Oklahoma City, we finally caught sight of the prison, far off the road, and just barely peeking over the grassy rise before it. Rows of fencing and razor wire glittered in the sun, securely enclosing the privately owned compound.
Meeting us outside, the chaplain led us through several gates until we reached the office where we presented our photo ID and passed through the metal detector. Stopping to share a brief word of encouragement with some of the staff at the prison, Dr. Gothard inquired a little more about the inmates.
The pod that we were scheduled to meet was comprised of 120 men, all from Hawaii. Most were serving life sentences for second-degree murder, manslaughter, and other serious crimes. Responding to a faith-based initiative, all of these men had watched the Basic Seminar by video, where Dr. Gothard presents seven Biblical principles for life.
So deeply impacted were these men that every single one wrote a letter to Dr. Gothard, thanking him for sharing these truths from God's Word. They and the chaplains told Dr. Gothard that if he was ever in the area, he had a standing invitation to visit their pod, known at the prison as "The Faith Pod."
Clearing more security doors, the chaplains paused outside the door to the pod. "You are going to have goose bumps when you come in here." the told us, and opened the door. Even with this warning, never could I have imagined what we were about to see…
Joyful, radiant faces beamed as shouts, cheers and applause filled the air. Brightly colored streamers and decorations hung from the railing above, and a huge banner proclaimed the seminar motto: "Giving the World a New Approach to Life!" Like a returning hero, Dr. Gothard was ushered to the front of the central area where chairs had been arranged for Dr. Gothard's address.
The air was electric with enthusiasm and joy as the ovation continued for several minutes. As the men regained their seats, one of the prisoners came to the podium and read a very formal welcome in English, pausing at each paragraph to translate it into his native Hawaiian language. He then presented Dr. Gothard with a Hawaiian lei, intricately crafted from white paper napkins.
The tastefully designed program continued with some songs by a group of the men, sung in English and Hawaiian, and one of men quoted the entire chapter of Romans 6. My eyes traveled across the group, seeing on many faces the visible scars of the past, yet beaming with a joy that only God can give! These men may be behind bars, but they have found freedom inside!
One after another, men came to the podium to share testimonies of God's work in their life. Often choked by emotion, but strengthened by shouts of "Amen!" "That's right!" "It's okay, man!" coming with tender love from their fellows. Tears running down his cheeks, one man shared how he finally sees light at the end of the way.
Others shared of how they have been sharing these truths with their families and loved ones. One man told how his Mother had stopped reading her Bible and almost given up all hope, when he had the opportunity to tell her how his life had been changed -for the better! Another shared how for the first time he saw God's love in allowing him to go to prison where he learned truths that he might never have heard outside.
Looking around the room, I could see the same cells, doors and gates that were in the other pods, but here something was drastically different. Brightly colored posters with Scripture verses adorned some of the cell doors, character qualities written out on poster board surrounded the room, and a large sign in the center displayed a resolution that the prisoners had written for their pod.
The time went all too quickly. After Dr. Gothard's address, the men presented him with an honorary "scrub," a blue shirt like what each of them wear, but signed by all the members of the pod. Crowding around Dr. Gothard, the men personally thanked Dr. Gothard for all that they had learned in the Basic Seminar, and held out Bibles for him to sign.
Many of the prisoners also greeted Isaac and I, and shared how their lives have been changed. One man asked me how his family back home could hear the seminar. We were past our allotted time, and the men reluctantly gathered near the door for some final photographs before we were obliged to leave.
It would be impossible to adequately describe the two hours we spent at the Faith Pod, but it was an experience not to be forgotten. The same power, I had told them, that has transformed their lives, is what enables us to live the Christian life outside.
"You won't find that in a thousand prisons," Dr. Gothard commented to us afterwards. Reflecting on the Christian love and joy that we had so clearly sensed there, I wondered if you would find that type of atmosphere in a thousand churches in America today. Sadly, so many churches have left the life-changing power of applying the principles of God's Word to our lives, and instead have turned to empty activities and worldly entertainment.
Here in Ulaanbaatar, I continue to marvel at the opportunities that God has set before us. A nation with a whole generation of new Christians, hungry for solid Biblical teaching from the Word of God. We don't have to look for things to do and ways to reach out. We can't even cover all the invitations and requests that come to us for teaching English, Character and Biblical trainings.
There are so many other things that I could write about, but I must bring this update to a close. Many needs all around us beckon for our time. Pray that the Lord will give us wisdom as we reach out in His love to those around us.
---
Praise Points:
– Praise the Lord for working out the details of my return to Mongolia. I was able to get a work permit in answer to prayer, and the Lord worked out my flights, in spite of being sent the wrong ticket less than a week before my departure.
– I am grateful for the opportunity to spend a couple weeks in Oklahoma City, just before returning to Mongolia. The Lord greatly blessed the computer project that I was working on, and I was able to have some very good times sharing with Isaac, Rachelle and David. I also greatly enjoyed spending a day in the Oklahoma City schools, teaching Character First! with David.
– The Lord worked out the opportunity for me to attend the university graduation of Nyambayar, Cindy's cousin that came to Christ last fall. I was encouraged to hear that he would like to meet for more Bible studies together. Pray that the Lord would allow the details of this to come together.
– Joshua Reimer and I visited the Mongolian International University to see about the possibility of using their facility for larger seminars in the days ahead. In the course of the meeting Leo and several other friends from MIU came up to greet me. Leo and a friend invited me to speak at their student club, and it sounds like some other students are working on a proposal for us to teach at their school again.
Prayer Requests:
– We were able to order some (legally licensed) software from a distributor in Russia for a reduced price, due to our status as a Mongolian NGO. Pray that the Lord will give me wisdom in upgrading our computer systems and network here over the next few weeks.
– After a meeting yesterday, we have scheduled a character training in cooperation with Word Vision, a Christian based organization in Mongolia. We are scheduled to teach an all-day seminar to thirty community leaders from some areas of poverty and higher crime rates. Pray that the Lord will use this training in a powerful way, as most of these leaders are unsaved.
– In recent days I have been spending some focused time working on a database project for IBLP Australia. I started this project when I was in Melbourne in 2003, and have been working on it remotely from time to time. It has been a blessing to have Joshua Reimer from Australia here in Mongolia where we can work on it together. Pray that the Lord would bless our efforts and that we would continue to make rapid progress.
---
Pictures: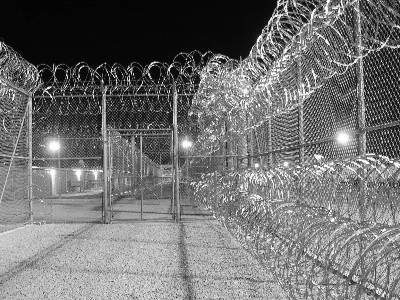 Seeing the array of razor wire and fences, it is little wonder that not a single prisoner has ever escaped from the Diamondback Correctional Facility.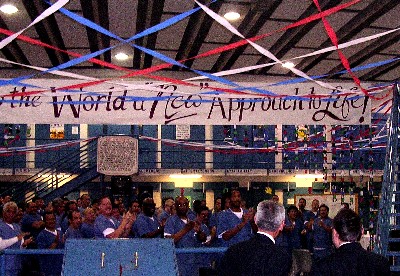 A jubilant greeting from the men of the "Faith Pod" as the Chaplain and Dr. Gothard enter the room.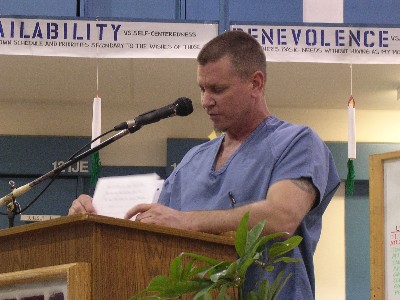 One of the prisoners shares how God has changed his life through the message of the Basic Seminar.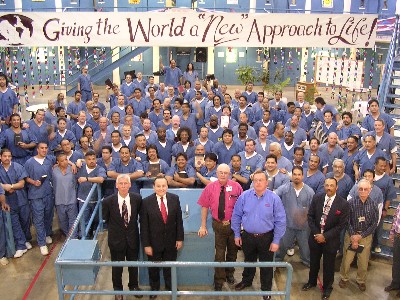 All the men gathered at the end of our visit for a group photo with Mr. Gothard. I was able to drive to the prison the next week, bringing for each of the 120 men two of Dr. Gothard's recent books.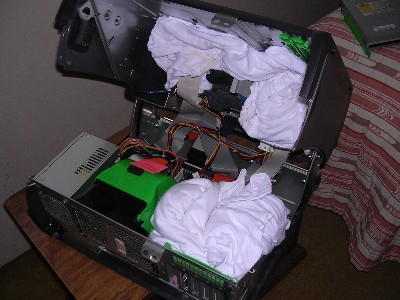 I found it quite amazing how much clothing you can fit inside a computer.  🙂  Careful packing allowed me to carry three badly needed desktop computers to Mongolia without going over my baggage limits.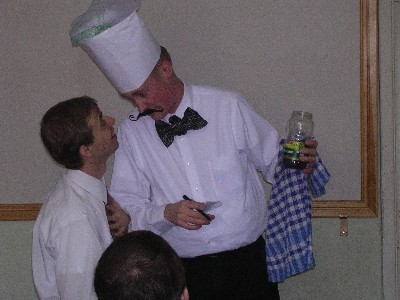 Arriving at CTI on the week of a Basic Seminar in English and Russian, an Advanced Seminar and a Children's Institute, I had the opportunity to help out in some skits for the Children's Institute. Here a "French Waiter" tries to explain to his friend why we must test what kind of water we drink in the desert.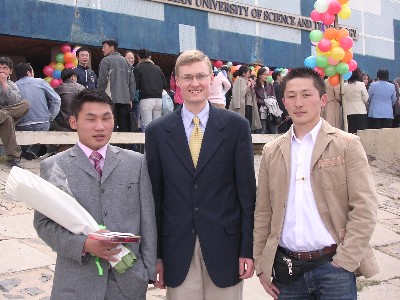 Nyambayar's Graduation from the Mongolian University of Science and Technology. (Nyambayar is on the left, with Cindy's brother-in-law on the right.)
---
I am so grateful for all that God is doing here! – And to hear the exciting reports from back home! Please continue to pray for us as we serve together in this ministry.
In Christ,
– Adam

Adam Waller ~ MyAllForChrist@CadLinx.com
"And let us not be weary in well doing: for in due season we shall reap, if we faint not." – Galatians 6:9
_uacct = "UA-2519367-1";
urchinTracker();