Friday, March 11th, 2005
Grantsburg, Wisconsin
Dear Family and Friends,
These have been some busy, but fruitful days here on the home front. Realizing that God uses our families to "sharpen" our character and take off our rough edges, I had prayed that God would use this time at home to cause me to stretch and grow.
God is answering that prayer.  🙂  It is not always a fun process, but it is exciting to see the potential of causing us to be more conformed to the image of Christ. As a military Drill Sargent once told his men, "We are going to make you sweat in here so you don't bleed out there."
My idea of moving the home office upstairs and rearranging furniture in our small house presented a few challenges, or character-building opportunities, with so many ideas involved. Nevertheless, I think that we have been able to make some very good changes that will help us to operate more efficiently.
Seeing the Lord's hand at work in the past couple weeks continues to bring encouraging highlights in the midst of all the projects.
Last Thursday I had the opportunity to join my family on the monthly visit to a local nursing home with our church. The hour of singing and brief message always seems to come as a great encouragement to the people there.
Arriving a few minutes late, we worked to set up our music stand so Sarah and I could join with the piano and violin. The first notes I played on the accordion brought the sudden realization that the electric piano must have been adjusted out of the normal range. I didn't want to create an extra distraction trying to find the adjustment knob, so we just smiled and played a little quieter.  🙂
It was amazing to see how many new faces there were after being away for a year. I hardly recognized anyone. It really gives you a perspective on how short life is, and how important it is to be able to reach out to these older folks, most of whom will be in one of two places for all of eternity a year from now.
I have really enjoyed being able to spend time talking with Mom and Dad here. The time difference and occasional technical difficulties made extended communication from Mongolia a little more difficult. Technology has made great strides, but it is just not the same as sitting down on the couch together.
The Mongolian Bible Software project continues to progress. I just got an e-mail a few days ago, and it sounds like we are getting close to a first public release of the Mongolian Bible module. I have taken on the project of coordinating the Mongolian localization of the program. (This means working with some Mongolians to translate the menus and buttons on the program so that it can display the commands in Mongolian text.)
With continuing progress abroad, it is neat to see how the Lord is also working right here in our area. On Tuesday I joined my family for the weekly follow-up course that they have been leading with a family in the area. This course takes the Biblical principles taught through the Basic Seminar (http://www.iblp.org/iblp/seminars/basic/) and brings them to personal application in our lives.
God has a way of bringing His truth to our lives at most appropriate times. I have been memorizing some verses on loving others and going the extra mile, and the principle we studied on Tuesday evening was on forgiving others as we see God working in our lives through them. Family relationships give many good opportunities to live with a forgiving and patient attitude.
It was very special to see the O'Brien family again. I had taught three of their children at a Children's Institute seminar in 2001. That was really their first introduction to the IBLP ministry, and they have recently joined the ATI home schooling program, and are working to train their children in the ways of God.
The joy and excitement that we see in their lives as they apply the truths of God's Word has been rewarding for all of us. It is special to know that God is working in people's lives, and sometimes has allowed us to have a little part in that work. We will never know all that God is doing until eternity, but we can trust that He is faithful to complete the work that He has begun.
Another joy has been to have my younger brother David home for a few weeks during spring break. David has been working with a team in Oklahoma City, teaching character in the public schools, and leading after-school Bible Clubs for the students. God is really doing some exciting things there as well.
While I am home, I have been working on several projects for Mongolia, with one of the main ones being to obtain software and a computer for our expanding needs there. The Lord really blessed in allowing me to clarify some licensing issues that would have cost us hundreds of dollars.
I am doing some research to get a server computer and software solutions for our other computers over there. It is extremely difficult to find legitimate software licenses in Mongolia, but I know that God will honor our desire to do things completely honestly. God's blessing is the most valuable thing we could have on our work, and is worth the "extra" cost.
---
Praise Points:
– Praise the Lord for the continuing progress on the Mongolian Bible Software project. Our translator Saraa is very excited about the program, and told us that it has been a great blessing to her life and work.
– The Lord has allowed me to have some very helpful discussions with IT staff from IBLP and CTI, and profitable research as I continue to look for the best solutions to meet our needs in the technology realm. Last night I was able to purchase a used computer on eBay for a good price.
Prayer Requests:
– Pray that I would be able to connect with just the right Mongolian that can help with the translation of the Bible Software program.
– Over the next few weeks I plan to make some purchases of some computer hardware and additional software items for our network in Mongolia. Pray that the Lord would direct me to just the right items, and that I would be able to get them at a reasonable price.
---
Pictures: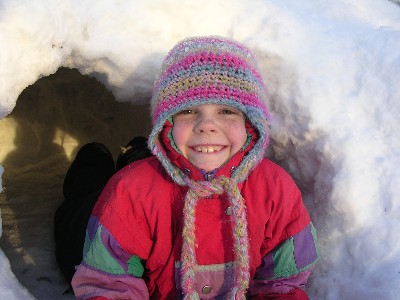 Lydia also enjoyed helping with the snow fort.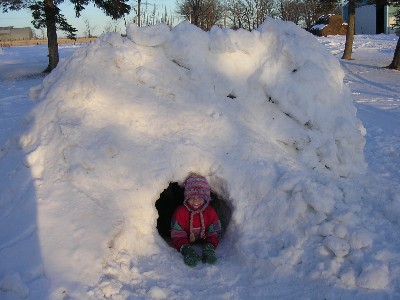 Sporting a new addition on one side, the snow fort continued to get larger until a few warm days this week. I am grateful that relationships built on the cold days don't just melt off with the snow fort.  🙂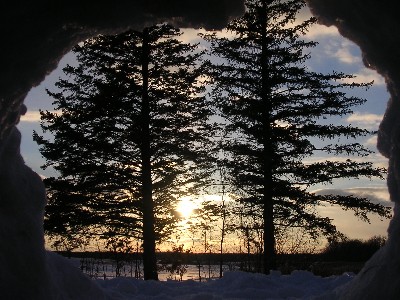 A Wisconsin sunset as seen through the door of our snow fort.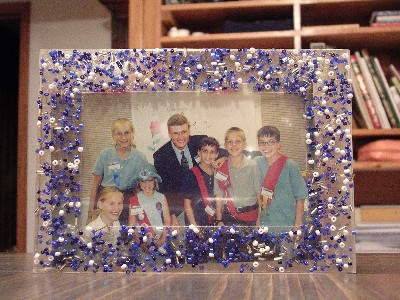 Reminding us of some special hours together in 2001, the O'Brien family still has a picture from the Children's Institute.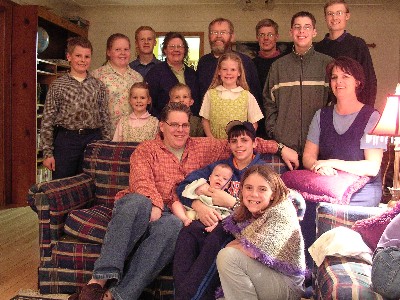 Now, four years later, our families are going through the Follow Up Course together.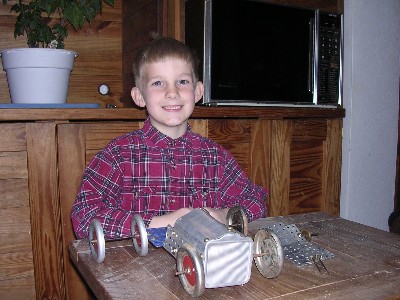 The younger ones have been having great fun with the Erector Set toys in the past few days. Here Matthew wanted me to take a picture of his tractor and wagon. Notice the dual tires at the back.
---
Thank you for praying for me! I am grateful for your support in this way.
In Christ,
– Adam
Adam Waller ~ MyAllForChrist@CadLinx.com
"And let us not be weary in well doing: for in due season we shall reap, if
we faint not." – Galatians 6:9
_uacct = "UA-2519367-1";
urchinTracker();