Friday, January 21st, 2005
Ulaanbaatar, Mongolia
Dear Family and Friends,
After spending a very full month visiting with family and friends in the States, Tim and Angie were scheduled to arrive back in Ulaanbaatar on January 12th. For the past few weeks we have been thinking about what we could do to welcome them back.
Thinking of the repairs and improvements that we had worked on in their apartment before their first arrival as a couple, I was reminded of the bathroom faucet. In Mongolia it is very common to use a shared faucet for the sink and bathtub, and the long spout swivels between them.
The one in their apartment had old, unmatched handle replacements, and the badly leaking spout hardly reached the sink. It still had some functionality, but was not what we wanted to leave for our newly married director and his wife.
We purchased a replacement faucet last summer, but with the many other projects, I ran out of time before I could install it. Now that Tim and Angie were away, I thought that this might be a perfect opportunity to replace it for them.
A little more research revealed that I could get a much higher quality faucet for just a few dollars more, so I exchanged the new Russian one for the better Czech model. Changing into some work clothes, I went over one evening to take out the old faucet.
Little did I imagine what I was getting in to! The water pipes, I discovered, came in at a strange angle instead of perpendicular to the wall. The old faucet had been installed by means of a custom wedge shaped rubber gasket, but the design of the new one did not allow for such a simple solution. The Russian faucets, I also discovered, use a different thread size for their three-quarter inch fittings.
I carefully set out to remove one of the brass fittings, only to have the aged part crumble under the wrench. Unfortunately, the threaded part broken off inside the cast iron elbow did not come out so easily. It took about an hour of sawing notches with the end of a hacksaw blade to remove the remaining pieces of the old fitting.
The second fitting only lasted slightly longer before it too tore off from the pipe elbow. (You might be interested in seeing the picture below.) Sensing that this was an opportunity to live out some of the character that we teach, I patiently worked to extract the threaded end from the pipe.
My efforts to move the sink also met with some unexpected challenges. I was drilling a hole through the cement for a new anchor when I hit something metal. It did not seem like rebar, and I could not imagine why they would put an electrical conduit or water pipe at this location inside the wall. I was not extremely anxious to drill through it without knowing what kind of surprise was waiting on the other side.  🙂
I remember praying and talking with my parents about the project. Was God trying to redirect my energies, or was this just an opportunity to work through some challenges? I sensed that the latter was the case, but I was wondering how to proceed on the project.
The next day it seemed like the Lord brought everything together. The last pieces of the old fitting came out, and I was able to have a new fitting custom welded to adapt to the angle. The metal behind the sink turned out to be just a metal plate embedded inside the wall for the original sink brackets.
It is a different experience working on these types of repairs in a foreign country! It is often difficult to get good tools, and extra creativity is required to work with a limited supply of materials. I do enjoy the challenge though, and enjoy being able to serve others in this way.
Living on a farm and always trying to find the most creative and resourceful way to repair things was great practice for mission work! It also lets a person see how important it is to have the Lord's blessing in the work that you are doing. So many times the Lord can give a little creative idea that saves a great deal of time and money.
We have also seen the Lord's blessing in other areas of the work. You might remember Gambaa, a homeless Mongolian boy that trusted Christ for Salvation a few weeks ago. It was with surprise and delight one Sunday morning that I found him coming to join us for the walk to church. Just the night before, Jedidiah had specifically prayed that Gambaa would be able to come to church with us.
Also joining us was Byambaa, a young lady from our Saturday Character-English class. She is a Christian and was looking for a good church to attend. Byambaa really seemed to enjoy the service at Holy Way, and has started attending regularly.
A couple weeks ago we stayed after the main service to talk with some of the Mongolian young people. It was a really neat time of sharing together with different ones. One young man only knew a few English words, and I only knew a few Mongolian ones, but as we pointed out the Bible passages that have been a blessing to us recently, I could sense a kindred spirit that needed no words to communicate.
Last Wednesday was a day with many challenges. In some ways it was one of the most difficult times that I had experienced with Tim and Angie away, but God's grace was there to perfectly match my need. Little wonder that the very day that Tim and Angie returned would see the greatest opposition from the enemy of our souls. God's grace triumphed and we joyfully welcomed our leaders back to Mongolia that evening.
The Lord continues to work in amazing ways. In my last update I mentioned that there were no seats available on the flight that I was planning to take on the 19th. Talking further with my parents and Tim, I explored some further options, and found a number of benefits that could come if I stayed a week later.
Then with the arrival of Tim and Angie, I learned that our International director George Mattix was coming for the first time to see the work in Mongolia, arriving on the 19th! As a result of rescheduling my departure, I will actually be here for his four day visit, and even get to see the start of the English Basic Seminar before I leave!
God's ways are so amazing! It reminds me of the verse in Proverbs that explains how man plans his way, but God directs his steps. I had planned what seemed perfectly logical, but God directed to an even better plan, based on factors that I did not know at the time. The most interesting thing in this is that investigating things further, it still remains a mystery why we were told that the initial flight was full.
I also wanted to share a little update on the Mongolian Bible Software. After the meeting with Ewen, the Lord allowed us to work out the final details to begin testing the first Mongolian Bible software. Just last week I had the joy of installing it on our translator's computer. Saraa was very excited about being able to do word searches, and said that she will be using the program a lot. We will probably take a couple months to test it out before doing a wide-scale release, but it is very exciting to see this project coming together.
The adventures of the last few days took a new turn last week as Tim's laptop suddenly began to crash. The infamous "Blue Screen" seemed to indicate either overheating or a hard drive failure. I was very grateful to be able to copy the most needed information from the failing hard drive before it completely crashed a couple days later.
My heading back to the States will allow Tim and Angie to use the computer that I was using, and I should be able to take their laptop back to the States to be serviced under warranty. I am so glad that this happened before I left! It would have been much harder to work through remotely, and this way I can take the computer back to the States with me.
These last few days before I leave promise to be very full, but it is so exciting to see all that God is doing here! Just this afternoon we finished teaching a two-day, 8 hour training on the character quality of sincerity. There were a number of very special answers to prayer as God gave us the ability to teach, even with very little preparation time.
I am looking forward to seeing family and friends back in the States, and most of my remaining hours here will probably be used in wrapping up the final details for my return next week.
---
Praise Points:
– Praise the Lord for the safe return of Tim and Angie. It has been a real blessing to have them leading our team here, and all of us appreciate the personal investment that they have made in our lives.
– I am very grateful to see the Lord answer prayer in allowing the Bible Software project to be brought to reality in the past few weeks. I am looking forward to the day, possibly in a couple months, when it can be freely distributed throughout Mongolia.
– The Lord's hand in orchestrating my return date has proved such a blessing! This "extra" week allowed me to be involved in teaching one more "Teacher Training" class before I leave.
Prayer Requests:
– Pray that the Lord would continue to extend His blessing on Mr. Mattix' visit. Tim, Angie and Mr. Mattix had good meetings with two government leaders yesterday, and Mr. Mattix will be preaching at Holy Way church this Sunday. This is his first time to visit Mongolia, and he has been very encouraged to see the work that is going on here.
– With my departure date on Wednesday the 26th, pray that the Lord would allow me to wrap up the most important details and projects before I go, but still be able to take time with the staff here.
---
Pictures: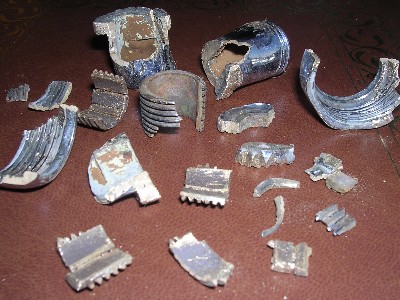 Sometimes old fittings don't just unscrew. Such was the case with the brass fittings in Tim and Angie's apartments.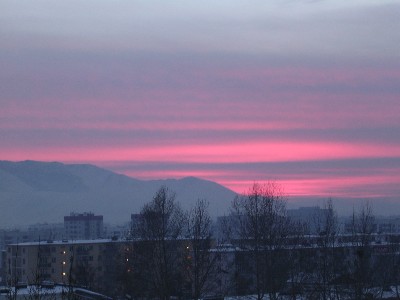 Although the smoke gets pretty thick in the winter, it sometimes affords some neat sunrises and sunsets.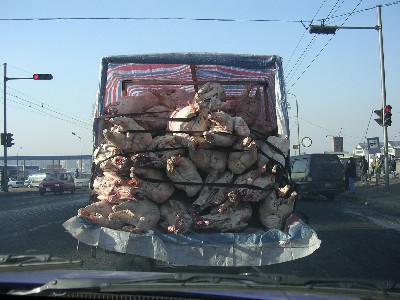 Our taxi driver pulled up behind this truck so that I could get a good picture of a Mongolian meat truck. This one is carrying frozen sheep.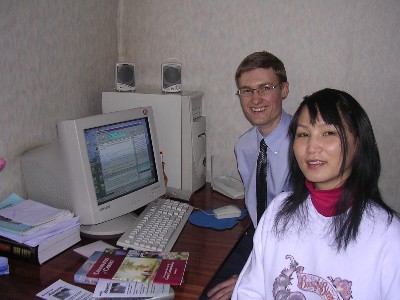 Here I am showing our translator Saraa how to use the new Mongolian Bible Software.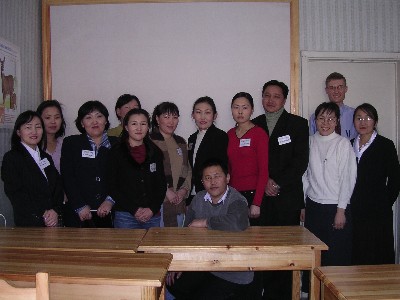 Staying an extra week allowed me to take part in one more teacher training class before I left. Most of these teachers are from one private school in the area.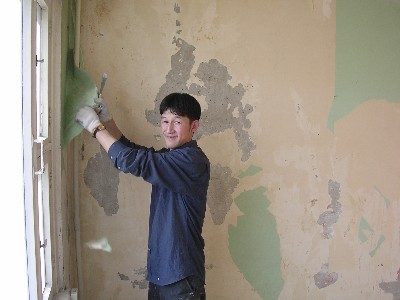 Our friend Dorjbat is back to help us with removing the water damaged wallpaper in one of our apartments.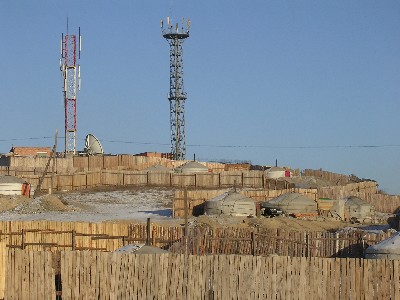 Taken just hours ago, this picture shows an interesting combination of old and new. The traditional Mongolian gers are round structures built with wood poles and covered in heavy felt and canvas.
---
Thank you so much for your prayers! We really appreciate it.
In Christ,
– Adam
Adam Waller ~ MyAllForChrist@CadLinx.com
"And let us not be weary in well doing: for in due season we shall reap, if
we faint not." – Galatians 6:9