Monday, March 9, 2009
Oak Brook, Illinois
Dear Family and Friends,
Over a year has past since my last update, but for our family, much has remained the same. We are still living in Oak Brook, Illinois, near the IBLP Headquarters where David, Rachelle, and I work full time. My Dad and Derrick continue to work in downtown Chicago for ESD, a consulting engineering firm.
While much has remained the same for our family, we have seen some major changes happening all around us. National elections last November brought in a new president, and a cascade of new directions and decisions for our nation. Our economy, once strong and flourishing, is crumbling before our eyes as our nation turns away from the very principles that made this nation great.
Around us we see people who focused their whole lives on material possessions and financial security, only to find their investments evaporating in the wake of plunging markets. Businesses struggle to stay afloat, while families all over this nation face the fears of an uncertain future.
And yet amid the rising tide of fears come some of the greatest opportunities we could ever have in demonstrating the faithfulness of God's promises before a watching world.
Several weeks ago I and several other home school graduates had the opportunity to sit on a discussion panel at a local home school group meeting and share from our experience in home education, and how it prepared us for work and ministry opportunities in later years.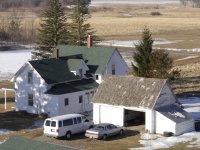 One of the questions raised was, "Were you prepared to defend your faith as you stepped out into the real 'world'?" In addressing this question, I shared that I personally believe that the very best preparation for defending your faith is not in memorizing answers for the questions of critics, but in seeing God's work first-hand in your own life and family.
I clearly remember sitting with my family around our dining room table in our Wisconsin farmhouse eight years ago as my Dad commented on our family's financial state. Some eight months previously, our family had moved to the farm after a couple years in Maryland. We felt that this was the Lord's direction for us, and my Dad planned to start his own business doing consulting engineering work.
But somehow things just didn't seem to work out as we had anticipated. We lived off of our savings, month after month, while my Dad looked for engineering work. The money my Dad had saved was slowly dwindling, and that evening he told us, "It wouldn't surprise me if God takes us to the very end of what we have, before He shows us His provision."
Those words may have been quickly forgotten by the younger ones, but for me, they went deep into my heart as I saw my Dad turn in faith to the unfailing promise of our Provider. In Matthew 6 Jesus talked about the daily need for food and clothing, and told His disciples, "But seek ye first the kingdom of God, and his righteousness, and all these things shall be added unto you."
My Dad's confidence was in the Lord, and he would not be disappointed. God did in fact take us to the end of what we had, but in January of 2002 my Dad was hired by LHB Engineers and Architects, where he worked until our family went to Mongolia several years later.
Why did God take my Dad through nine months with very little income? Was it not for his own children to see a living testimony of faith in the midst of trial?
I don't know how you are affected by our economy or other pressures right now, but may we use these pressures as opportunities to live out our faith before our family as we build our security on the unfailing promises of God's Word.
Jesus said, "Therefore whosoever heareth these sayings of mine, and doeth them, I will liken him unto a wise man, which built his house upon a rock: And the rain descended, and the floods came, and the winds blew, and beat upon that house; and it fell not: for it was founded upon a rock" – Matthew 7:24-25