Monday, November 19, 2007
Oak Brook, Illinois
Dear Family and Friends,
As our family packed our suitcases in Mongolia, and gave away extra clothing and personal items to our friends and coworkers, I could not help wondering what the Lord had in mind for our unplanned earlier departure from Mongolia in July. Unforeseen complications with our airline tickets, and the difficulty in obtaining flights out of Beijing during the summer months did not really leave us with any other option but to fly back to the States two months sooner than we had intended.
Nine months serving as a family in the country of Mongolia had gone all too quickly, enriching our lives with experiences that we will treasure for years to come. Life is a bit more rugged, lacking many of the comforts of America, but the joy of seeing people so hungry for truth, and Christians so willing to grow in faith made our little sacrifices seem so small in comparison.
Sometimes God gives us initial glimpses of the work that He is doing through the circumstances in our lives, but it is often in retrospect that we most clearly see His loving hand of guidance and care. Psalm 107, one of my favorite Psalms, describes joys and sorrows, blessings and chastenings, experienced by the nation of Israel and closes with the verse, "Whoso is wise, and will observe these things, even they shall understand the lovingkindness of the Lord."
In this update, I would like to share some of the things that I believe God has been doing in our family over the past several months, and my prayer is that you also would see the lovingkindness of the Lord as He continues to lead us.
When people meet our family, one of the first things they often notice is the large number of children. The responsibility of providing for a family with ten children, all still living at home usually carries with it the assumption that it requires a lot of money to raise a large family. I am so grateful for my parents' firm confidence that children are a blessing from the Lord, and that as God blessed our family with the priceless gift of a child, He would also provide for the additional needs of that child.
Over the years, I have seen God's provision demonstrated again and again as we trusted God to meet the financial needs of our family. My Dad faithfully worked in his electrical engineering profession, and it seemed that as our family increased in size, the Lord blessed my Dad at work with greater capacity to provide for his growing family. Even the lean times blossomed into special testimonies of God's provision in unexpected ways.
Our confidence in God's provision was stretched to a new level in 2005 when our entire family went to serve in Mongolia. From the world's perspective it seemed foolhardy for my Dad to leave a good job to spend a year in a third-world country with a large family, with no certainty of a job when he returned. This was not a decision my parents took lightly, but they were confident in God's direction for us to go to Mongolia, and just as confident that God would provide for us upon our return.
As we had somewhat expected, my Dad's former employer in Duluth was very hesitant about offering my Dad a position in their company when our family returned this summer after spending the better part of two years in Mongolia. Electrical engineering is the type of field where employers are looking for long-term staff. Projects can take years to complete, and engineering firms prefer longer time commitments from their employees.
This hesitant response, even before we left Mongolia, only seemed to confirm another direction that my parents felt the Lord leading our family. We have been greatly blessed over the years by the IBLP ministry, and for some time we have thought about being involved as a family at IBLP Headquarters in Oak Brook, near Chicago, Illinois.
Six years ago, our family had lived in this part of the country, and my Dad had worked for many years at Environmental Systems Design, a large consulting engineering firm in Chicago. Further exploring this possibility, my Dad wrote to one of his former coworkers, asking if they needed any electrical engineers. The senior vice president's reply only further confirmed this direction.
"You are an answer to my prayers!" he told my Dad, and went on to explain that one of their lead engineers was on his way to India, and they really needed someone to take on some large projects. Not only were they thrilled to have him back, but they wanted to reinstate him as if he had never left the company six years ago!
Our eyes again witnessed a living testimony of Matthew 6:33, "But seek ye first the kingdom of God, and his righteousness, and all these things shall be added unto you." As we purpose to seek God first, He faithfully continues to provide for all of our other needs.
Not only has the Lord provided my Dad with a good job in Chicago, but the IBLP leadership has graciously allowed our family to live in a home on campus, as the older children serve in various areas of the ministry. This modest size home fits our family surprisingly well, and is only 10 minutes away from the train station where my Dad rides a train into the city each day.
God has greatly blessed our family to allow us to be here, but the story does not end there. More and more I am seeing the Lord's hand in our earlier return from Mongolia. Attending the annual ATI home schooling conference, a family reunion, and teaching at a children's seminar in Minnesota are just a few of the opportunities that this early return allowed us to enjoy.
Finding many opportunities to serve at Headquarters, the older children in our family were soon involved in various aspects of the ministry. Rachelle works in the finance department, making good use of many skills that she learned while working with the Character Training Institute in Oklahoma City. David serves with several other young men in Mr. Gothard's office, applying his talents to the wide range of responsibilities and daily excitement that this entails.
For several years, I have had the desire, if the Lord was to open the opportunity, to work in IBLP's computer department. I knew that there was a lot I could learn from the experienced staff and the large scope of operations handled by this department, but I must say that I never imagined the plan that the Lord had arranged for my involvement!
Matt Holt, the IT Director, had been working in the IBLP computer department for eleven years, and as a newly married man, he and his wife sensed the Lord's leading to Mississippi where he accepted an IT position at another company. Several days after my arrival, and following some further discussion together, he and others in leadership began to feel that perhaps I was the replacement that they had been praying for.
Although I did not have Matt's eleven years of experience, I did see a number of parallels in our skills, and felt that if the Lord called me to this position, He would give the grace to carry it out. Moses didn't lead the nation of Israel because he had all the qualifications, but because God called him and enabled him to do it. Qualifications are important, but sometimes God calls us to step outside our "comfort zone" so that He can demonstrate that it is His blessing, not our skills, that bring success.
After consulting with my parents, and taking time to pray and seek the Lord regarding this decision, I felt that the Lord had indeed opened the door for this season of learning and ministry, and I accepted the responsibility. Although in the bigger picture, I believe God has called me to overseas Christian work, I believe that the Lord has a plan for this present time of stretching and learning at IBLP Headquarters.
Working with Matt in the weeks that followed, I again saw the great significance of our "early" return to the States. Had we stayed in Mongolia as we had originally intended, I would have missed this important transition time before Matt left in September. Striving to make the best use of our five weeks together, Matt and I spent many hours discussing various aspects of the work and ministry.
Of the projects we worked on together, by far the most significant was a research project that Matt had been working on for a number of months. Currently, IBLP's main core software systems, (including inventory, order entry, seminar registrations, contact management, etc…) are running on custom software initially developed by in-house staff ten years ago. Our inability to effectively maintain this custom software, and the increasing fragility of these core systems motivated Matt to research and recommend a long-term solution.
Without going into a lot of detail, rewriting our software was impractical and far too costly. Replacing the systems with commercial software seemed to be the best approach, allowing IBLP to focus on ministry rather than writing software. In further research, Matt identified an enterprise software solution called Donor Direct that would actually handle about 90% of our core processes in one integrated system, and would actually be less expensive than replacing each of the systems individually.
Working together, Matt and I spent many hours preparing a proposal for the IBLP leadership, outlining the need for the software, and why we felt that this enterprise system would be the very best fit for IBLP's present and future needs. After much prayer and preparation, we presented this to the leadership. Although a technology purchase can be very difficult to communicate to those unfamiliar with the field, it seemed that God allowed the main points to come through clearly in our meeting.
Our desire was to present our research and recommendation, but to allow the Lord to direct the leadership in the decision. Proverbs 21:1 says, "The king's heart is in the hand of the Lord, as the rivers of water: he turneth it withersoever he will." I have many times seen the truth of this principle, but never have I seen God's hand move so powerfully in the "heart of the king" as I did in that meeting.
The direction to move forward with this project was a great encouragement to all involved. Although the implementation of this software will be a very large project, requiring about six months to complete, I feel that it will provide a solid base software system to facilitate the ministry outreach of IBLP for years to come.
This November marks the two-year anniversary of my brother Isaac's Homegoing. "The memory of the just is blessed," Proverbs tells us, and it has been a special encouragement to meet various ones traveling through Headquarters that have prayed for our family over these two years. The Lord continues to give us opportunities to share testimonies of His faithfulness through this experience, including a brief testimony that David shared at a convention with several thousand Romanian Christians at the McCormick Place in Chicago.
Three weeks ago our family had the opportunity to visit a Mongolian church in downtown Chicago. Finding our way into the basement of a large Korean church where a congregation of Mongolians meets on Sunday afternoon, we had the chance to practice our limited Mongolian vocabulary as we introduced our family to the pastor and several others. It was really fun to hear the Mongolian language again, and even though I only understood about 10% of the message, there is a spirit of love and fellowship with other Christians that transcends language.
Most of the Mongolians spoke at least some English, and we enjoyed good fellowship after the service. Although it would not be practical for us to attend every week, they begged us to come back, and we will probably go again sometime around Thanksgiving when my brother Derrick returns from some construction jobs in Oklahoma. They may even have us share a message or testimony from our time in Mongolia, so we will see how the details work out.
Many people have asked us if we are planning to go back to Mongolia. Our heart is to go back, as my Dad often explains, but we want to go back in the Lord's timing. My Dad's job in Chicago allows us to save towards this end, while we enjoy a season of ministry and growth in the States. We don't know for sure how long this season will be, whether it be a year or however the Lord would direct.
Just like every other family that is seeking to follow the Lord, we face daily pressures and challenges, joys and sorrows, but it is God's grace, through your prayers, that keeps us focused on the "joy set before us." (See Hebrews 12:2) God did not call us to an easy road, but we have the promise of eternal rewards laid up in heaven, and the anticipation of that Great Day when faith becomes sight!
I know that some of you pray for our family very specifically, and I am confident that the hundreds of lives we have seen impacted this summer are a direct result of your unseen labors in prayer. (Matthew 6:6) May the Lord bless each one of you with the fullness of His love, and strengthen you in your inner man, to run with patience the race set before you, as you look unto Jesus, the Author and Finisher of our faith!
---
Praise Points:
We praise the Lord for His provision through my Dad's job in Chicago. The commute to work each day is significantly less than when we previously lived in the Chicago area.

The younger Wallers had given up their bicycles when our family originally went to Mongolia, and now they are very happy to have bicycles again! (My Mom was able to find some good quality used bikes at a local resale shop.)

Through the help of a friend, we were able to locate a free piano for our home in Oak Brook! The instrument is actually the same model as our piano in Grantsburg, and sounds beautiful after tuning. We enjoy singing and playing instruments together, so having a piano in our home is a great blessing for our family.
Prayer Requests:
In the area of health, we would appreciate prayer for my Dad's knee as it recovers from a bone bruise and a torn ligament. He is wearing a brace for a month to aid in the healing process.

Pray that the Lord would use our family to be an encouragement to the IBLP staff that are serving at Headquarters. We are in a time of transition right now, and have a very small staff trying to fulfill a lot of responsibilities. Often a smile or word of encouragement can go a long way when people are under extra pressure.
---
Pictures: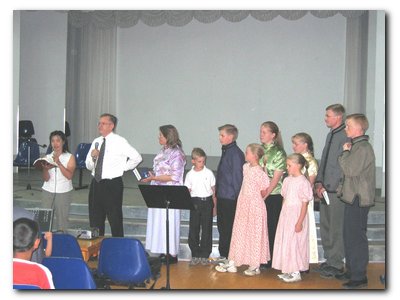 There were some tearful goodbyes as we left Mongolia without a
specific date to return. My Dad shared a few words on our last Sunday,
and then we sang a song for our Mongolian church family.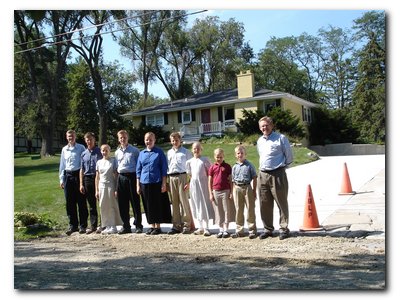 We are currently living in this house in Oak Brook Illinois, while the
older children serve at IBLP Headquarters.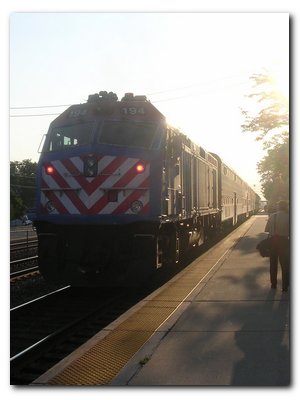 Our home is only 10 minutes away from the train
station, which makes Dad's commute to downtown
Chicago very convenient.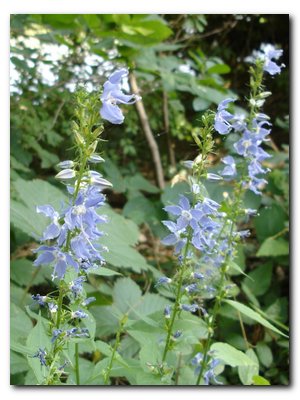 Flowers are also a special reminder of God's care
for His children. "…if God so clothe the grass of the
field,…shall he not much more clothe you, O ye of
little faith?" (See Matthew 6:28-31)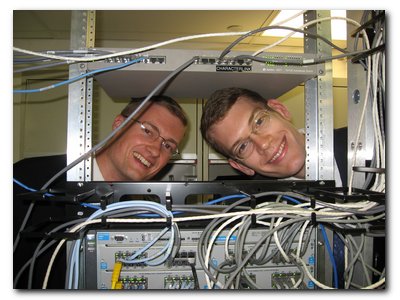 Matt Holt and I were able to put our heads together on a very wide
range of projects and responsibilities before Matt left in September.
I really enjoyed our time together, and gleaned many insights from
his work with IBLP over the past 11 years.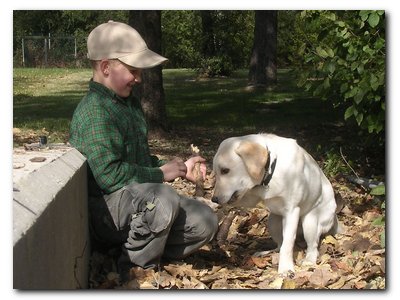 The smaller Wallers have greatly enjoyed our neighbor's dog. "Snowy"
is a yellow lab, the same kind of dog that our family used to own.
More Pictures:
Click here to see many more new pictures that I could not include in this e-mail.
---
Interesting Fact:
People often ask what stood out to us when we returned to the States after nine months in Mongolia. Of course the lush, green grass and trees stand out in great contrast to the much drier conditions in Ulaanbaatar. I was amazed at the softness of my bed! It was like sleeping on piles of cotton. But probably the biggest thing was the food. Even though we did our own cooking in Mongolia, I never realized the difference it makes to eat fortified grains and fresh garden vegetables! Everything is so flavorful and rich.
---
Note Our New Address:
Waller Family
6 Pine Hill Lane
Oak Brook, IL  60523
(63…
---
We have so much to be thankful for as we celebrate the Thanksgiving holiday this week! Thank you so much for having a part in our lives! May the Lord bless each one of you as we rejoice in His goodness.
In Christ,
– Adam
Adam Waller ~ MyAllForChrist@CadLinx.com
Family Web site ~ http://visionserve.org/wallerfamily
"And let us not be weary in well doing: for in due season we shall reap, if we faint not." – Galatians 6:9
If for any reason you would prefer not to receive these e-mails, just reply with "unsubscribe" in the subject line. If this e-mail is being forwarded to you, just let me know and I can put you on the regular list.  – Adam