Saturday, October 8th, 2005
Ulaanbaatar, Mongolia
Dear Family and Friends,
Weeks seem to fly by so quickly here in Mongolia! One week ago today we celebrated Rachelle's birthday. Sarah and Rebekah wanted to make a favorite dish of homemade lasagna for the birthday lunch. I think lasagna noodles are starting to become available in Mongolia, but the girls decided to save some money and make them from scratch.
Carefully rolled out and then dried on a bed sheet, you could hardly tell the difference in the final product. Some of the younger ones served the lunch in a fine dining style comparable to an expensive catered banquet.
Not everything has been fun and celebration, however. Isaac's lower leg has been painful and swollen, keeping him in bed for most of the past week. It seems that some type of infection had set in. We are grateful to know some skilled missionary doctors here, and one was able to examine his leg and prescribe an antibiotic.
Yesterday Isaac began taking another antibiotic of a stronger type, and it seems that he is beginning to show some signs of improvement. Please continue to pray that the Lord would give him a rapid recovery.
You may remember that our phone system had died a little over a month ago. We were able to send it to the States, where we are getting it repaired, either for us to use again, or for another branch of our organization.
Riding in a taxi through the city on Thursday, I was telling Ideree that I am seeking the Lord's direction for our phone system needs. Even before it failed, we were talking about maybe upgrading at some point. We are currently renting 11 apartments, but the TalkSwitch only has 8 extension. It is a great little system, but starting to get a little small.
The Lord could have easily allowed the unit to continue working for a few more months or years, but He allowed us to come to a decision point this summer. From one perspective, we could have the unit repaired for $250, and have it shipped back to us, but we would be in exactly the same situation, minus $250. I am wondering if maybe the Lord has a plan or direction in this that is bigger than just spending money on a repair.
In researching some options for a possible replacement for the TalkSwitch, I was encouraged to investigate what is available locally. It would be wise to get something that is supported locally, with parts available for any repairs.
I was quite impressed with the Panasonic repair shop that Ideree and I visited. We gave them a cordless phone to repair, and they actually did component level testing and replaced a IC chip for a total cost of $15! I don't know if you could get a repair estimate for that price at some places in the States.  🙂
Following the recommendation of the repairman, we visited the office of the main Panasonic distributor in Mongolia. We were ushered into the office of a well dressed man that spoke good English. He explained that Panasonic has installed over 15,000 systems in Mongolia over the past 5 years, and is the primary supplier for small and mid-sized businesses.
Taking some time to learn of our needs, he went on to describe a system that he felt would work well for us, and gave me a product brochure. I asked if he might have any older systems that might be available at a lower price, so he also gave me a product brochure for the previous model.
Returning to our apartment, I spent an hour or so researching these units on the Internet. I also remembered an e-mail that a friend had sent me last week. He does phone system installations, and had used Panasonic unit that might work for us. Stopping to look up the part number on the Internet, I found to my great surprise that it was exactly the model described in the second brochure from the Panasonic distributor!
All of the details have not yet come together, but it seems that we might be able to get a good quality, locally supported phone system with double the capacity of our TalkSwitch for less than the cost of the repair! I sent some e-mails to verify the details on this, but it will be exciting to see what the Lord does.
Another answer to prayer came just as unexpectedly as Ideree and I were looking at phone systems. As I was walking into one of the stores, I saw another tall foreigner, and it turned out to be Ewen, the man that I have been assisting with the Mongolian Bible software! I knew that he was back in the country, but had not seen him since my return. We had a brief talk, and it gave me all the more encouragement to move forward with the project.
Please continue to pray for us! Your prayer support is so vital to this or any other ministry. Without God's hand of blessing on our work, we would simply be running around in circles.
---
Praise Points:
– Praise the Lord for how the church is continuing to grow in Mongolia. Last Sunday the Holy Way church that we attend divided (or multiplied) into two different churches. The old building just could not fit the 200+ people that were attending each week. We were wondering if anyone had stayed with the old building and original church when about 150 people gathered at the new location. We heard later that the old building was also full! Five people came to Christ at each church last Sunday.
Prayer Requests:
– Pray for a full recovery for Isaac's leg. We are grateful to begin seeing some improvement today.
– Please pray for the wife and three young children of Enkhbayar, a Mongolian pastor of another church that went home to be with the Lord a few hours ago. In the midst of the grief of Enkhbayar's passing, many of the unsaved relatives want to have a Buddhist funeral, against the wishes of his wife and a document he wrote before his death.
---
Pictures: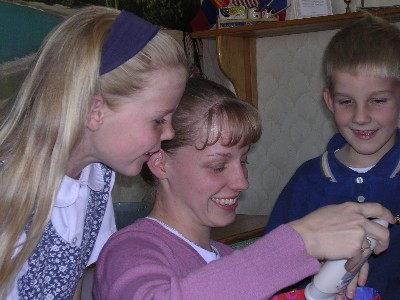 Rachelle opens a gift while Lydia and Matthew look on. It is wonderful to spend birthdays with family, even in Outer Mongolia.  🙂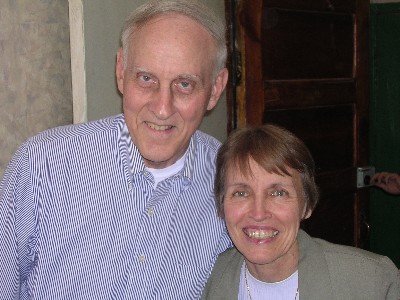 Jim and Esther Entner just came to Mongolia last year after over 20 years of mission work in the Philippines. We are so blessed to know this dear couple, and Jim's medical experience and advice has been of great assistance in the situation with Isaac's leg.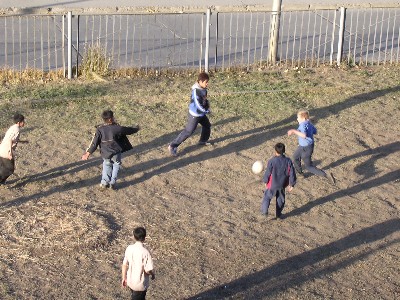 Having the family here brings a new dynamic to local outreach. Quite a number of the Mongolian boys in the area are getting to know David and the younger ones. Soccer seems to be their favorite outdoor activity.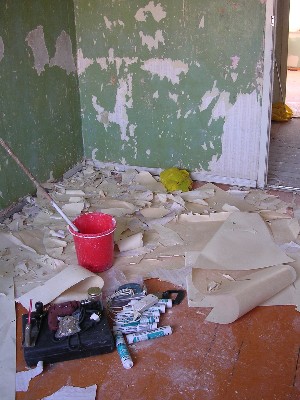 "It's gonna get worse before it gets better…" Remodeling the classroom apartment has been Derrick's project for the week. (Or two.)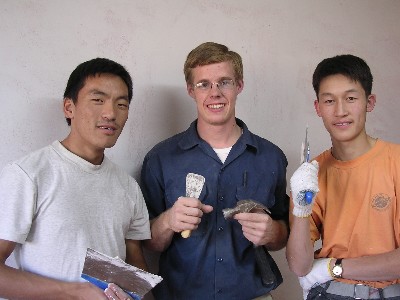 Derrick and company. Chinggis (left) and Dorjbat (right) have been assisting with the remodeling project. These two young men are growing in the Lord and actively involved with our church.
---
Thank you so much for your prayers for the family and team in Mongolia!
In Christ,
– Adam

Adam Waller ~ MyAllForChrist@CadLinx.com
"And let us not be weary in well doing: for in due season we shall reap, if we faint not." – Galatians 6:9
_uacct = "UA-2519367-1";
urchinTracker();