Pictures 11/19/07
---
Below you can see additional pictures that I could not include in the Prayer Update e-mails.
Click here to return to the Prayer Updates page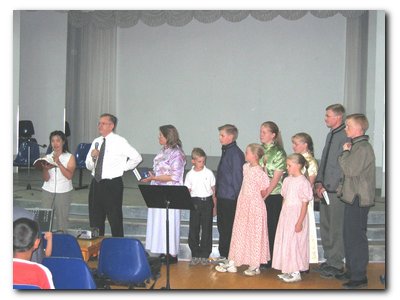 It was hard for us to leave Mongolia, especially since we didn't have
a specific date to return. My Dad shared a few words on our last
Sunday, and then we sang a song for our Mongolian church family.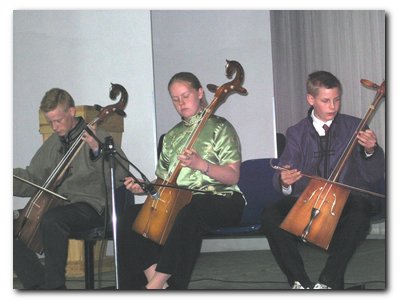 Wearing traditional attire, David, Sarah and Samuel played some
special music on three traditional Mongolian morinkhur instruments.
(Morinkhur literally means "horse fiddle".)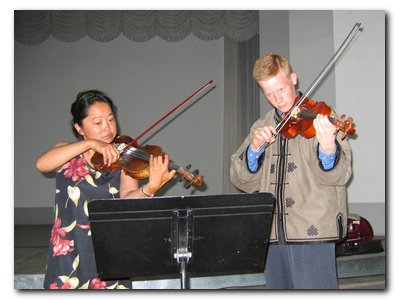 Miga, a friend that my mother has spent time with, used to play the
violin professionally, and played a beautiful Russian duet with David.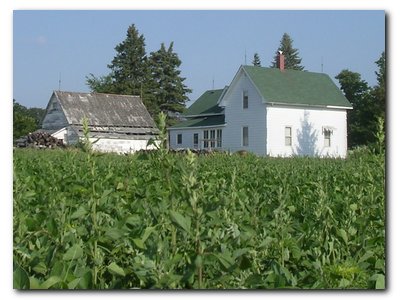 Landing in Chicago, we drove our van up to our farm in Wisconsin.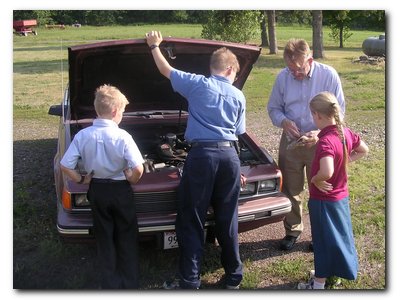 Backing the car out of the garage, we found that the mice had gotten
into the engine compartment, even adding some miscellaneous
hardware items to their nest.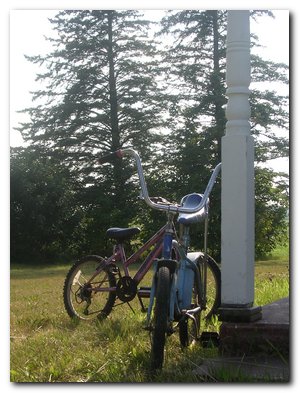 The smaller Wallers were delighted to ride their
bicycles again after nine months in Mongolia.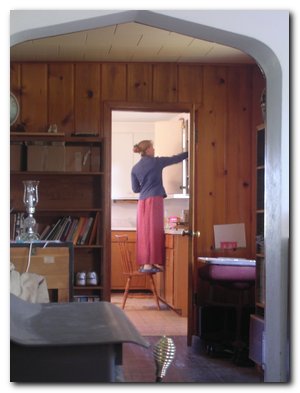 Rachelle and Sarah enjoyed making pancakes with
our full size electric griddle again.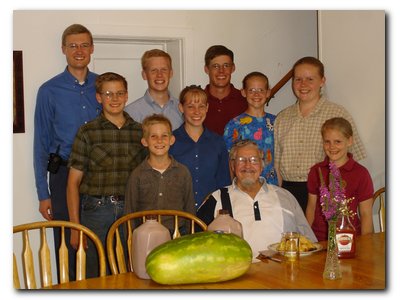 Grandpa joined us for dinner one evening at the farm.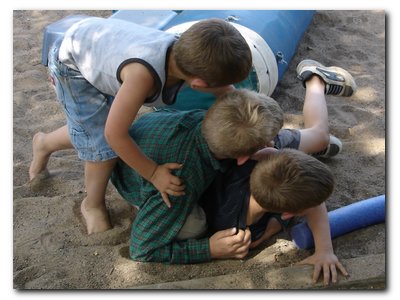 A family reunion gave Matthew (center) an opportunity to wrestle
with some other boys his size.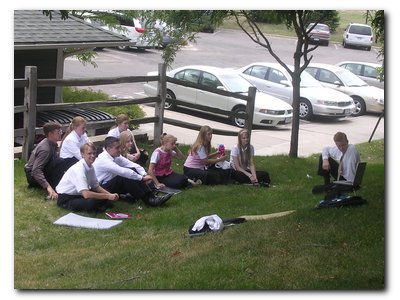 David led a team of young people for a children's seminar during
our brief time in Wisconsin.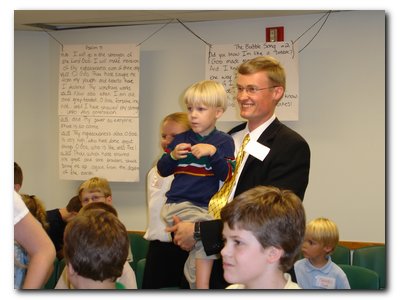 This little guy was a bit younger than we typically have in these
children's programs, but he did well considering his age.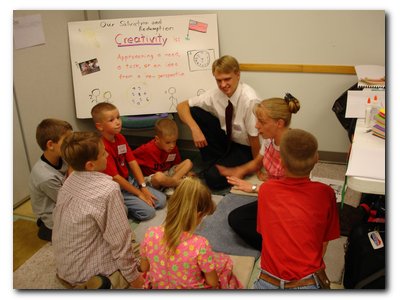 Rachelle teaching in her small group. We were all stretched during
the week of teaching, but encouraged to see the students learning
truths from God's Word.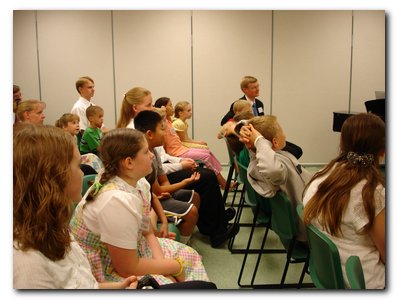 In the large group times, we learned songs and Bible verses, and
listened to stories.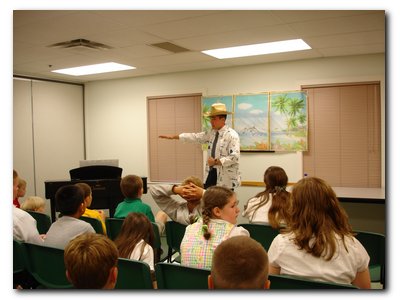 Blake shared a personal story from his life of how he went back to
clear his conscience after eating some ice cream without permission
at his workplace. It is often these personal illustrations that have the
greatest impact on the lives of others.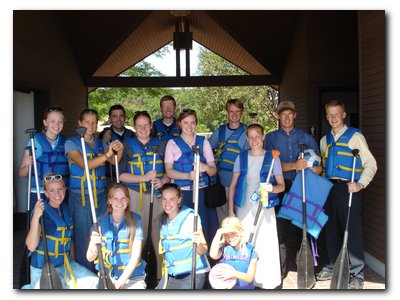 In the midst of a very intense week of training and teaching, we took
some time off on Friday for a little team outing at a nearby lake.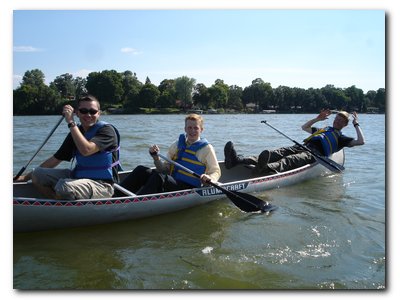 Renting some canoes, we paddled out on the lake for a relaxing time
on the water. -I guess some were more relaxed than others... :-)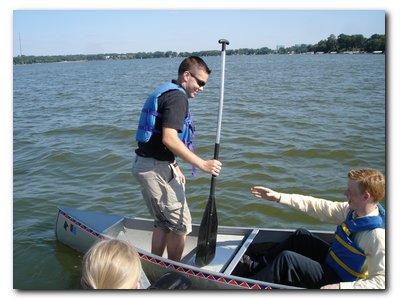 After some time on the water, Blake was just too hot to stand it any
longer. Handing his paddle to David...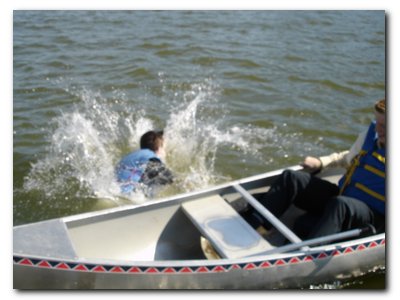 He took the plunge!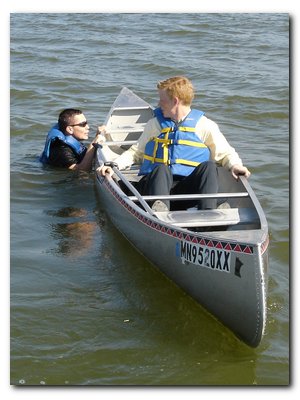 Now, how do you get back in?... Actually he had been
trained how to reenter a canoe from the water, and
performed the feat admirably.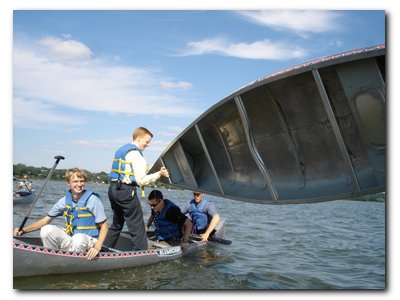 Using a couple of the other canoes, we emptied out the extra water
from his canoe. It was great fun, and no one tipped over.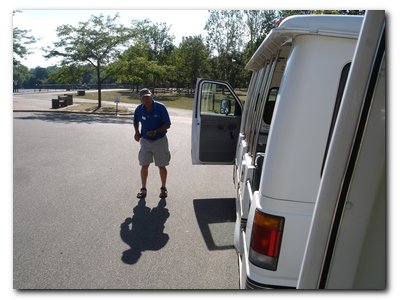 The shuttle driver, a fun-loving retiree, insisted that we would have
to sing because we didn't have any "tickets." (You really don't need
tickets to ride this free shuttle.)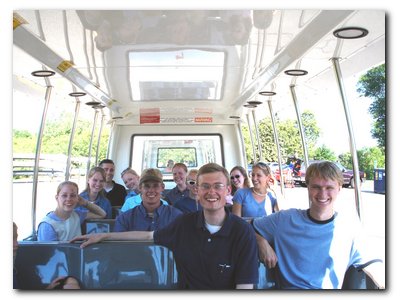 We gladly obliged, and sang a number of the songs that we had been
teaching the children through the week. I think it really made his day!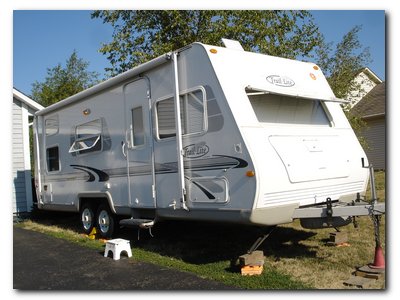 A family from the local church graciously hosted Rachelle, Derrick,
David and I in this camper for the week of the children's program.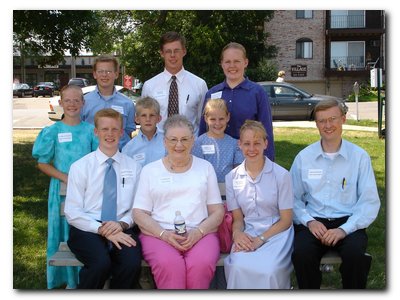 It was a blessing to also spend some time with Grandma Pat.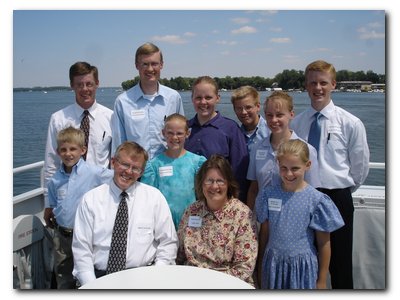 My Great Aunt and Uncle graciously invited our family to join friends
and relatives for a cruise dinner to honor my Great Aunt's birthday.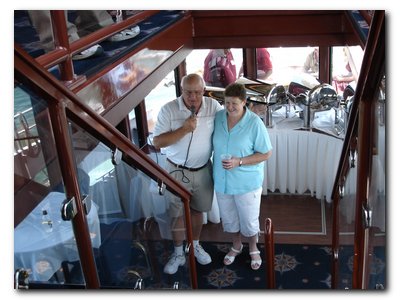 It was a lovely time, and a beautiful ride around Lake Minnetonka.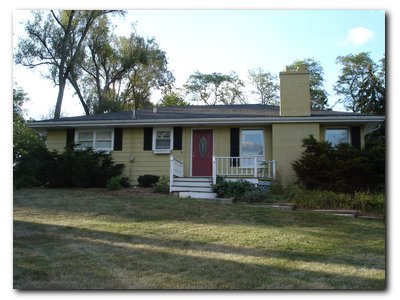 Returning to Oak Brook, Illinois, our family was invited to live in this
home as we serve at IBLP Headquarters.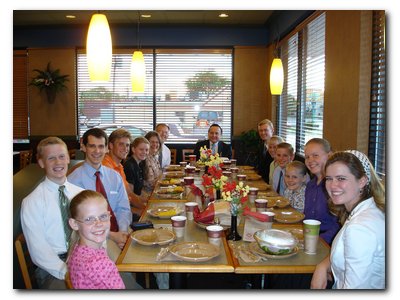 Mr. Gothard took our family out to dinner with a few of the IBLP staff.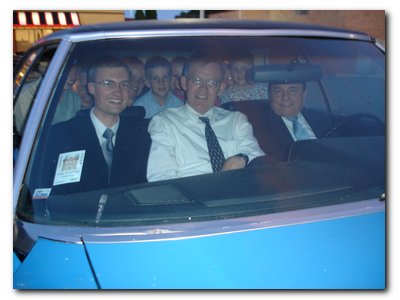 Mr. Gothard drives the same '73 Oldsmobile he has had for years.
This car, now a classic, is fully as long as our 15 passenger van!
I think it was about ten of our family that piled in for a ride back
to our house.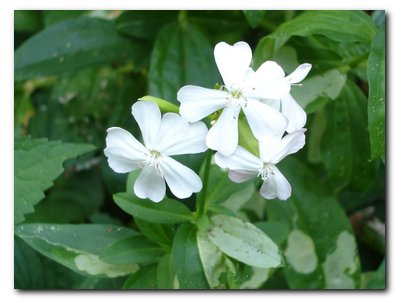 The often nearly barren terrain in Mongolia gave me a special
appreciation for greenery and flowers as we returned to the States.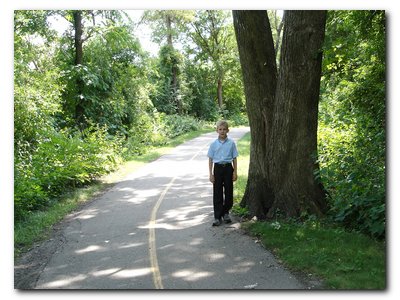 It almost feels like you are walking in a tropical rain forest when you
see so much greenery!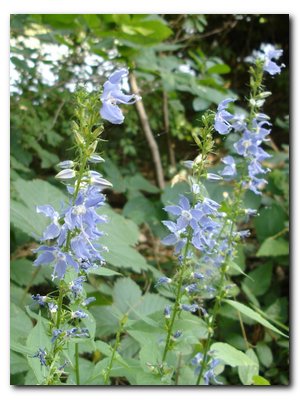 Flowers are also a special reminder of God's care
for His children. "...if God so clothe the grass of the
field,...shall he not much more clothe you, O ye of
little faith?" (See Matthew 6:28-31)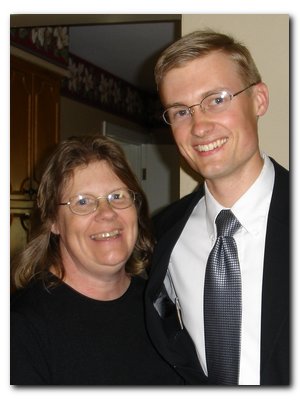 Mom gives me a hug as I leave for my first day of
work in the IBLP computer department.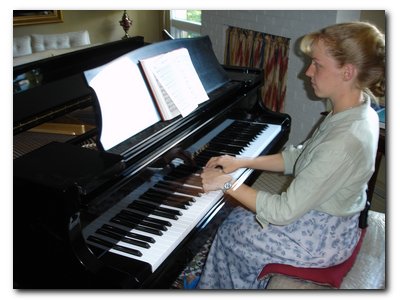 Rachelle enjoyed playing a grand piano for a few weeks before the
family that had lived in the house previously returned to pick it up.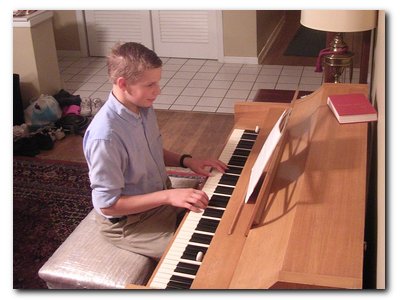 Some friends alerted us to a newspaper ad for a piano being given
away, and we were delighted to find the very same model as our
piano in Grantsburg! In God's perfect timing, we picked up this
free piano just days before the other family's grand piano moved on.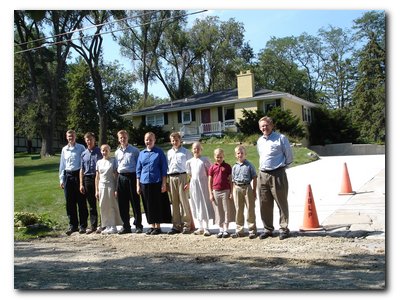 Greetings from Oak Brook, Illinois!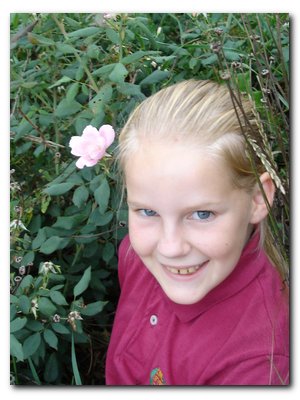 Rebecca takes time to stop and smell the roses.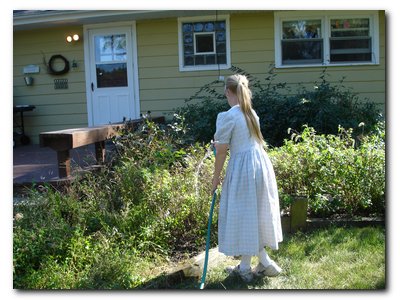 The smaller Wallers worked very hard on the flowerbeds and garden,
pulling wheelbarrow load after wheelbarrow load of weeds.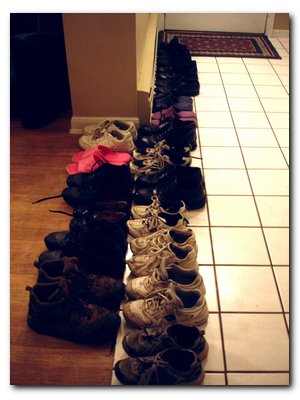 Front door shoe lineup. :-)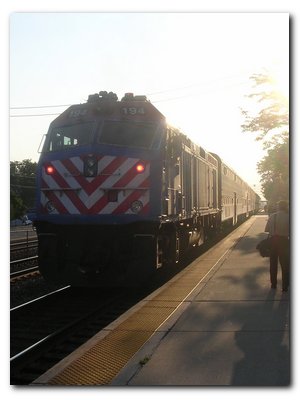 Our home is only 10 minutes away from the train
station, which makes Dad's commute to downtown
Chicago very convenient.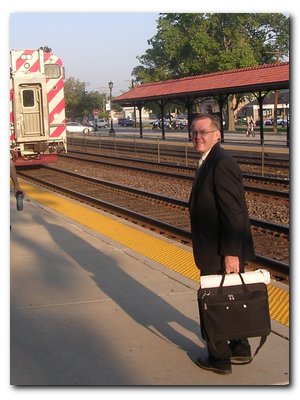 Enjoying our time together as Dad and I drive to and
from the train station, I have often benefited from Dad's
wise counsel in relation to projects I am working on.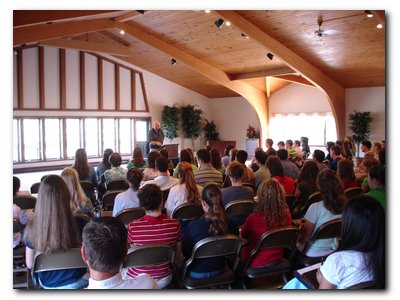 Our family joined the IBLP staff for a retreat to the Northwoods
Conference Center near Watersmeet, Michigan.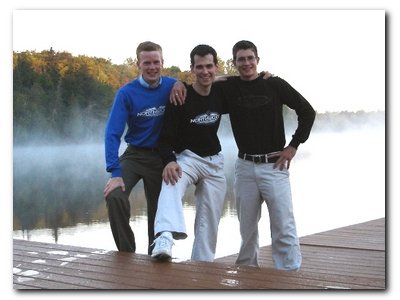 David, Robert Staddon and Chad Paine, three young men that work
closely with Mr. Gothard.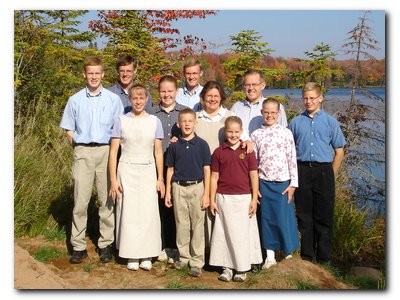 Our family enjoyed the time together, and the weather was beautiful!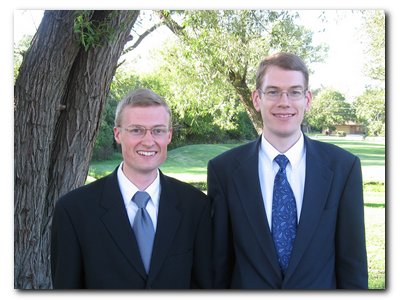 Returning to Headquarters, I worked for several weeks with Matt Holt,
the IT Director, to learn as much as I could from him before his last
day on September 14.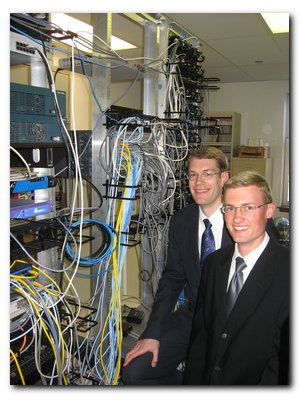 It is not hard to impress visitors with the complex
array of technology in the server room!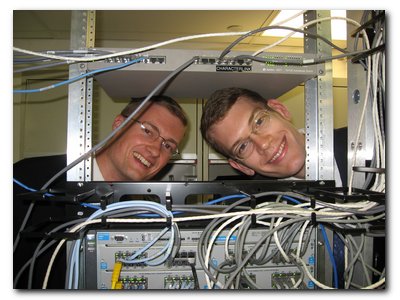 Matt Holt and I were able to put our heads together on a very wide
range of projects and responsibilities before Matt had to leave. I really
enjoyed our time together, and gleaned many insights from his work
with IBLP over the last 11 years.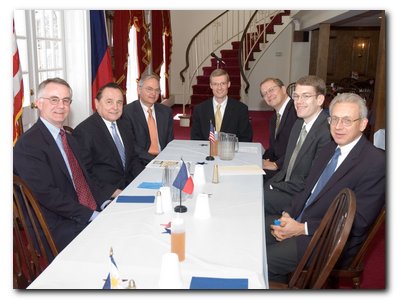 It has been such a blessing to learn from these Godly men as we sit
around the table for a director's meeting each day after the noon meal.
One of my responsibilities is to present technology reports and
recommendations to the other directors.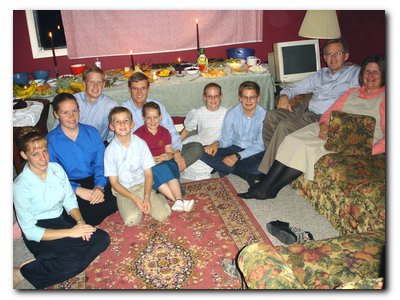 October 31 is a special holiday in our Waller family traditions. We
have our annual "Daniel Dinner" together. In the Bible, Daniel was a
man of great conviction who would not disobey God, even when his
own life was threatened.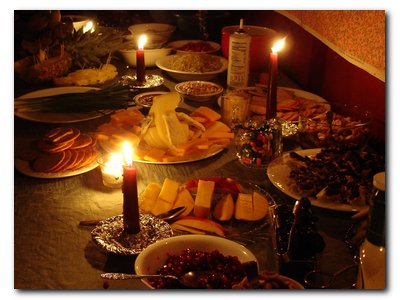 In remembrance of Daniel's creative plan to eat vegetables instead
of the king's rich meats and wine, we have a dinner of salads, fruits,
nuts, crackers, cheese, often including some rare items such as a
whole pineapple, coconut, and other tropical fruits.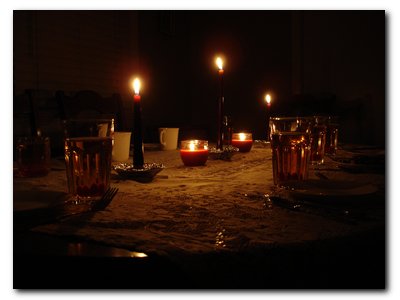 In a day when so many celebrate darkness, we read the story of
Daniel and are reminded of Jesus' command to let our light so shine
before men, and to overcome darkness with light.
I am so grateful for the wise leadership of my parents over these
years! On November 16, my parents celebrated their 33rd wedding
anniversary.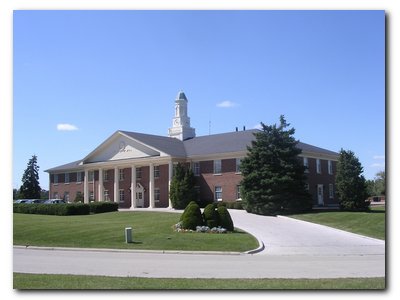 This is the building where I work. We call it the "Production Center"
and it houses an array of offices, the warehouse, printing presses,
and bindery.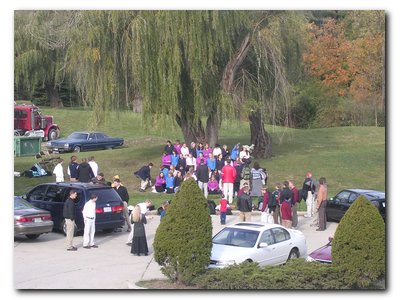 Realizing the great need for young people to learn to love and seek
the Lord with all their heart, IBLP designed the Journey to the Heart
program, a 10 day time of discipleship and seeking the Lord. Here a
team takes photograph before leaving for the Northwoods Conference
Center.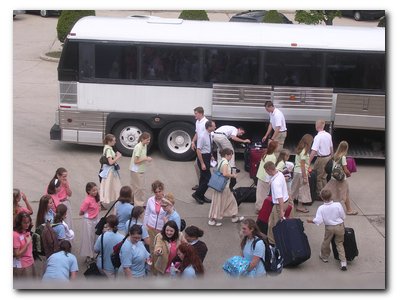 They guys help load the luggage into the bus as the group prepares
to leave for the Northwoods. Hundreds of young people went through
the program this year, and it is very encouraging to hear their
testimonies as each group returns from the Northwoods.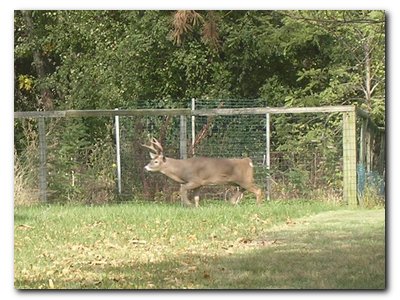 I took this picture a few days ago, when Lydia pointed out a deer in
our back yard.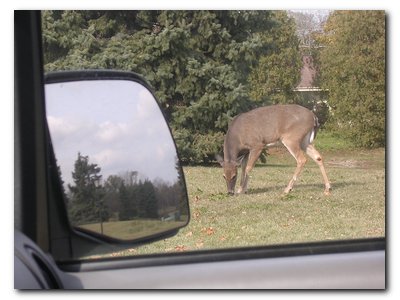 It is amazing to have deer living in this area, but I think they enjoy
the many trees around the Headquarters property.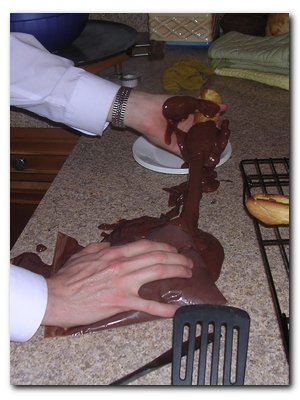 Taping an aluminum foil tube to a plastic bag, I was
having a good time filling some éclairs -until the tape
suddenly gave way, sending spurts of cold chocolate
pudding all over my hand!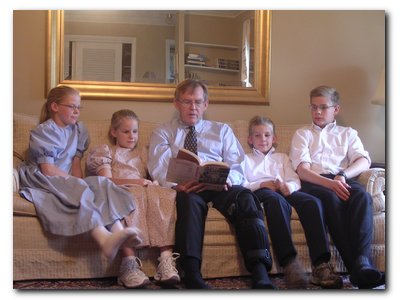 Dad has been reading "The Hiding Place" to the younger ones. The
life of Corrie Ten Boom is a testimony of one who relied on God's
grace to forgive those who had so terribly mistreated her and her family
during World War II.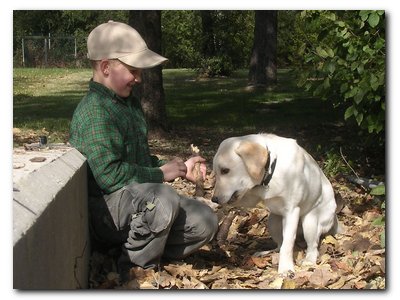 The smaller Wallers have really enjoyed our neighbor's dog. "Snowy"
is a yellow lab, the same kind of dog we used to have at our farm.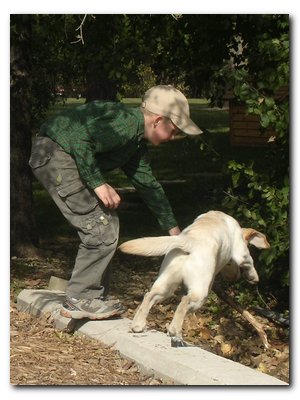 Snowy loves chasing sticks and playing tug-of-war,
but he seems afraid of tall people like me.
Hope you enjoyed the pictures!!
Click here to return to the Prayer Updates page