Pictures 11/21/06
---
Below you can see additional pictures that I could not include in the Prayer Update e-mails.
Click here to return to the Prayer Updates page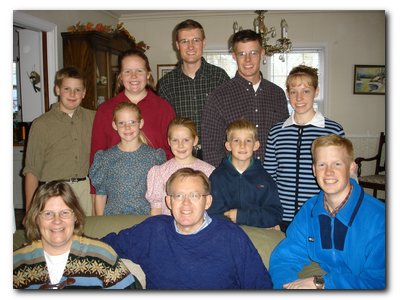 Just before heading back to Mongolia, we had a family gathering at
my uncle and aunt's home in Minnesota.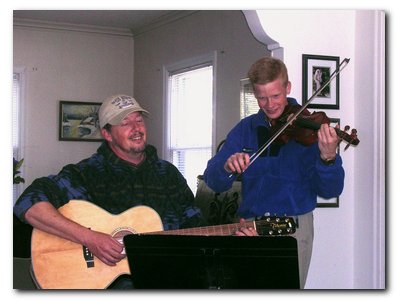 Uncle David surprised us with his skills on the guitar.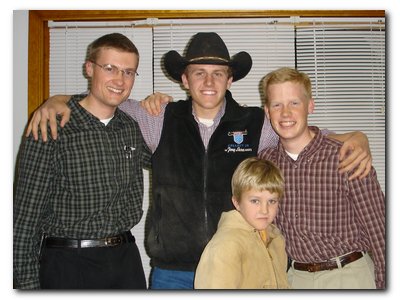 It was a blessing to see many friends during our stay in the States.
(Yes, Levi enjoyed the visit too, he was just a little camera shy.)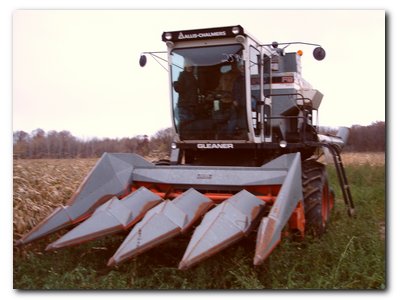 Derrick was able to do some of his own combining at our farm this
fall. He stayed back for a few weeks to finish up some farming
projects before flying to the Philippines to join Rachelle and David.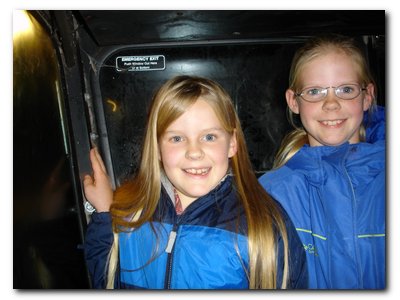 Of course all the smaller Wallers were excited at the opportunity to
have rides in the combine!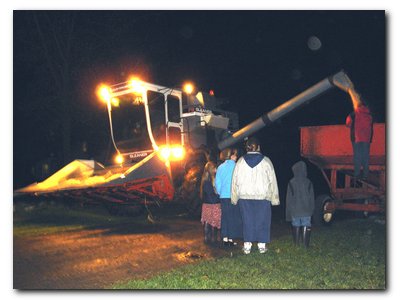 Farmers work long hours in the harvest season, working to bring in
the crops. In some areas the farmers work in shifts, running the
machines day and night.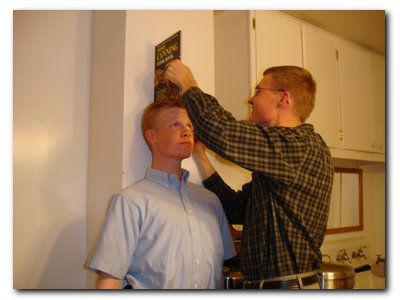 Another Waller tradition, measuring each person to see how high
they can stretch. :-)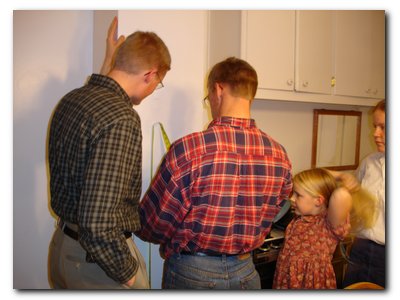 Of course we need to use a tape measure to make sure we are
getting accurate measurements.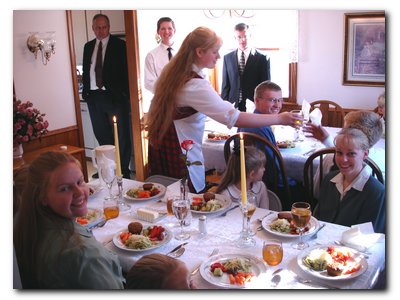 A couple days before our flight, we were treated to a fine dinner by
the Mullen family. We are so grateful for the families and friends that
stand behind us in prayer while we are overseas.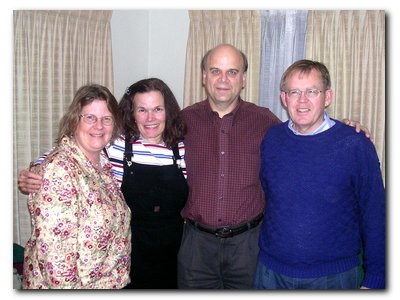 The day before our flight, my parents were able to spend some time
with this couple who had lost a 25-year old son (who was also a
twin) in a tragic accident a few days after Isaac's death. We had known
their family from our time living in Illinois, and had a special time sharing
of God's faithfulness through such unexpected times of grief.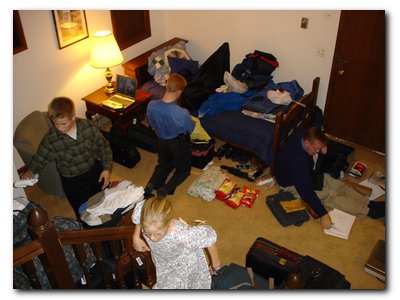 Packing and rearranging. Our scale at home was not very accurate,
so we were blessed with the opportunity to use a shipping scale at
IBLP Headquarters to get all the bags 49-50.0 pounds.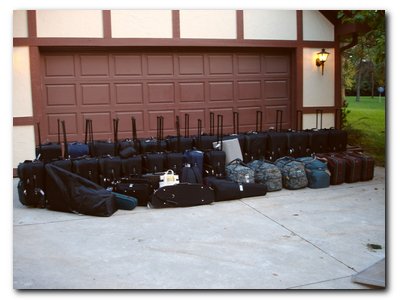 Our bags are all lined up and ready for loading. Sarah even managed
to bring a small harp that she had been given for her birthday.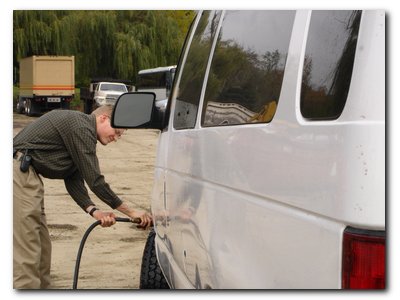 After recent heavy rains in the area, we got our van stuck in the mud
trying to park our camper trailer.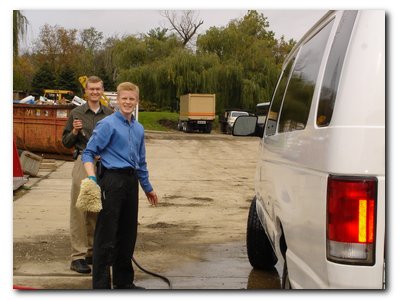 David and I were able to get it cleaned up before we left. Yes, I resisted
the temptation to spray off some of the mud that landed on David
while he was trying to push from behind the rear tire.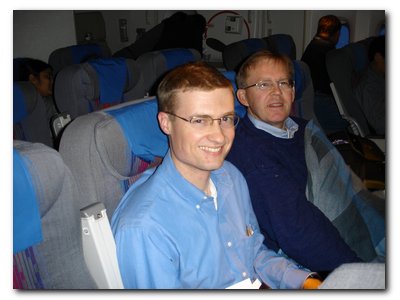 The main flight to Beijing is a little over twelve hours non-stop.
I was blessed with a very kind man next to me.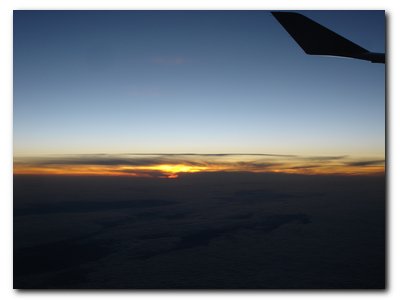 Sunset from the air. This brought back memories of Isaac, who just
a year before had watched the sunset from the plane window
before leaving this world to be forever with the Lord.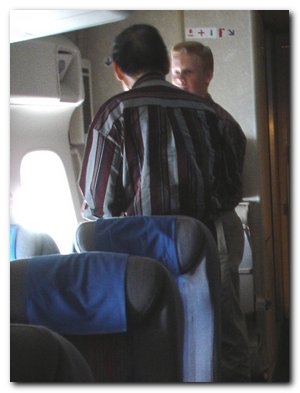 David and others had good opportunities to share with people on the
plane. A family of our size is rather unusual to see, especially on an
international flight.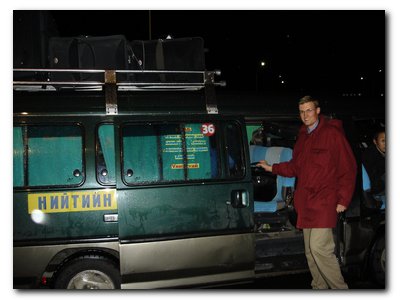 You can barely see some of our luggage stacked on the rack above
the microbus as we climbed in to drive back to our apartments in
Ulaanbaatar. There was a little snow on the ground, and a light rain
was falling when we arrived.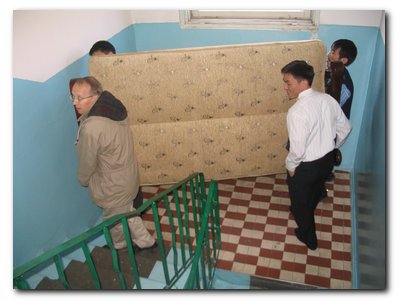 The team in Mongolia had been working hard to prepare for our arrival,
including the procurement of a couple couches for our family
apartments. It is really nice to have something soft to sit on. :-)
Each morning we gather as a family at 7:00 to read from the Bible,
share insights and sing a couple hymns before breakfast. Our CTI
staff meeting begins at 8:30.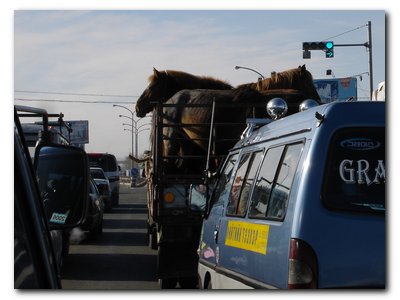 I am not exactly sure where these horses are going. In Mongolia,
horses are used for farm work, riding, racing, milk, and finally meat.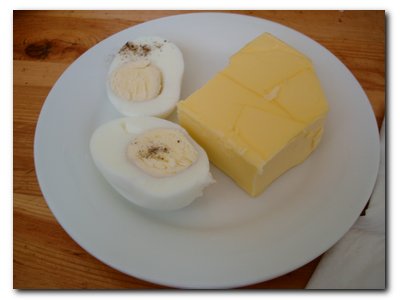 It was quite a change to see the eggs here after enjoying fresh farm
eggs at the farm. Here you can see that the yolk is actually more
pale than the butter. (Those that have seen the brilliant color of
fresh farm eggs can appreciate the difference.)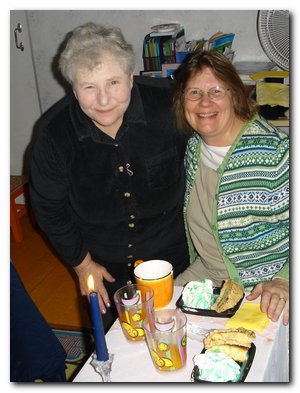 Sylvia, a missionary friend of ours, invited us over to a special meal
that she had prepared. The power went out, so we ate by candle-light.
Last week Sylvia was rushed to Korea for some serious medical
concerns, but is doing well now, and returning on Thanksgiving day.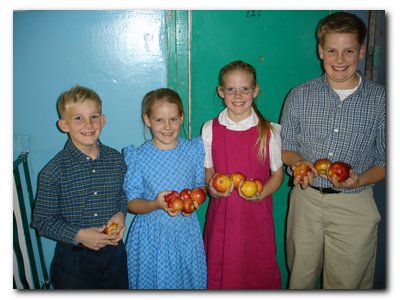 Alim ban oh? Do you want an apple? (phonetic transliteration.)
As you can imagine, shopping is quite different over here. :-) We buy
our food from a combination of stores, smaller shops, and open markets.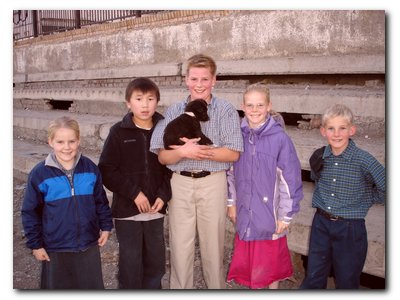 The empty stadium field near our building provides a good place for
the younger ones to get their energy out, and sometimes play
soccer with the Mongolian children.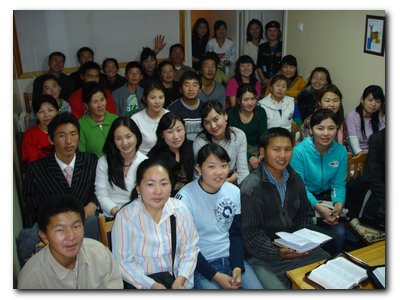 Our classroom, packed with people wanting to hear about character
with a Biblical background. (Note the open Bibles.) In our private
trainings we have full freedom to share right from the Bible. (Which
is really where the principles of character find their foundation.)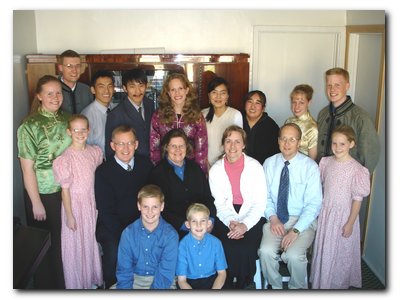 Our current staff at the Character Training Institute.
Back Row: Adam, Chingis, Ideree, Erin, Puje, Bolorma, Rachelle, David.
Middle Row: Sarah, Lydia, Brian, Sue, Angie, Tim, Rebecca.
Front: Samuel, Matthew.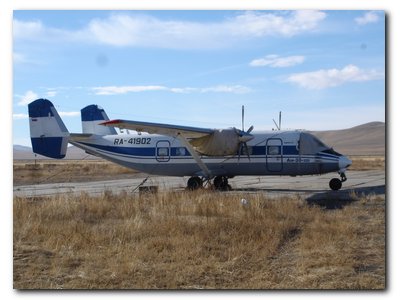 We have recently had the opportunity to do trainings for the staff of
Aero Mongolia, the second largest Mongolian airline company.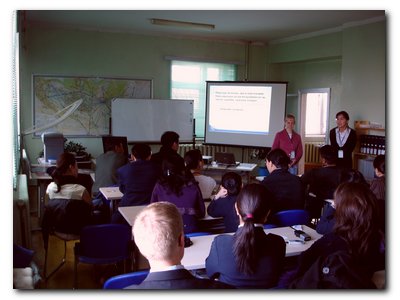 Here Rachelle teaches on the character quality of Attentiveness with
Puje translating.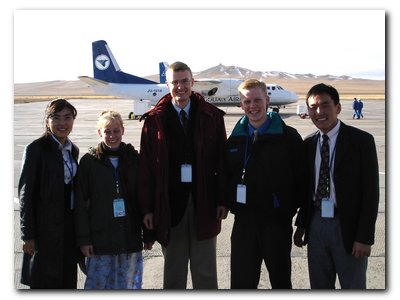 They even let us get out on the tarmac and pose for a picture. The
airport security passes allow us to get out to the staff training building.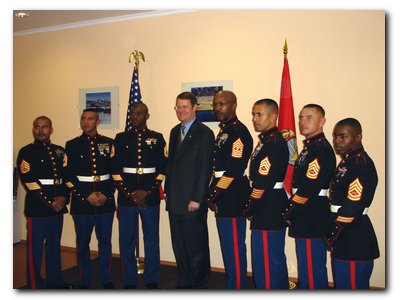 We joined over a hundred other Americans for a Town Hall meeting
to meet the new American Ambassador to Mongolia. The embassy
in Mongolia has just reached the size where we can have our own
deployment of US Marines.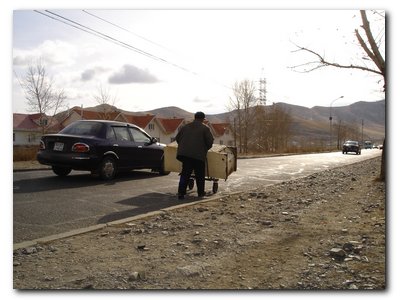 This is a common sight in Mongolia. Carts are often used to haul
water or other heavy loads, although often the carts themselves are
hardly holding together.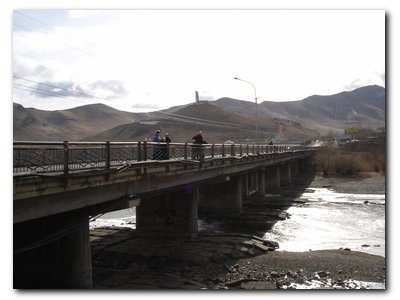 This bridge goes over a small river at the South edge of the city. You
have to be careful where you walk, as sections of the sidewalk are
missing.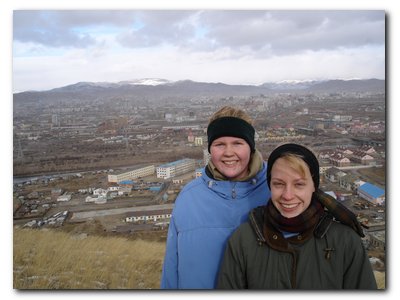 This was Sarah's first time to climb "Script Hill". And we picked a
cold day to do it!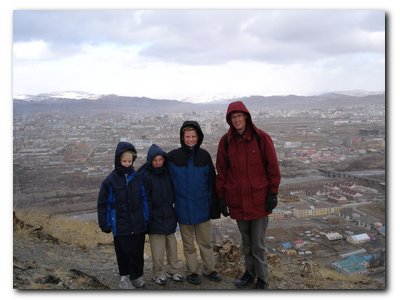 It is about a half hour climb, but gives a very good view of the city.
The winds were very strong, and a little later we had snow blowing
in our faces.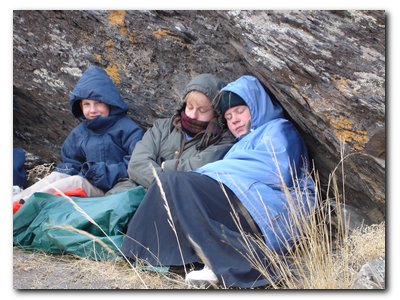 Sheltered from the wind, Rachelle and Sarah found a cozy rock.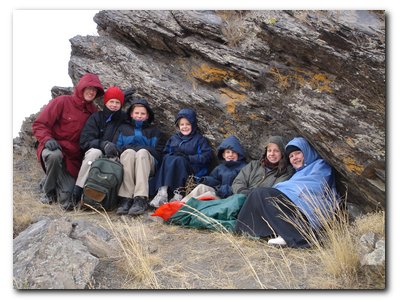 I think it was the coldest picnic lunch we have ever had, but everyone
was in good spirits, and enjoyed it.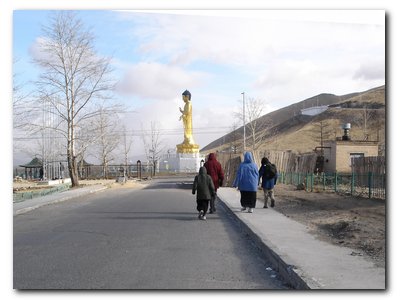 I don't usually take pictures of this kind of thing, but in Mongolia we
sometimes see idols, like this one that we passed on our way back
from the mountain.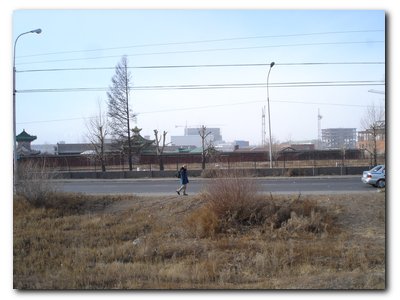 On the left side you can see the roofs of some buildings that are part
of a Buddhist monastery. Many people live in fear of evil spirits, and
often call the Buddhist priest when someone is sick.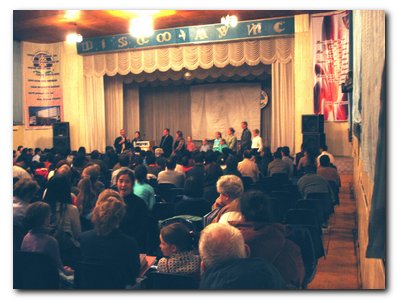 We are so grateful to know the True God! This is where our church
holds services in the auditorium of a medical university. On the
anniversary of Isaac's passing, our family had the opportunity to
testify of the Lord's faithfulness. Pastor Enkhee is standing to the
left of the podium.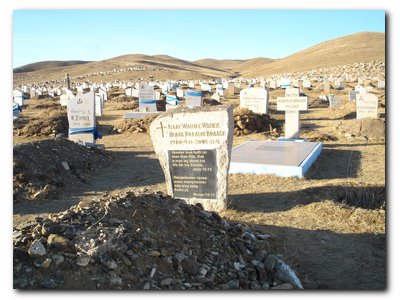 That afternoon we went out to visit the grave site. We shed a few
more tears, but we are so grateful for all that the Lord has done,
and rejoice that we will see Isaac again someday. Isaac's testimony
continues to bear fruit in many lives. Just last Sunday during one
of the testimonies, one lady commented "...and we all remember the
love in Isaac's eyes."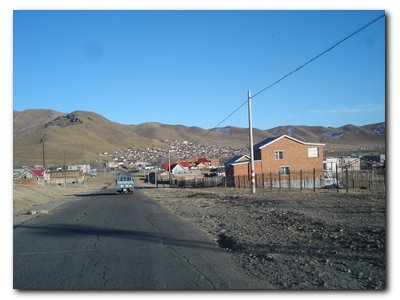 You can see why America looked like a tropical rain forest after
spending several months in Mongolia. :-)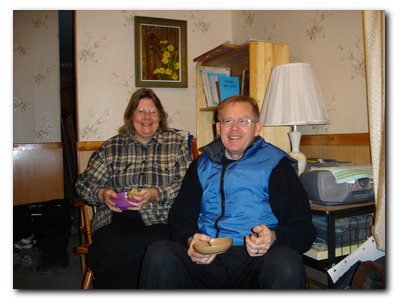 That evening we visited the home of the Morley family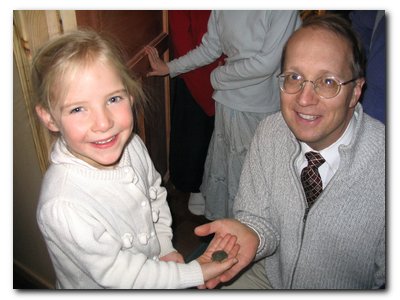 Pearl had to show Tim her little pet turtle.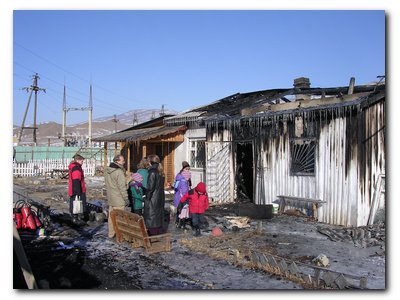 (Picture taken February 2006) You may remember from a previous
update that their home was nearly destroyed by a fire last
February.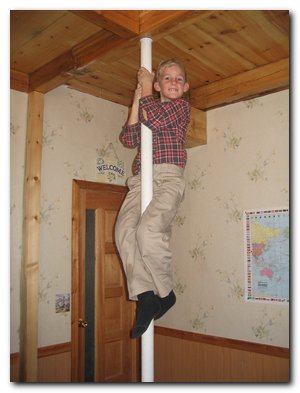 The rebuilt home was beautiful! I wish I had pictures of the outside,
and the second story, but those will have to come at a future date.
Matthew enjoyed climbing the pole on the stairway.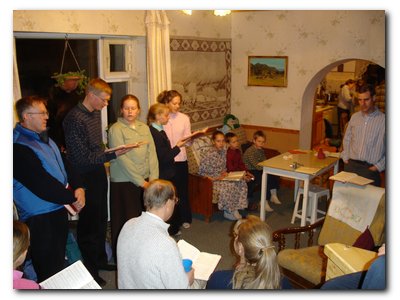 We had a special time of singing before heading over to the orphanage
for the Sunday evening meeting.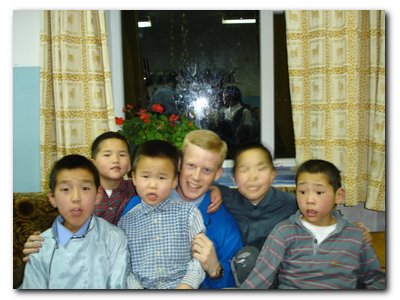 Of course David was a favorite with all the boys. It was neat to hear
everyone singing with all their heart!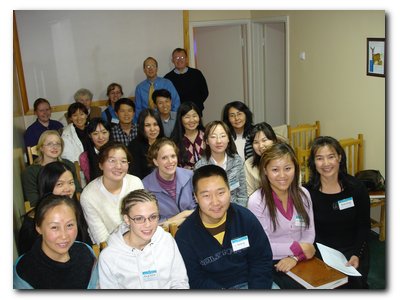 Yesterday brought the conclusion of the Financial Freedom Seminar
meetings that we have been hosting in our classroom. The course
was well attended and greatly enjoyed by Mongolians and foreigners
alike.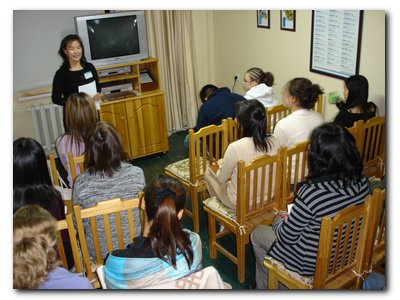 Narra helped to translate some of the concepts for the ones that did
not have very strong English skills. At the final meeting yesterday,
there were another six people that shared testimonies of how their
lives have been impacted by the teaching of these biblical principles.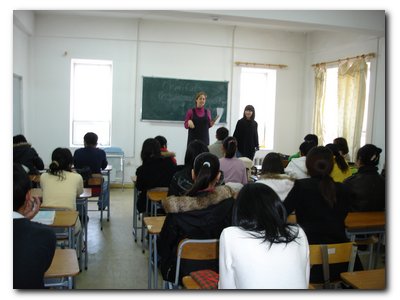 The Character/English teaching at the Mongolian International
University continues to refine both us and the students. Our classes
have gained a reputation of being held to a very high standard. We
have a zero tolerance for cheating, and this lends itself to a very
different concept of what is required to get good grades in school.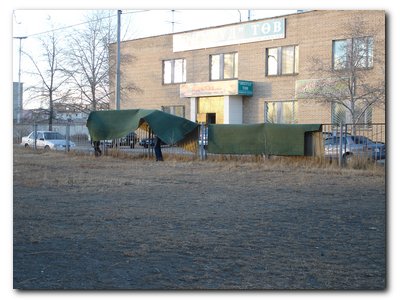 Dorjbat and I carried the carpet back in after it had been washed
and dried on the fence. Almost all carpet here is loose-laid, and can
be taken out for cleaning and floor repairs. (No, they don't have
Rug-Doctor rental units our here.)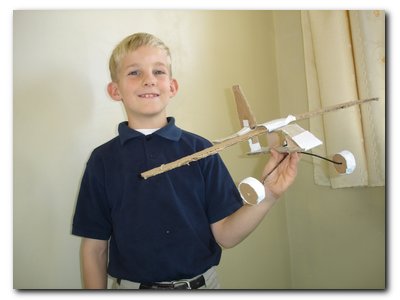 Matthew shows one of his recent creative projects. I was pretty
impressed with the landing gear and turning wheels.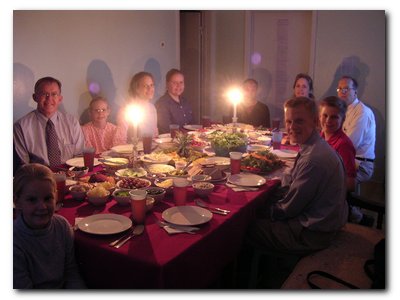 On October 31st, while much of the world celebrates something else,
we have a family tradition of a "Daniel Dinner" in honor of a man that
knew what it meant to stand alone and honor God.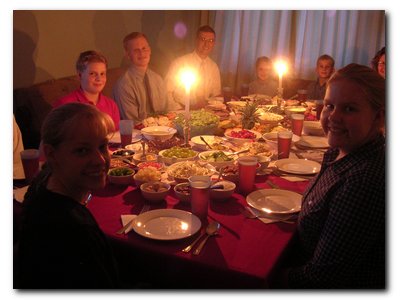 Remembering how Daniel and his friends only at vegetables, we do not
serve meat at this meal. Only fruits, vegetables and nuts. -Although
I am sure that we have far more variety than Daniel did. :-)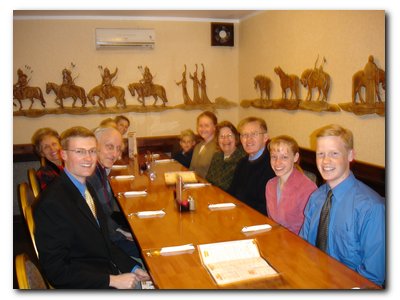 On November 4th, we enjoyed a meal with the Entners at the
"Mongolian Barbeque", the only "American Restaurant" in the city,
as one Mongolian told me. He was right. I have never yet seen a
place like it anywhere else in Mongolia.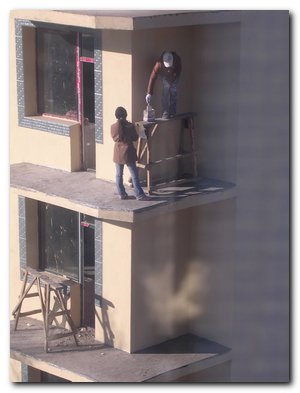 There is a lot of new construction going on in the city. These
ladies are painting on a fourth story balcony.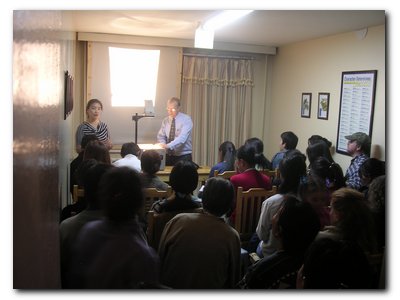 Our Commands of Christ discipleship training classes have continued
to grow over the summer.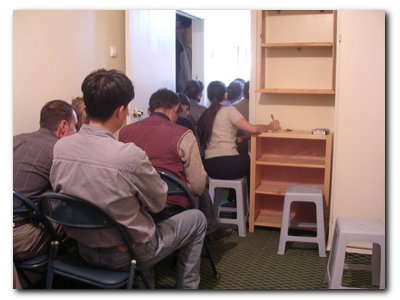 This is the overflow that couldn't fit in the main room, taking notes
on how to apply Jesus' command to rejoice when we are
persecuted for righteousness sake.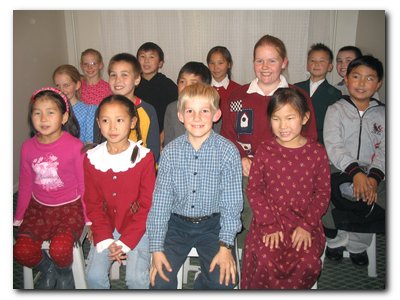 The children's program is also well attended, and they make sure
that their parent's don't forget about "Family Night" at CTI.
Hope you enjoyed the pictures!!
Click here to return to the Prayer Updates page